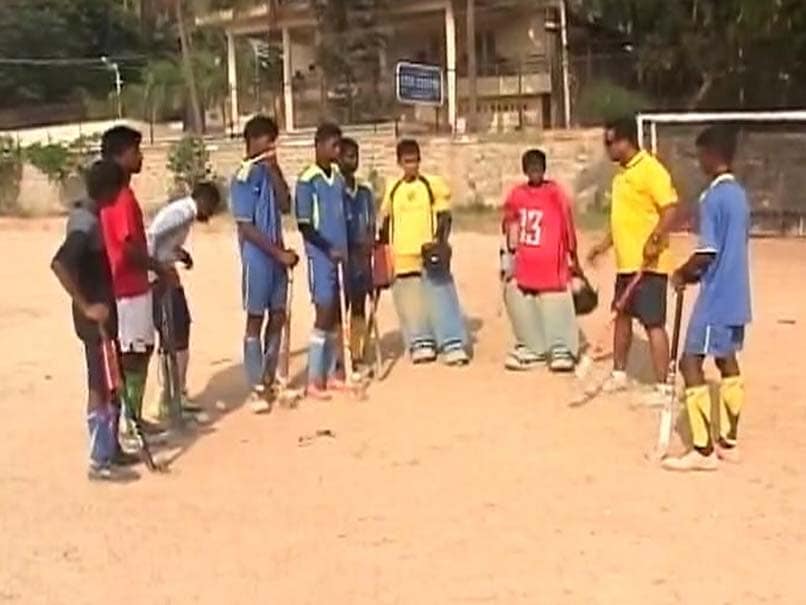 Children from the St Mary's orphanage in Cooke Town playing hockey
© NDTV
Children at an orphanage in Bengaluru are being given some special sports privileges in the form of training in hockey by an academy run by former Indian international, Jude Felix. Children from the St Mary's orphanage in Cooke Town in eastern Bengaluru train early in the mornings with the academy that has been in existence since 2009. Jude Felix who runs the Jude Felix Hockey Academy told NDTV, "Definitely it is to give back to the sport that we all loved and played. And it is a challenge because it is not a normal academy. These kids have come with so many problems from their home. It is a challenge to teach them hockey and to see how they can pick up the sport coming from very difficult backgrounds.
One young player, Sham, said, "I want to become like coach - I want to coach orphanage boys. I want to help orphanage boys....then I will help my mother in a good way."
(I have been) one year in the academy. I am in school team First, we warm up, stretch, play a match. We dribble the ball. I want to play for India. I want to join a sports college."
And it is not just hockey skills that they are learning.
Prathap Kumar said, " I have been in the orphanage for 8 years. My father brought me here because of difficulties at home. I have first of all learned hockey. Then also discipline, cleanliness and garbage cleaning. We segregate garbage into plastic, paper and wet. We learn to cut our naIls and hair. And to wash our clothes."
Jude Felix also believes that these other skills are important. " With our lovely volunteers we don't only teach them hockey, we teach them life skills, general care of themselves, studies, we look into every aspect. And definitely, it has changed many children's life here," he said.
Learning from the best has had its rewards - and created new dreams.
Kinglsin, who is also learning hockey said, "I like hockey because it is a challenge to take the ball away from another player. We need to play how we play. I want to join a sports college, play first for Karnataka, then for the country and win with India in the Olympics."
Prathap Kumar is already playing for a state team. He said, "I am in the 9th standard. I want to pass my 10th. I have played for the state, sub-junior. Then I want to play national - then I will get a job under sports quota. Then I can help my father and my siblings.It will be helpful to my family."
Jude Felix is happy with the milestones achieved by the Academy. "Some of them have become so motivated now in playing the game that they have gone on to play for the state team. That is a huge achievement for these kids coming from this background - and some even want to go on a play for India. 7 players play for state juniors and one of the girls for the state sub-juniors," he said. But there is a hope for more. He added,"If there is a way of getting a turf here - as hockey is played on turf, not on gravel. If we could have a turf put here that would be the ultimate thing. Eventually, if the government could come and help knowing that we could produce 7 players here, the government could come and help with their schemes and if we could get facilities, that would be a big thing for JFHA."
Children being taught hockey skills - but learning a lot more as well.
Topics mentioned in this article
Hockey