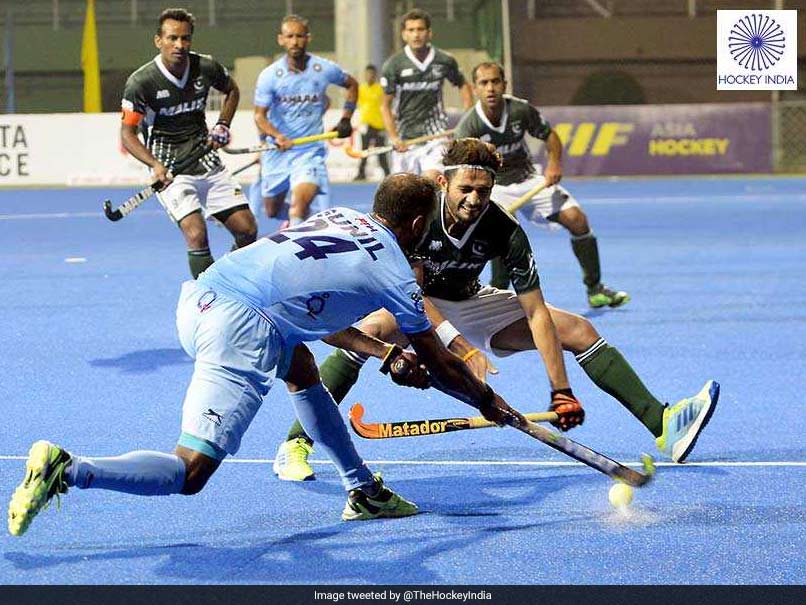 India entered the final of Asia Cup 2017 by beating Pakistan 4-0 in their 3rd Super 4s match
© Twitter
India beat Pakistan 4-0 in their third Super 4s match to enter the final of the Asia Cup 2017. The Indians started off slowly as Pakistan enjoyed most of the possession in the first quarter along with a couple of penalty quarters. But the Indians defended well and did not let Pakistan take the early lead in spite of their poor show in the first 15 minutes of the match. The second quarter saw both the teams looking for an opening as India came close to scoring their first goal of the match but Harmanpreet's shot hit the bar and the score remained goalless at the end of the second quarter.
The sixth ranked India, who just needed a draw to seal a place in summit clash, produced a superlative performance after the change of ends to pump in four goals --three field strikes and one through penalty corner. By virtue of this win, India not only topped the Super 4 stage with seven points, but also continued their domination over Pakistan.
It was only in the third quarter that the Indians looked like a far more convincing unit as Satbir Singh gave India the lead in the 39th minute. What followed next was a great show by the Indians as the Pakistani defence fell apart conceding as many as four goals in the last two quarters of the match. Harmanpreet Singh scored the second goal for India in the 51st minute which was soon followed by Lalit Upadhyay's goal in the 52nd minute. Gurjant Singh completed the last rites for Pakistan as the Indians by the 57th minute of the match were leading 4-0 that left Pakistan with little much to do other than accept defeat.
This is for the seventh time that India made it to the Asia Cup final. It was India's fourth win over Pakistan this year, having beaten them twice in the Hockey World League Semi-finals in London and once in the pool stages. The defeat knocked Pakistan out of the final race.
The final will be played on Sunday, October 22 in Dhaka, Bangladesh. 
(With PTI Inputs)