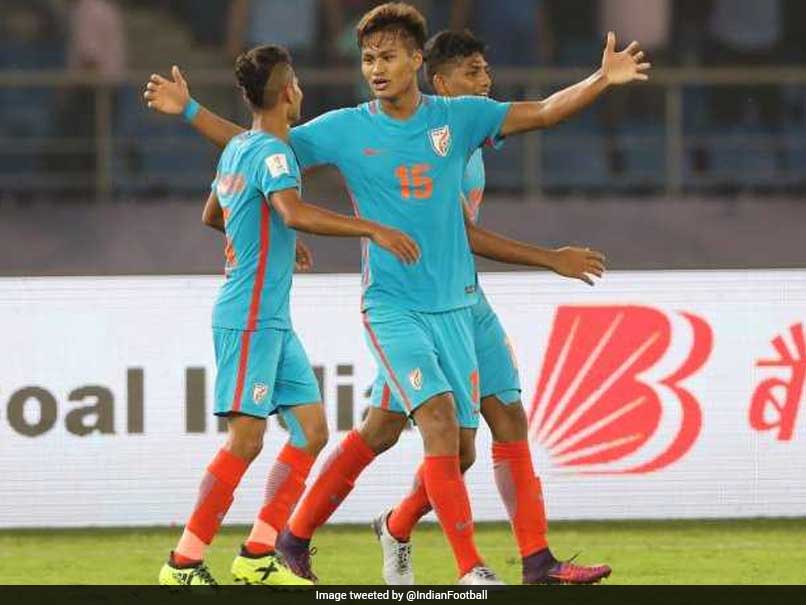 Jeakson Thounaojam became the first footballer in India to mark up a World Cup goal
© @IndianFootball
Jeakson Thounaojam became the first footballer in India to mark up a World Cup goal at any level. The Manipur lad rose above the Colombian defence during their FIFA Under-17 World Cup league match at the Jawaharlal Nehru Stadium on Monday to head home a historic goal for India. His score was also cause of tremendous joy for his family, who are in Delhi to witness their team's progress. "The moment Jeakson netted the ball with a header, all our anxiety evaporated," Bilashini Devi, Jeakson's mother, told NDTV.
"Both his father and me jumped out from our seats and screamed 'goal'!" she added.
Bilashini Devi's joy was however short-lived as even before the celebration of India's first goal had ended, Colombia counter-attacked, caught the Indian defence off-guard and made the score line 2-1 which eventually ended India's hope of progressing any further from Group A.
While Bilashini is thrilled and excited by the fact that Jeakson has instantly become a household name, impressing everyone with his world-class header that he converted from India's corner kick, she regretted that her boy's team couldn't maintain the 1-1 scoreline.
For Bilashini and her ailing husband, who suffered a stroke in 2015, seeing their son score India's first goal is a dream come true.
All the financial challenges that the daily wage earning family from Manipur's Thoubal district had gone through to realize their son's passion for football have not gone in vain. All the struggle, the days when the family had to survive on one meal, seemed like they never happened.
"After the game, we've been receiving many calls from our family members, relatives, well-wishers from our locality and others who know us, expressing their joy at Jeakson's historic feat," the proud mother says.
"We're yet to receive any official congratulatory calls from the government of Manipur," was how Bilashini Devi responded when asked if the family have received any call from the state government after Jeakson's performance.
Bilashini Devi has been supporting her 16-year-old boy's footballing career. Jeakson's father Thounaojam Deven, who groomed his son into a footballer at the age of six years, needs monthly medication worth around Rs 8000 for his treatment.