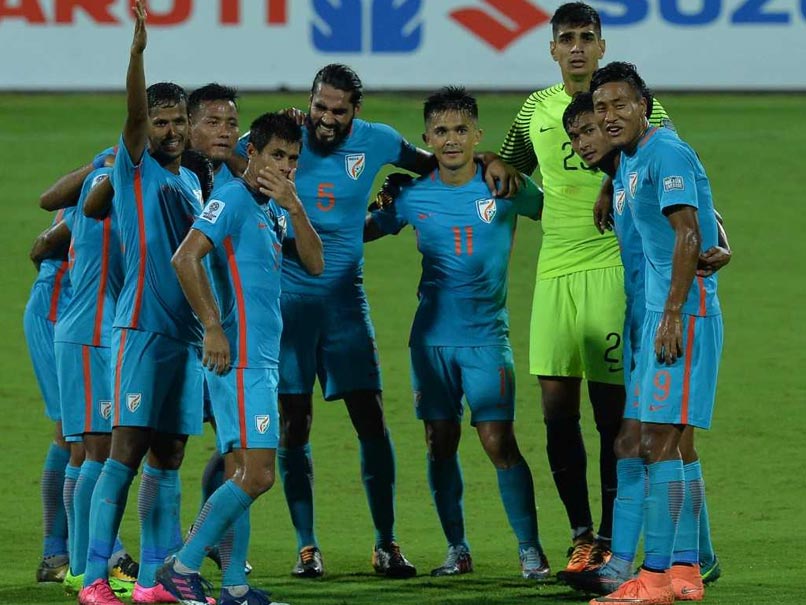 India ranks 15th in Asian Football Confederation countries.
© AFP
In the latest FIFA rankings released on Thursday, the Indian football team remained static at 105th. India had drawn 2-2 with Myanmar at home in the AFC Asian Cup qualifiers during this ranking period earlier this month. Among the other Asian Football Confederation countries, India ranks 15th, ahead of Jordan, North Korea and Bahrain. While Germany are on top of the table, Iran leads the Asian rankings. In a first, Palestine's football team achieved its highest ever ranking as they jumped two spots to rank 82nd in the list. By doing so, they overtook Israel for the first time. Following the latest rankings released, the head of the Palestinian football association labelled it an 'historic achievement.'
Israel fell 16 places to 98th after a disappointing failed World Cup qualification campaign.
Palestine have recently won a series of games as they seek to qualify for the 2019 Asian Cup, including a 10-0 victory over Bhutan.
The announcement comes as the Palestinian football association has campaigned to encourage FIFA to take action against six Israeli clubs located in settlements in the occupied West Bank.
Settlements are considered illegal under international law, and the Palestinians had asked FIFA to take action against the Israeli FA.
Last month, FIFA decided it would not intervene in the matter, with the Palestinians accusing the body of bowing to Israeli pressure.
Palestinian FA boss Jibril Rajoub told AFP Thursday the rankings rise was an "historic achievement" that came despite restrictions on football in the Palestinian territories imposed by Israeli forces.
"With this classification, we have defeated the occupation's measures and its daily harassment, from preventing the freedom of movement of athletes through to all measures that impede Palestinian sport," he said.
The Israeli Football Association said the country's sports minister had ordered the formation of a committee to examine the reasons for the lack of success.
"We wish the Palestinians all the best as always," a spokesman for the IFA said, adding they were willing to play a friendly match against them any time.
"May the best team win," he said.
Israel qualify for tournaments with European teams, while Palestine are in the Asian qualifying groups.
Palestine was first recognised by FIFA in 1998.
(With inputs from agencies)