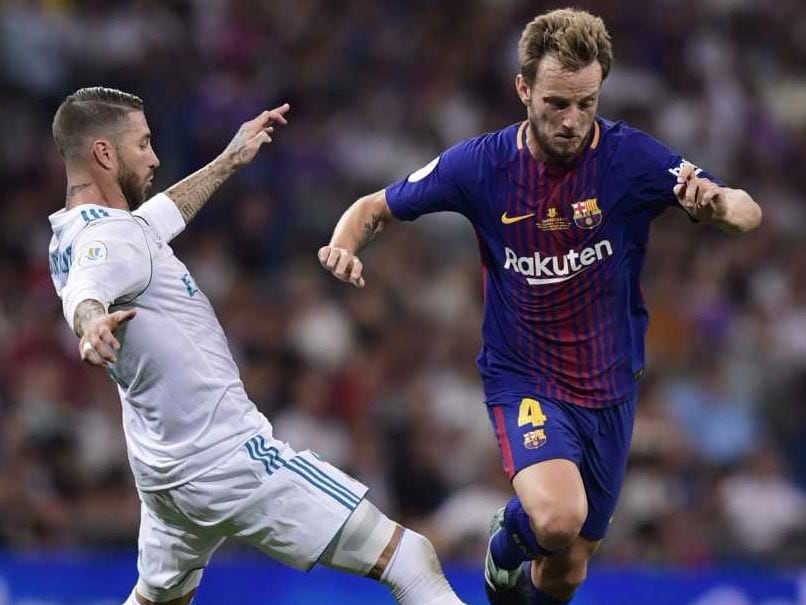 Real Madrid's defender Sergio Ramos (L) vies with Barcelona's Ivan Rakitic
© AFP
La Liga fans in India will witness the two Spanish footballing powerhouses Real Madrid and Barcelona face off on Saturday in one of the biggest El Clasico games in club football. Ahead of the match, Barcelona midfielder Ivan Rakitic is wary of the threat Real Madrid possess. He revealed that the Madrid side has strong players in defence. "There are really strong players in defence in the Real Madrid line-up," he said. When asked one Real player who he wouldn't want to go against one-on-one, Rakitic took defender and skipper Sergio Ramos' name. "But maybe, it is Sergio Ramos because he's a really strong defender with a lot of experience and he knows how to read situations well during the game. He's also the captain," he added in a video made available to NDTV.com.
Rakitic also heaped praise on Real's style of play and said he doesn't want to be defending Gareth Bale. "They (Real) create a lot of space and with the space, it becomes really hard to defend against them. Maybe, Gareth Bale because he's really fast and his idea is really clear, getting towards the closest lines of the opponent goal, which makes it difficult to play against him," he said.
Rakitic added that the popularity of El Clasico has increased exponentially in this hometown Croatia. "It is really popular. The people there have just been speaking about this big game (El Clasico) since last Tuesday and it is not common for a country like Croatia to have such great interest in a game.
"There are already three (Croatian) players and I would just like to thank everybody who will support Barcelona and bad luck to the ones who won't (smiles). Hopefully, in the next few years, we will have more players from Croatia (in La Liga)," he added.
Barcelona are at the top of the Spanish League with 42 points after 16 games while Real Madrid are fourth with 31 points.
Real will have to get the maximum points if they want to reduce the point deficit. A Barca victory will see them extend the lead over Real by 14 points while a draw would be akin to a defeat for Real.
The La Liga is officially organising an official screening of the game at the NSIC Grounds in Okhla, New Delhi. Former Barcelona and Juventus full-back Gianluca Zambrotta will be present at the screening.