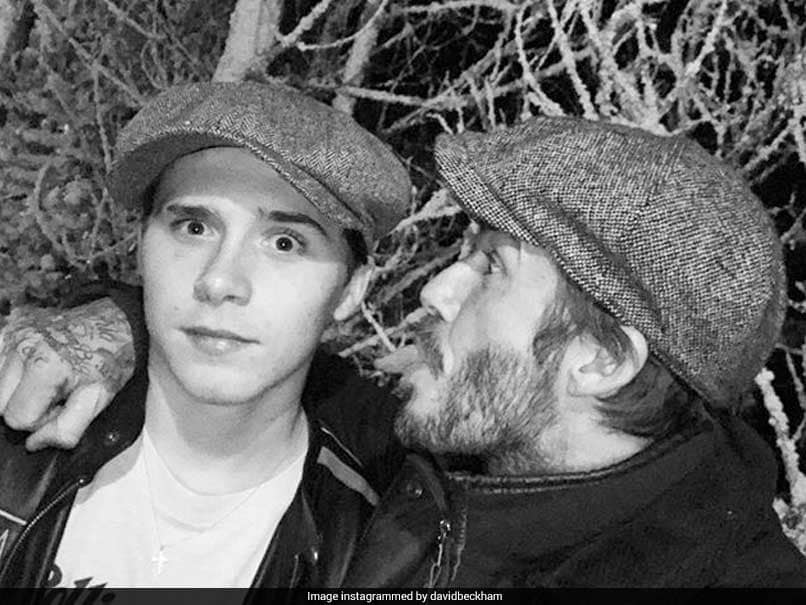 Brooklyn Beckham is studying in New York City.
© Instagram
David Beckham remains a household name even after he hung up his football boots for good. The former Manchester United and Real Madrid star, who turned 43 on Wednesday, received some incredibly sweet messages on social media for his birthday. Beckham's wife Victoria, 44, and kids Romeo, 15, Cruz, 13 and Harper, 6 also shared some heart-warming messages for their superstar father. And as part of the big celebration, the family decided to head out for lunch and Brooklyn, who is studying in New York City, surprised his dad by making an appearance.
"What are you doing here?" a surprised and teary-eyed David asked his 19-year-old son, who instantly hugged him.
"Happy birthday!" Brooklyn said while embracing his dad. "I just landed. Are you okay?"
"Best birthday surprise, my big boy coming home @brooklynbeckham @victoriabeckham @romeobeckham @cruzbeckham #HarperSeven," David shared on Instagram after the fact. Victoria added, "Happy birthday @davidbeckham I love u so much x kisses."
"You are the best dad in the world!" Romeo wrote in a card. "I hope you have the best day!"
Cruz opted for a card that featured a giant gorilla with the text, "Dad you the man."
As for Harper, she appeared to gift dad a special key chain that read, "Daddy's wine cellar. Love Harper! XOXO."
Just two days ago, Beckham debuted his new tattoo - a picture of a solar system on the side of his head. The former footballer flashed his latest inking at a charity event in Macau, China.
Beckham's love for tattoos appears to have rubbed off on his eldest son, who has been adding to his growing collection.
The budding photographer recently showcased a sweet tribute to his dad by getting 1975 - the year David was born - tattooed on his right hand.