Story Progress
Back to home
Virat Kohli Regains Top Spot In ICC ODI Rankings
Kohli's superb batting in the group matches of the ICC Champions Trophy saw him reclaim the top spot in the ICC ODI rankings for batsmen.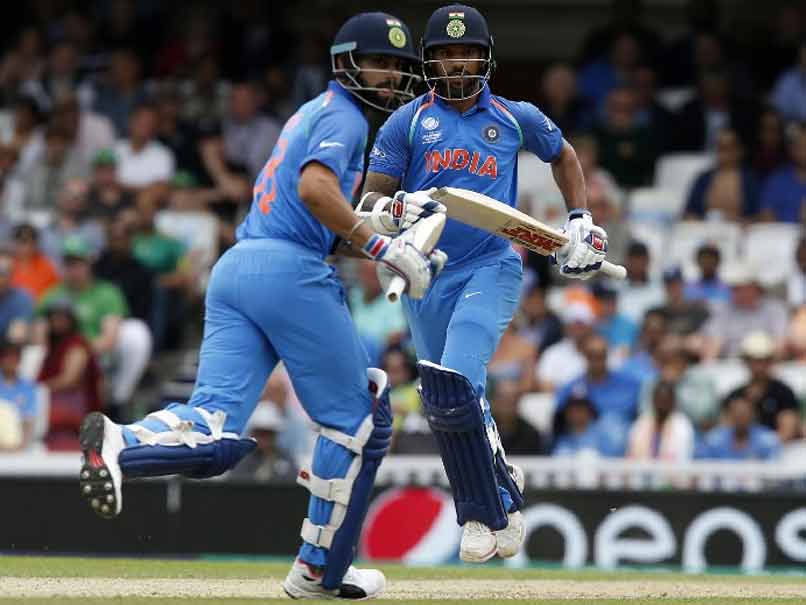 Shikhar Dhawan leapfrogged AB de Villiers and David Warner
© AFP
Highlights
Kohli needs to score against Bangladesh to maintain top spot

Kohli surpassed AB de Villiers and David Warner

India will play Bangladesh on 15 June
In the latest ICC ODI rankings for batsmen released on Tuesday, India skipper Virat Kohli has regained the top spot after the last round of the on-going ICC Champions Trophy 2017 league-stage games. Kohli, who had entered the tournament with just 22 points behind AB de Villiers of South Africa, regained the top spot after his brilliant unbeaten knocks of 81 and 76 against Pakistan and South Africa, respectively. Prior to this, Kohli had enjoyed just four days at the top in January 2017.
Indian opener Shikhar Dhawan continued his love-affair with the Champions Trophy as he returned to the top 10 by scoring 68 against Pakistan, 125 against Sri Lanka and 78 against South Africa. He is now the leading run-scorer of the tournament.
Dhawan's rise means his team-mates Rohit Sharma and former captain Mahendra Singh Dhoni have slipped one place each to 13th and 14th, respectively, while Yuvraj Singh has gained six places to be at 88th spot.
Fast bowler Bhuvneshwar Kumar has led the charge of India's bowlers by vaulting 13 places to share 23rd spot with Afghanistan's Hamza Hotak.
Umesh Yadav has gained two places to be at 41st position, while Jasprit Bumrah is at 43rd after climbing up three spots.
However, Indian spinners have slipped in the latest rankings with Ravichandran Ashwin dropping two places to 20th and Ravindra Jadeja falling three places to 29th.
Australia's pace ace Josh Hazlewood has achieved the number-one position in the bowlers' rankings for the first time in his career.
Amongst the England batsmen, Joe Root has moved up one place to fourth and Ben Stokes has rocketed nine places to a career-high 20th place, while in bowlers' list, Liam Plunkett has jumped seven places to a career-best ninth spot, Adil Rashid has shot up nine places to 11th spot.
There has been no change in the top five of the all-rounders' list, which is headed by Bangladesh's Shakib Al Hasan.
Stokes has gained one spot and is now sixth, while Jadeja has broken into the top 10 in eighth position after rising three places.
In the upcoming semifinal matches of the Champions Trophy, India will have a chance to top the table.
But for that to happen, they will not only want to face England in the final but also need to retain the title.
Promoted
In that case, Kohli's men will join South Africa on 119 points but will be ranked ahead of them by a fraction of a point.
(With PTI inputs)
Topics mentioned in this article