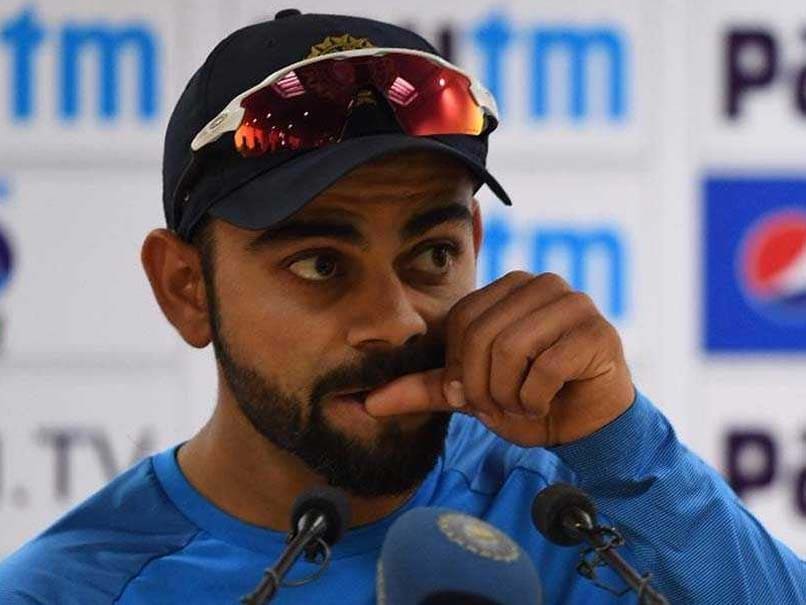 Anil Kumble stepped down as coach, stating that his partnership with Virat Kohli was untenable.
© AFP
With the Board of Control for Cricket in India (BCCI) set to begin the selection process for next head coach of the Indian cricket team, captain Virat Kohli on Thursday said if asked the team will be ready with the suggestions. Legendary leg-spinner Anil Kumble stepped down as coach, stating that his partnership with Kohli was untenable. Kumble tweeted his statement, which said that Kohli had reservations with his working style.
"From a personal point of view, I can't pinpoint anything or give any details. We as a team only voice our opinion when asked by the BCCI," Kohli said at the pre-match conference ahead of the third ODI against West Indies on Friday.
Kohli said that there is process that is put in place and no individual opinion matters.
"This is a process we always go through and something we respect as a team. It's something that is asked to the team and not in segregation. The same procedure, as and when it takes place, we will give our suggestions to the BCCI," Kohli added.
When the same question was repeated in a different manner, Kohli was more curt.
"Suggestions are given to the BCCI. There is no point in saying anything out in the open because that is for us as a team to convey to the BCCI as when we are asked," Kohli reiterated.
Putting the coach selection talks in the backdrop, Kohli said their priority right now is to win the series in the Caribbeans.
"Right now, we have series at hand and this is what we are focussed on. The process is taking place and that is something which is in the control of BCCI. We are not focussed on anything else at the moment.
"Our priority is coming here and winning the series and preparing for the game that lie ahead of us," the India skipper said.
Asked whether he has become more calm and equipped in handling media as his matured answers suggest, Kohli said:"It's something that you become immune to after a while. It is something that happened quite a bit in the last few years. At the end of the day, what matters is you what you do on the field. Whether media covers you or not that doesn't matter. I think it is a distraction early on in your career but after a while you don't get distracted by these things.
"You know it's going to be there so you just have to focus on what you need to do rather thinking about there is too much attention on me. It is not in my control, it is not something that I have asked for, it's something that's happening, so I have to sort of take in my stride and focus on my skills."
Apart from former India captain Sourav Ganguly, master blaster Sachin Tendulkar and VVS Laxman are the other members of the BCCI's Cricket Advisory Committee.
Soon after taking India to the final of the Champions Trophy in London, Kumble decided against extending his tenure, stating that the "partnership" with Kohli was "untenable".
While the rift between Kohli and Kumble was out in the open after the former leg-spinner's post on Twitter about his decision to walk away, the BCCI had dropped enough hints by advertising the post of head coach right before the start of the Champions Trophy.
While the BCCI has the likes of Virender Sehwag, Dodda Ganesh, Richard Pybus, Lalchand Rajput and Tom Moody on its shortlist, the Indian cricket board has extended the deadline to receive applications for the head coach to July 9.
Former India skipper Ravi Shastri, who has also served as Team Director, has reportedly decided to throw his hat into the ring as Indian cricket board hunts for the next India head coach.
Shastri had previously worked as India team director between 2014 and 2016 and guided the team to the semi-finals of the 50-over World Cup in 2015 and the ICC World T20 the following year.
Considered close to skipper Kohli, Shastri was replaced by Kumble, who was handed a one-year tenure till the recently concluded 2017 ICC Champions Trophy.
(With inputs from PTI)