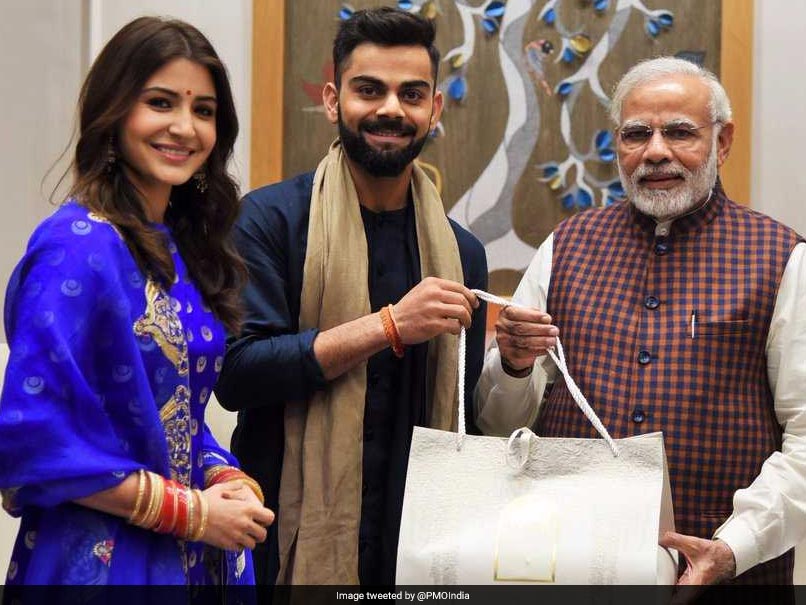 Virat Kohli and Anushka Sharma met PM Modi on Wednesday.
© PMO
India cricket captain Virat Kohli and wife Anushka Sharma met Prime Minister Narendra Modi on Wednesday to invite him to their reception to be held in Delhi later today. It will be the first of two receptions the couple have planned. The second will take place in Mumbai on December 26. The photo of the newlyweds handing a bag to PM Modi, posted by the Prime Minister's Office was retweeted over 10,000 times. Some of Kohli and PM Modi's followers even channeled their creativity to not just decipher the conversation in the room but also speculate, rather wildly, about the contents of the bag given to the latter.
While the bag included the invitation card accompanied by a box of mithai and stuffed dates, Twitterati came up with some fun alternatives
The two spent their honeymoon, somewhere in Europe, with Anushka sharing a photo captioned,'' In heaven, literally.'
The newly-wed couple will travel to South Africa where Virat will start preparing for upcoming series and Anushka will spend New Year's Eve with him and return in first week of January to begin next schedule of a film with Shah Rukh Khan in Mumbai.