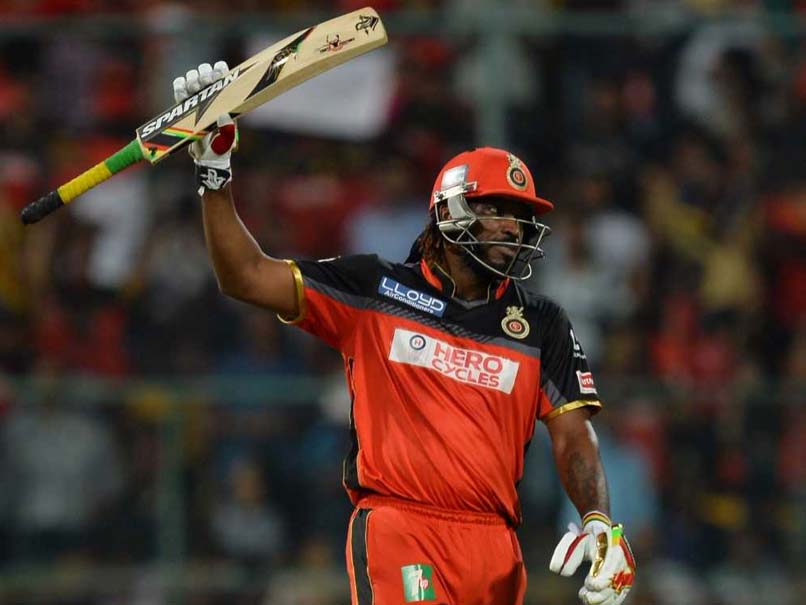 Chris Gayle is the only player to have scored 10,000 runs in T20 cricket
© AFP
West Indian star Chris Gayle, famous for his exploits with the bat, is also quite a mean act with microphone in hand. The inimitable left-hander claimed during a recent interview that he had 'created T20 cricket' and also took the opportunity to try his hands on commentary. According to Fox Sports, Gayle said, "Yes, it actually was made for me -- or actually I should say I created T20 cricket." The West Indian opener didn't stop at that and added, "Being the creator of T20 cricket to let people, let players know there's life in T20 cricket, let players know there's things that can be done in T20 cricket from a batting point of view."
To spice things up, Gayle was asked to act like he was doing commentary during the interview to which the 37-year-old was at his funniest. The interview was a part of a promotion for the new Caribbean Premier League (CPL).
The left-hander concluded his commentary stint by saying, "Oh the storm is walking out to bat. Chris Gayle. Oh, this is going to be brutal. Oh I am so sorry for the bowlers here. Oh and they are probably shaking in their pants right now. Chris Gayle, you are the man. CG, you are the man. It's Gayle-force. Look out!"
Gayle is the only batsman in the world to have completed 10,000 runs in the T20 format and has recently made a move from Jamaica Tallawahs to St Kitts & Nevis Patriots in the CPL this season.
The West Indies opener in T20 Internationals is an integral part of the Indian Premier League and shares a great rapport with some of the Indian cricketers.
The Indian team was in the West Indies to play five ODIs and a T20I only recently and Gayle hosted a dinner for the visitors during the tour. Ajinkya Rahane, who was at the party, uploaded a photo on his Instagram account, where he was seen with Sanjay Bangar along with Gayle.
Rahane thanked Gayle for the dinner and captioned the photo as, "Thank you Chris for hosting us for dinner."