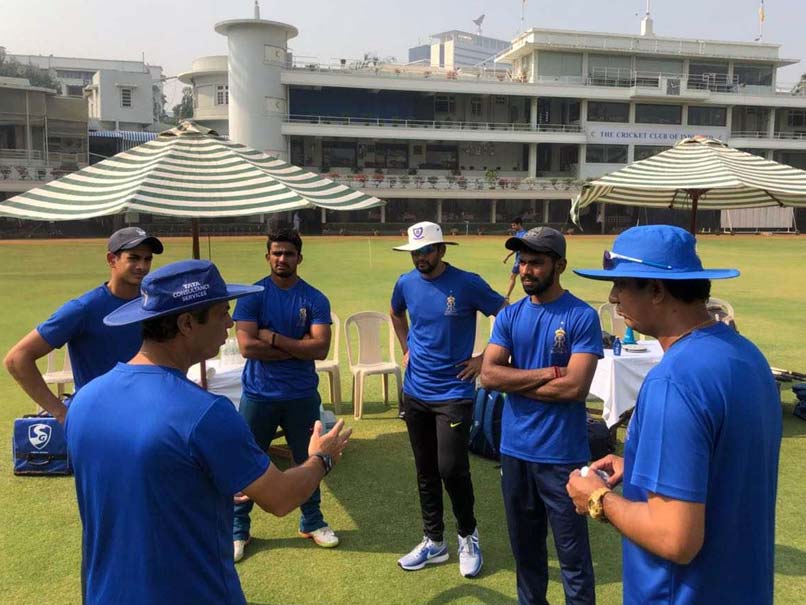 Aryaman Birla with the Rajasthan Royals team.
© NDTV
Traditionally cricket has been played by the wealthy. There have been great legacies attached to some of those men as well. However, with the emergence of the billion dollar baby or IPL, the game has thrown up some remarkable rags to riches story. And there are rare ones these days that bucks the trend. This is one such story. Aryaman Birla, the scion of the Aditya Birla empire, had made himself available at the IPL auction and was snapped up by the Rajasthan Royals. This is Aryaman's story.
Aryaman is a Birla who plays cricket. He could have been on the IPL auction table, with a team, buying players, but chose to put himself up for bidding. Rajasthan Royals emerged as the highest bidder with a bid price of Rs 30 Lakhs after he came back to the auction pool for the second time.
"I was playing a match at that time in Rewa. Someone from the opposition came and told me that Rajasthan Royals had bid for me and they bought me as well. I am not someone who shows emotions but I was very happy and excited to be a part of Rajasthan Royals," says the 20-year old in a chat with NDTV.
Unable to get a break in the very competitive Mumbai circuit, Aryaman made a move to Rewa 4 years ago and begun to play his cricket in Madhya Pradesh. And it wasn't easy to adjust to the grind. Four years on he has emerged as the top run-getter in the CK Nayudu Trophy this season, notching up 795 runs in six matches from 11 innings at an average of 79.50. He has also scored 221 runs in the Men's U-23 One day league and knockouts.
"Everyone in this country who plays professional cricket wants to play for the Indian cricket team and I am no different... I want to play for India as well but I am a strong believer in the process. IPL is coming up, which is an amazing platform for me, but also there will be emerging teams like India U-23."
The cricketing circle talk of his earnestness and a deep desire to succeed in cricket. Despite being the son of Kumarmangalam Birla, one of the wealthiest man in India, Aryaman hasn't had it easy always. He says, " There are two sides to a coin. Like everything else, being a Birla comes with its own set of advantages and disadvantages. In terms of facilities, I may have got advantages that many other people did not get so I feel lucky. But there are things that have not gone in my favour either. People have come with preconceived notions expecting me to be a certain way. But I am grateful that my parents have supported me all along. I would not have come this far without them rallying behind me."
While Aryaman's focus remains cricket, the obvious question is will he not want to eventually join his father's 12.6 billion dollar empire. His mother Neerja Birla says, " I do not see it as an either-or situation. After cricket, that is the line for him, he would be pursuing business. He won't do business and cricket side by side but after his cricket career gets over, business is something he will take to naturally."
Perhaps what cricket teaches him will make him a strong leader. That will be a huge help if and when he takes up the reins of the Birla empire.