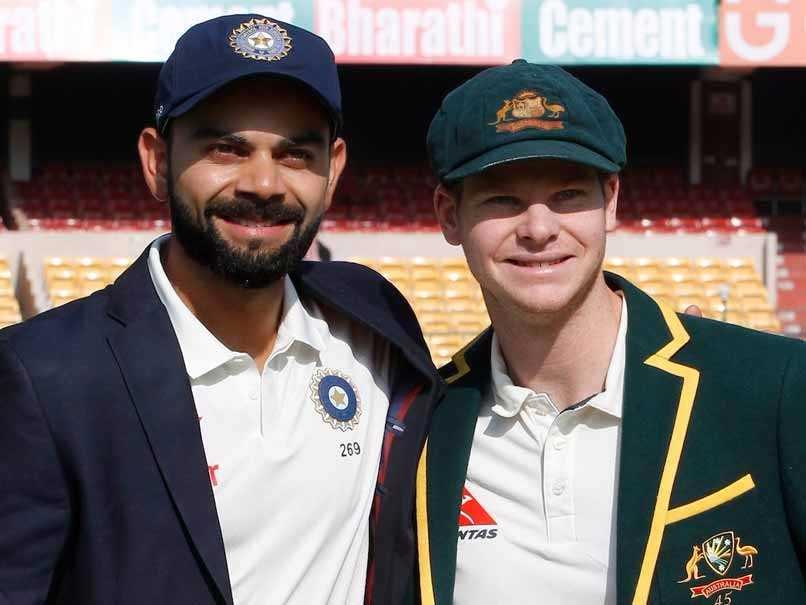 Steve Smith will earn more this year than all other international captains, including Virat Kohli.
© AFP
Australian captain Steve Smith will earn more this year than all other international captains, including India's Virat Kohli. According to a detailed report published by ESPNCricinfo, the highest-earning captain in international cricket in 2017 makes nearly 20 times more than the lowest-earning captain. Smith will earn a whopping US$1.469 million this year compared to Kohli's approximately $1 million and England captain Joe Root's $1.38 million. Zimbabwe captain Graeme Cremer stands to only earn $86,000 in 2017.
As per the report, the figures do not include a players' earning from the T20 leagues, other domestic engagements or endorsements. However, Kohli is the richest cricketer at the moment with his earnings from the BCCI, brand endorsements and IPL fees.
The report further reads that players from England, Australia, South Africa and New Zealand receive a share of their board's commercial earnings as a guaranteed part of their contracts. The BCCI pays 26% of its gross revenue every year to its players - half of that is distributed among international players.
The Indian board is often scrutinised for not paying their Test players well but the numbers tell a different tale.
"At $23,380 per game, India's Test cricketers are the most well-rewarded across the world, earning almost twice what an Australian cricketer gets paid for a home Test (Australia has different fees for home and away Tests)," the report stated.
However, the lowest Test-match fee for a player from the Big Three boards is almost double of what other boards pay their players.
As far as the coaches are concerned they are worth a fortune to most boards as numbers of them are paid a basic salary several times that of their top players.
India's head coach, Ravi Shastri, at $1.17 million per year, is the world's highest-paid coach. Shastri, like all coaches, does not earn match fees.
The report hints that paying the head coach much more than the top players seems to be a South Asian trend.
"The Bangladesh Cricket Board pay Chandika Hathurasingha five times the basic salary of their top player. Similarly, Pakistan coach Mickey Arthur is paid three times as much as a top category Pakistan player."
By contrast, Australia and England pay their coach around half of what their top player earns as a basic salary.