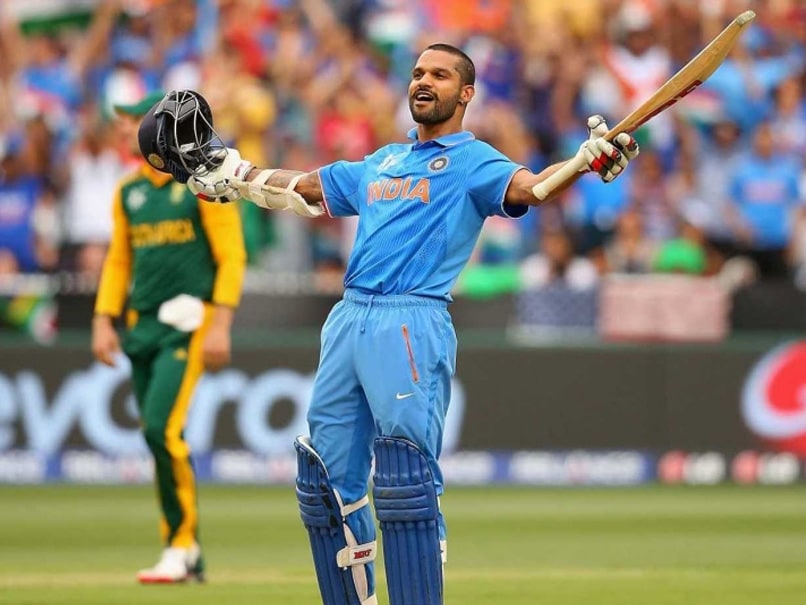 Shikhar Dhawan is all set to play the Twenty20 series against Australia
© AFP
India opener Shikhar Dhawan might have missed the recently concluded One-day International (ODI) series against Australia due to some health issues that his wife was facing but now the left-hander can't wait to get back on the field after being included in the squad for the three-match Twenty20 series against the Aussies, starting October 7. In an exclusive chat with NDTV, Dhawan shared his journey of making a comeback to the Indian side and explained the reason behind Team India's success in both Tests and ODIs.
The Virat Kohli-led team, which is No.1 in Test cricket, earned the numero uno status in ODIs too after a comprehensive 4-1 series win over Australia. Dhawan believes it's because of maturity and confidence shown by the players that Team India have reached this level.
"The reason we are No.1 is because we have got good matured players in the side and the youngsters also are very confident. I believe sharing the dressing room with established players in the IPL has helped them gain confidence," Dhawan told NDTV.
"The bench strength is also the reason that the Indian team is so good now. We have a very healthy competition in the side. Every player knows if he doesn't perform there is other batsman who is as good as him, so that's a very good sign and that keeps everyone on their toes. And I think our domestic structure is so good that we are producing such good players," the 31-year-old added.
Dhawan, who was dropped from both Test and limited overs side last year due to poor form, said that he felt bad at being left out but by increasing his training and getting more fit he was able to get back to his best.
"It was a hard time for me because I was giving my best but things were not going my way. When I was dropped from the Test and T20 team, of course I felt bad but I knew that I hadn't performed that well that's why I got dropped," he said.
"But, I kept my process going. I increased my training and skill work and made myself more fit. During that time also, I wanted to be happy and enjoyed playing Ranji Trophy for Delhi. By the grace of God, things fell back in place again and I got a call for the Champions Trophy after some good domestic performances in Deodhar trophy and the Indian Premier League."
Dhawan also took part in a rapid fire session where he was asked some questions about his teammates.
Here is how he fared:
Question: How do you describe Hardik Pandya's bowling?
Dhawan: Very good
Question: Pandya's batting?
Dhawan: Hitter
Question: Bhuvi's (Bhuvneshwar Kumar) yorkers?
Dhawan: Kanchebaaz (One who masters in the Marble game)
Question: Bumrah's (Jasprit) death bowling?
Dhawan: Serious stuff
Question: Jadhav's bowling action?
Dhawan: Phirki (flying disk)
Question: Any smart one-liners from MS Dhoni?
Dhawan: When he sneezes, he says 'Bhagwan mujhe nahin isko uthaale' (God take him with you, not me)
Question: One exercise you would suggest to Yuzvendra Chahal so that he puts on the weight?
Dhawan: Eating
Question: If you were to give an award for facial hair, who would you give it to?
Dhawan: We all are very good at it, but still I would give that award to myself
Question: One word to describe for someone who has turned 38 (Ashish Nehra) and making a comeback at this stage?
Dhawan: Determination, love towards the game and hard work.