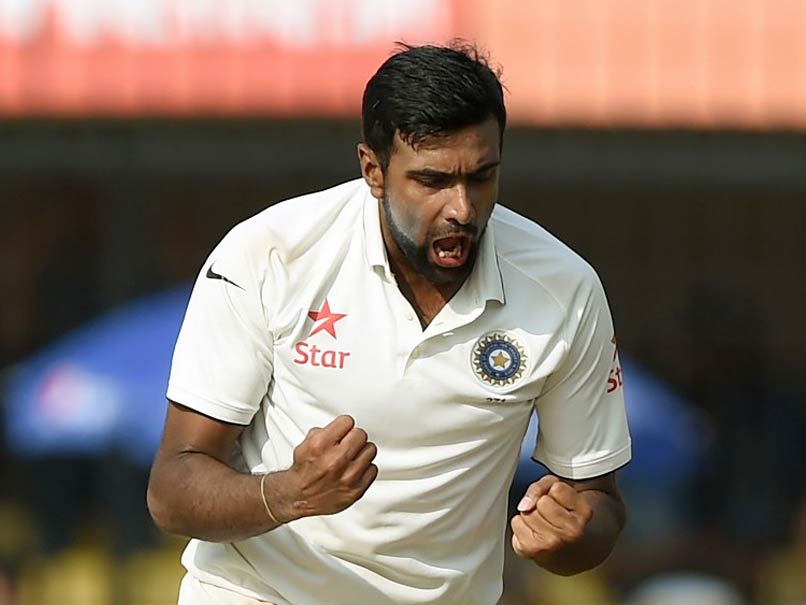 Ravichandran Ashwin won the ICC Cricketer of the Year award for 2016.
© AFP
Ravichandran Ashwin has not looked back since the Sri Lanka tour of 2015. With a new action, he has gone from strength to strength, capping an incredible year with the ICC Cricketer of the Year award. He spoke to NDTV's Rica Roy after what has been an incredible year.
Here are the excerpts:
Rica Roy: How do you react to being called the Rajinikanth of spin bowling?
Ravichandran Ashwin: I don't react at all, I just take it as a compliment and move on. He's a superhero, kind of a demi-god here. Over the years, Tamil Nadu has had a big cine culture and people tend to attach themselves to different heroes.
So that is very natural progression if you are coming out of Tamil Nadu. I am probably the first cricketer to come out of Tamil Nadu to have gone and scaled such heights in Indian cricket. So, I think the comparison is right. At the end of the day, I like to take it with a little bit of humbleness.
Rica: 50 wickets, 500 runs, 4 back-to-back Man of the Series awards and now the Cricketer of the Year. Which of these achievements is closest to your heart?
Ashwin: I would say the Cricketer of the Year is the highest point in a cricketer's career. The ICC is recognising you. To have become BCCI's Cricketer of the Year a couple of years ago was a big honor, and this is one step higher.
It's cricket's epitome body recognising me as one of the better cricketers. So that will be very special to me, but that's not something I set my eyes on. I didn't even know such awards existed in the first place when I started playing. But being recognised is a huge honour, and I have to dedicate those awards to my family and my friends.
Rica: Sachin Tendulkar used to say, 'when stones were hurled at him, he converted them into milestones'. Is that also your philosophy in life? When you reach a milestone, you go for the next?
Ashwin: I think that's what life needs to be. You have to move on. If you are falling back on your past laurels, it will quickly sort you out and in no time you will be pleading to have another opportunity.
Rica: So what's the next goal for you?
Ashwin: Probably start 2017 afresh, you can't have any hangovers from 2016. I've left 2016 exactly where the last ball was bowled in Chennai. One day when I'm not able to bowl anymore,
I'll probably recreate these memories in my head and try to relish those moments, but for now I think it's done and dusted. I think it's one of my strengths - I try and stay in the present. The past is a tool to learn from, the future is an oyster. So I just keep moving.
Rica: So Ashwin, you had a sensational year on the field and you've done something pretty cool off it to cap that year, launching Ashwin Foundation. Could you tell us something about it?
Ashwin: There was a video I released at the start of the year, and it's been affecting me pretty deeply. We do not contribute enough to the society. We belong to a fabulous country and we do not do enough for the country. What can we do as individuals?
We can't really go out there and pass bills and pass laws, we have people elected to do that. But, as individuals, what we can do is definitely be self-disciplined, align ourselves to what society has to give us and have proud ownership of our country.
So what we thought, like I said, I'm going to contribute in a bigger way, thus decided to launch this foundation with the help of ITW. These people have definitely shown me a pathway in terms of how I can do it. It's all about touching lives and we'd like to do, blood donation camps, eye donation camps.
As you all know, I've already batted for elections 100% results. These are some of the activities we are embarking on, but any activity that we deem suitable requires our help. Like, for example, we had an emergency here in Chennai with the Vardha Cyclone coming down. So those are things where we would definitely like to contribute towards.
Rica: Well Ashwin, you are a very proud Indian, you wear your heart on your sleeve when you play for Team India. How have the recent incidents in Bengaluru impacted you? As a sportsperson what change can you make to the mindset of Indian men?
Ashwin: I'm actually a very aggressive person, so if I say what I feel, it would not come out right and people might not like it. But to say the least, the incidents were disgusting. As I told you, discipline comes from home and one needs to teach empathy, how to coexist with girls.
It's a shame that we still see women as objects of fantasy, it just incorrigible to say the least. We're still in a chauvinistic society and it is very hard to consume. The change needs to start at home, parents need to bring kids up well.
They need to be brought up in co-education schools and thrive amongst girls a very basic thing. 40% of your life is shaped at home and that is a big part of one's education.
Rica: Coming back to cricket, you just said that you don't make excuses, and I think that is imbibed in your character. Is that how the Indian team thinks these days - no excuses?
Ashwin: You generally defend when you go through tough times, make excuses and be diplomatic but I hate diplomacy. But, I've learned the trade and unfortunately it does work in the society. That's how we were brought up and trained.
But in this Indian team, we are constantly focusing on improvement, we are not focusing on results, but trying to think big. Think big and no matter if you fall short on it, you can just pick yourself up and go. So we resonate the fact that we all should improve together as a unit, and when every individual improves, we contribute to the kitty.
Rica: Big changes are happening to the team in 2017. We already know that MS Dhoni has decided to give up the ODI captaincy. How will that pan out for the dressing room? Were you ready for the change?
Ashwin: We are used to playing Test cricket under Virat for about a year and a half now. And we all knew the transformation was going to happen. It's just that a big personality in Indian cricket, a landmark person decided to shed his responsibilities and many feel the gap is going to be huge.
But he's still going to be around and try and phase this out, I'm sure, and that's why he's decided to shed the responsibility and continue playing. I think his experience will be invaluable and we'll try and tap into it and make sure we go in the right direction, try and take the approach Virat wants us to take.
Rica: Talking about MS Dhoni, Virat Kohli has tweeted that he's the leader every youngster would like to have and he'll be his captain forever. What is the big change that MS Dhoni has brought about in you?
Ashwin: I think the biggest change is that he has remained himself. And anything that resonates with a great leader is that you can learn and draw upon a lot of good habits to practice. He is someone who leads by example.
He's remained himself, he's remained calm, he's stayed himself and given enough liberty. If at all, I don't think leadership is about leading with a title. I think you need to lead without a title as well. So not just leading on the field or leading on the path, I've taken leadership lessons all along
Rica: Has he been a leader off the field for you as well?
Ashwin: That's a very difficult question to answer because I'm actually a loner and I don't interact with a lot of people outside the field, especially when it comes to the game. I have my own set of friends and I try to mentor myself and I don't go through any mentorship at all.
Rica: How different are the leadership styles of Virat Kohli and MS Dhoni? And do you sync in better with Virat and his style of functioning?
Ashwin: As I told you earlier, I'm some sort of a loner, I like the individuality of both of them and they understand me. They give me enough responsibility. And the leadership styles are very difficult to compare. They are different personalities and you need to give them that respect, one needs to take the line the leader wants you to take.
I love responsibility and control on my bowling fields. Both have supported me splendidly.