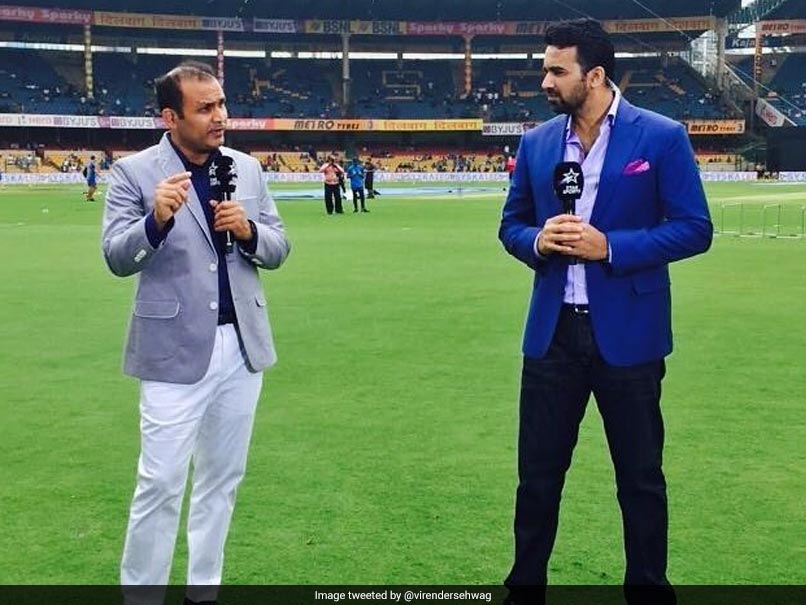 Virender Sehwag took to Twitter to wish Zaheer Khan on his birthday.
© Twitter
Virender Sehwag has made it a habit to wish his fellow cricketers on their birthday and at the same time giving them quirky nicknames. On Saturday, Sehwag took to Twitter to wish former India pacer Zaheer Khan on his birthday. Sehwag heaped praise on his former teammate, saying "Happy Birthday to one of India's greatest ever bowler and one of the sharpest cricketing brain." However, on the sides, the former India opener was once again up to his hilarious tricks. Sehwag provided Zaheer and the entire world a gentle reminder by writing #LastBachelorsBirthday. 
Sehwag's hashtag could have two meanings. One being that the former pacer is the last bachelor left among his contemporaries like Yuvraj Singh, Harbhajan Singh, MS Dhoni, Gautam Gambhir and Sehwag himself. While the other is that this would be Zaheer's last birthday as a bachelor following his engagement to Bollywood actress Sagarika Ghatge earlier this year.
Happy Birthday to one of India's greatest ever bowler and one of the sharpest cricketing brain, Gyaan Baba @ImZaheer #LastBachelorsBirthday pic.twitter.com/4EybZYwobb

— Virender Sehwag (@virendersehwag) October 7, 2017
Meanwhile, other cricketers like VVS Laxman and Aakash Chopra too praised Zaheer for his contribution.
Happy birthday to a wily bowler , wonderful man and a great friend @ImZaheer .Have a great year Zak ! pic.twitter.com/FzNJEVIFUq

— VVS Laxman (@VVSLaxman281) October 7, 2017
Wishing the 'Sachin Tendulkar' of Indian fast bowling a very happy Birthday...have a good one ZK pic.twitter.com/WbNzBnhFJ1

— Aakash Chopra (@cricketaakash) October 7, 2017
Zaheer's expertise with the ball made him indispensable to the Indian side. He played a major role in India's 2011 World Cup triumph with 21 wickets in the tournament.
But as his career wore on, fitness issues crept into his game. Zaheer had to miss a lot of games through injury and, at the back end of his career, lost quite a bit of pace too.
However, the left-arm fast bowler managed to reinvent himself, and with his guile and smartness foxed the batsmen many a times. Zaheer's cricketing brain was always a big asset to him and that was acknowledged when he was appointed captain of the Delhi Daredevils in the Indian Premier League 2016 season.
Zaheer was also in the running to become India's bowling consultant but that didn't go as planned.
Zaheer retired from international cricket in 2015, having played 92 Tests with 311 wickets. He took 282 ODI wickets in 200 matches. He also played 17 Twenty20 Internationals for India.