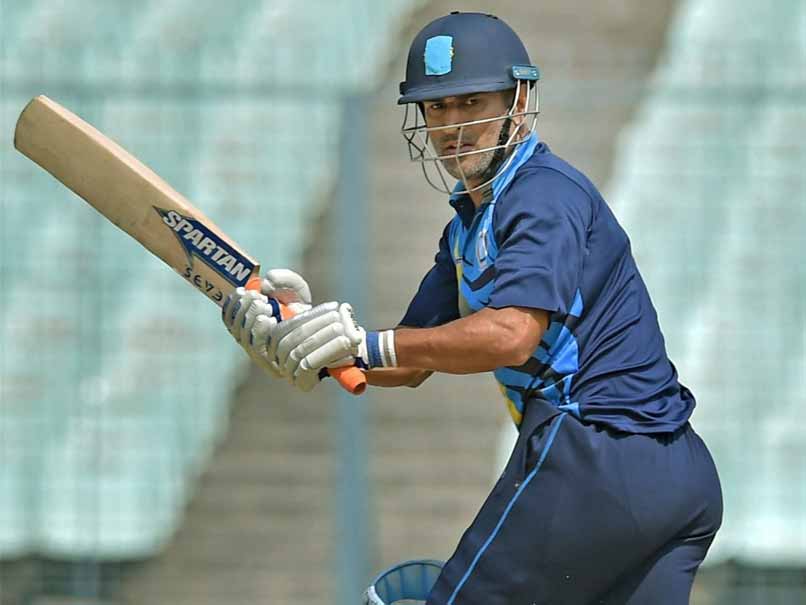 MS Dhoni was in good mood and to everyone's surprise obliged the fan.
© PTI
Mahendra Singh Dhoni never ceases to surprise his fans and he did just that on Wednesday. There's always a first for everything and no wonder Dhoni will be remembered as the first among equals for signing an autograph for a crazy fan while he was out there batting for Jharkhand in the Vijay Hazare Trophy quarter-final against Vidarbha. Crazy fans are not uncommon, especially in India where cricketers enjoy demi-God status. Whether it is Abbas Ali Baig being kissed during a Test match or Sourav Ganguly finding an overzealous fan breach a security cordon to touch his feet, cricketers young and old have a tale to tell.
But the young man wearing a half-sleeve shirt with red and blue checks with jeans could not have realised that once he had evaded the security and reached the centre, the former India skipper, standing at the non-striker's end, would oblige as offered a white sheet for his autograph.
With Jharkhand coasting along towards a modest victory target, the skipper was in a good mood and to everyone's surprise, obliged the fan.
Not only did he show humility but also doused what could have been a potentially volatile situation if he got angry and forced the security personnel to give the man in question a serious dressing down. But as is his wont, the Jharkhand skipper handled the situation well.
Life also generally tough for other Dhoni fans, who stood on the fence around the Air force ground for the entirety of the game as the ground is not equipped to handle big crowds. The situation was similar to 2013 Ranji Trophy season when Sachin Tendulkar played semi-final for Mumbai against Services.
It was rare sight as Dhoni walked into the middle in the sedate setting of the Palam Air Force Ground with business as usual on the road leading to the stadium.
However once the word of of Dhoni being out in the middle spread, passers-by stopped their vehicles to get a glimpse of one of India's favourite sport stars.
But it was the young man who the autograph to savour.
(With inputs from PTI)