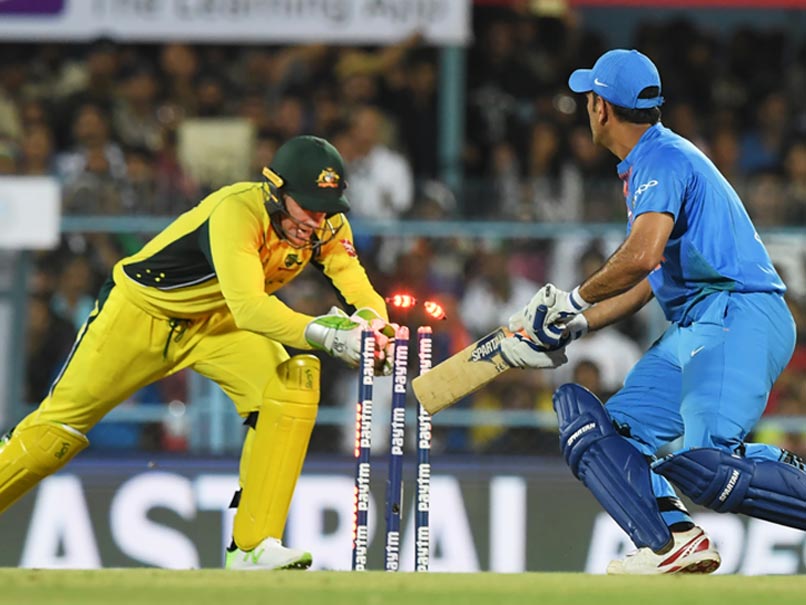 MS Dhoni was stumped for the first time in his 80-match T20I career.
© AFP
Mahendra Singh Dhoni's domination behind the stumps is known to all. Be it under-arm flicks without looking at the stumps or whipping off the bails in a flash, the former India skipper has proved time and again that he is arguably the best glovesman in the business. But, it is quite sporadic when an opposition wicket-keeper gives you a taste of your own medicine. Credit to Adam Zampa as he managed to beat Dhoni in flight and the former India captain was left clueless after he decided to step down the track. The Barsapara Cricket Stadium, Guwahati witnessed such a rare occurrence during the second Twenty20 International between India and Australia. The 36-year-old was stumped for the first time in his 80-match Twenty20 International career.
Playing his 80th T20I on Tuesday against Australia, Dhoni walked down the track to hit Australia's spinner Zampa but missed the ball completely. The ball spun a long way after pitching on the rough and Tim Paine, behind the wickets, collected the ball and whipped off the bails comfortably.
Zampa was ecstatic as he knew the value of the wicket.
The former India skipper has been stumped on one occasion in 306 ODI matches that he has played so far. He was dismissed in the same fashion during the ICC World Cup 2011 match against West Indies.
In 90 Test matches that he had played, Dhoni was stumped thrice.
Earlier, Dhoni became the first man in world cricket to effect 100 stumpings in One Day Internationals.
Dhoni, who made his debut in 2004 against Bangladesh, had achieved the feat in his 301st ODI against Sri Lanka in Colombo.
Occasions when Dhoni got stumped out:
T20Is (Once): vs Australia in 2017
ODIs (Once): vs West Indies in 2011
Tests (Thrice): vs Pakistan in 2006, vs South Africa in 2008 and vs Bangladesh in 2010.