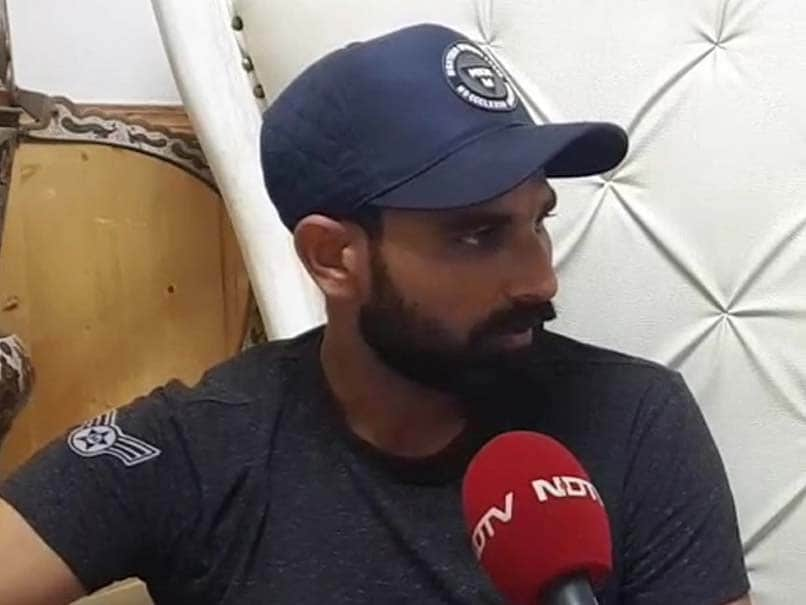 Mohammed Shami, in an exclusive interview to NDTV, said match-fixing allegations were made to defame him.
© NDTV
India cricketer Mohammed Shami has rubbished claims of match-fixing made by his wife Hasin Jahan and said that he wants a thorough investigation into the matter. Speaking exclusively to NDTV, Shami said that he had never indulged in match-fixing and claimed that he had good support from Board of Control for Cricket in India (BCCI). Shami's wife had alleged that he had taken money from a Pakistani woman named Alishba on the insistence of an England-based businessman, Mohammad Bhai. The Committee of Administrators of the BCCI on Wednesday has asked the anti-corruption wing of the board to launch an investigation into an alleged dodgy cash transaction.
"I want only one support from the BCCI. They should have a proper inquiry into the matter, thoroughly check all the details," Shami told NDTV.
Hasin Jahan on her 'Facebook' page had alleged that Shami was cheating on her and that she was a victim of domestic violence. Shami, though has denied all the allegations, saying it was a conspiracy to defame him and ruin his career.
"Taking money from a Pakistani and all this about going to Dubai has been wrongly clubbed together. I have never done anything wrong and neither will I ever do it in the future. This was a plan to tarnish my character and I request that this to be thoroughly investigated."
"This was a family matter, which was taken to the public. All my teammates know how I am and what I can do. They have supported me in the past and I hope they will continue to support me. I have spoken to a lot of my teammates and some have even supported me publicly."
"All families have problems. But it's never happened that it has been blown so out of proportion."
Speaking about his daughter, Shami said he wants the best for her and will do anything possible to make her future better.
"My daughter has her entire life in front of her, I need to secure her future so I will do my best to make that happen."
The BCCI had withheld Shami's central contract in the wake of his wife Hasin Jahan's allegations of domestic violence and infidelity against the pacer and the Indian cricketer said that he was confident of coming out clean.
"As far as the BCCI contract goes, it's up to them when they will give me one. I know I have not done anything wrong and I'm 100 percent sure that I will come out clean from all this," said Shami.
Meanwhile, Shami's participation in the upcoming Indian Premier League (IPL) will depend on the findings of BCCI's Anti Corruption Unit (ACU) chief Neeraj Kumar, acting president CK Khanna had said on Friday.
Shami's IPL team -- the Delhi Daredevils -- are also awaiting BCCI's legal opinion about whether they should allow the Bengal speedster to join their camp. The Indian pacer said that he is keen to get the matter sorted out quickly and resume his cricketing duties.
"It will be better for me that the BCCI get all the inquiries done as quickly as possible because all my practice and workout has stopped. I hope this matter is sorted out quickly so that I resume my cricketing duties," he said.
"I'm mentally strong on and off the field and I know I can return to full fitness quickly," signed off Shami.
(With Inputs from Yash Chawla)