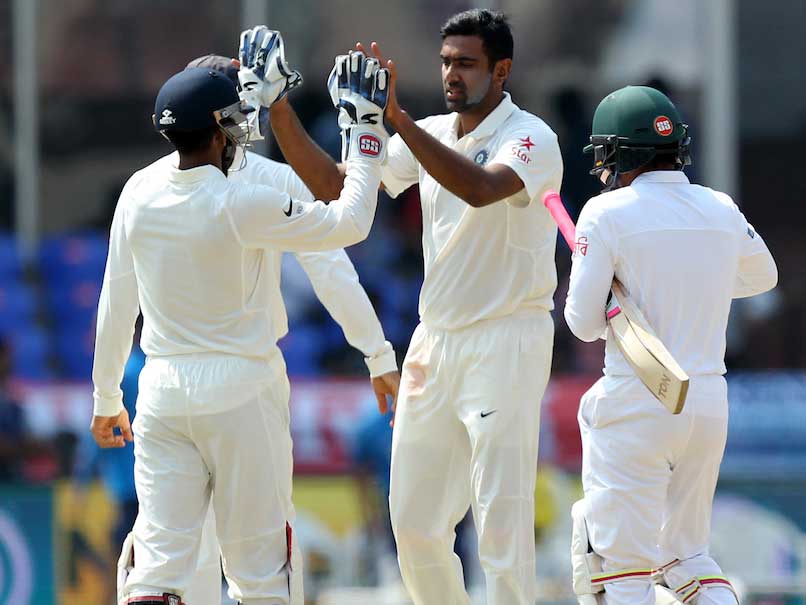 R Ashwin provided first breakthrough to the hosts
© BCCI
India dominated the fourth day too in the one-off Test against Bangladesh in Hyderabad with R Ashwin and Ravindra Jadeja putting the visitors in big trouble. Bangladesh ended the day at 103/3 needing 356 more runs to win the Test and three sessions to survive. Earlier, Cheteshwar Pujara and Virat Kohli scored some quick runs to extend India's lead and set Bangladesh a target of 459 runs in the second innings. India declared during the tea break on 159/4 where Pujara remained not out on 54 and Virat Kohli scored a quickfire 38. (SCORECARD)
Get highlights of India vs Bangladesh Test here.
16:59 IST: Hope to see India win early tomorrow. An intriguing day is on the cards. Till then goodbye!!!! Adios​
At Stumps on Day 4 of the one-off Test, Bangladesh (388 & 103/3), trail #IND (687/6d & 159/4d) by 356 runs to win #INDvBAN pic.twitter.com/YJRntIuB8F

— BCCI (@BCCI) February 12, 2017
16:56 IST: So, India need 7 wickets to win the Test and Bangladesh will have to toil really hard top save this Test match. Both the Indian spinners stood out again and showed their class act. Credit should also be given to the medium pacers who made the work cut out for the spinners and of course the batters played according to the plan.
16:40 IST: Stumps!! Bangladesh finish the day at 103/3, needing 356 runs to win with 7 wickets remaining. To survive!!! they need to stay there for three sessions. Mahmudullah 9*, Shakin Al Hasan 21*
16:37 IST: Bangladesh are 103/3 and just 2 overs to go in the day
16:32 IST: FOUR!! Slashed hard again by Shakib. He is dealing in boundaries now, not afraid to play the big shots
16:28 IST: FOUR!! Shakib Al Hasan smashes it over mid-wicket for a boundary. He is playing his natural game, taking on Jadeja
16:27 IST: Six overs left in the day' play 
16:22 IST: REVIEW!!! Inside edge and forward short-leg takes the catch. Given out by the umpire but Bangladesh take the review. No edge and the third umpire overturns the decision
The spiders are spinning a web in Hyderabad. Will be very difficult to escape.

— Harsha Bhogle (@bhogleharsha) February 12, 2017
16:18 IST: FOUR!! Quicker delivery by Ashwin and Shakib glides it away for a boundary 
16:15 IST: Bangladesh are 75/3 in 25 overs. Mahmudullah 2*, Shakib Al Hasan 0*
16:10 IST: OUT!! Another wicket goes and Rahane takes a good catch again in the slips. R Ashwin strikes for the second time
16:02 IST: OUT!! Outstanding one-handed catch by Rahane at slips. Jadeja provides the breakthrough and Soumya Sarkar goes for 42 
15:54 IST: FOUR!! Quicker delivery and Sarkar makes full use of the pace!!! 
15:53 IST: FOUR!! Sarkar comes down the track and hits it through mid-on for a boundary. The shot also brings up the 50 partnership between these two
15:50 IST: Ravindra Jadeja comes into the attack now. Good attacking field set for him 
15:40 IST: REVIEW!! Beautifully disguised  delivery by Ashwin and he is always keen to go for the review. Virat Kohli goes for it. Looks like a no edge and third umpire stays with a not-out decision
15:38 IST: Soumya Sarkar and Mominul Haque have steadied the Bangladesh ship to some extent. However, they still need to do a lot. Someone from the Bangladesh line-up need to take the responsibility to score big. 
15:30 IST: FOUR!! Outside edge and goes for a boundary
15:28 IST: FOUR!! Width outside off and Soumya Sarkar plays it with elan. Superb finish in the follow through 
15:20 IST: Bangladesh are 36/1 in 12 overs. Soumya Sarkar 20*, Mominul Haque 13*
15:15 IST: FOUR!!  Short and wide delivery by R Ashwin. Turn makes it all the more easy for Mominul, who goes back and cuts past cover.
India beat arch rivals Pakistan by 9 wkts to win the #BlindWorldCup 2017 #IndvPak

— Mohandas Menon (@mohanstatsman) February 12, 2017
15:00 IST: FOUR!! Short ball this time and Sarkar pulls it for a boundary through backward square leg
14:57 IST: FOUR!! Bhuvneshwar gave some width to Soumya Sarkar he is not going to let that go unpunished. Throws his bat on the cut and finds the gap through cover
India declared after setting massive target.
Read more: https://t.co/yp1xSwfsLD#BANvIND pic.twitter.com/50iK3KwO3u

— Bangladesh Cricket (@BCBtigers) February 12, 2017
14:55 IST: Bangladesh are 11/1 after 6 overs and require another 448 runs to win. Mominul Haque is the new batsman
14:50 IST: OUT!!! But it's a clear inside edge and Ashwin gives India the first breakthrough. Tamim goes for 3. Bangladesh in trouble
14:45 IST: REVIEW!! India appeal for a catch but umpire gives it a not-out
14:35 IST: And we are back!! Bangladesh openers walk out to bat. The visitors have a mountain to climb.
India should win this one...enough time left still https://t.co/y6Knnk5Zsn

— Aakash Chopra (@cricketaakash) February 11, 2017
14:15 IST: India have declared during the tea break on 159-4 and have set Bangladesh a target of 459 to win.
At Tea on Day 4 of the one-off Test, #IND are (687/6d & 159/4), lead #BAN (388) by 458 runs #INDvBAN pic.twitter.com/vfWlWWkgWl

— BCCI (@BCCI) February 12, 2017
14:10 IST: And it's Tea! India now lead by 458 runs.
14:06 IST:  Five singles and a boundary from the over. India 148/4 after 28 overs (Pujara 45*, Jadeja 14*
14:01 IST: Six!! Jadeja walks out to bat, hits a four first ball and then a six. It's raining boundaries here.
13:58 IST: OUT!! Shakib gets another one as Rahane is clean bowled. The Indian batsman failed to judge the flight of the ball and missed it entirely. India are 128-4 and lead by 427 runs.
13:48 IST: Six!! Rahane comes down the track and swats Mehedi over the deep mid-wicket boundary. He is really pressing on the accelerator now.
13:45 IST: Four!! Rahane slog sweeps Shakib to the mid-wicket boundary.
13:40 IST: 100 up for India! The hosts now lead by 399 runs. Both Rahane and Pujara are looking to attack at any given opportunity.
13:30 IST: Dropped!! Shakib puts down a tough return catch. Rahane gets a life early into his innings.
13:26 IST: OUT! Virat Kohli falls after a brisk 38-run knock. He is caught by Mahmudullah from a Shakib Al Hasan delivery. India 90/3 from 16.5 overs.
13:15 IST: Costly over for Bangladesh as Taskin goes for 14 runs. India 78/2 from 14 overs (Pujara 29*, Kohli 27*).
13:05 IST: India 62/2 after 12 overs. Virat Kohli 19*, Cheteshwar Pujara 20* 
13:00 IST: FOUR!! Pujara hits it through the sweeper cover area for a boundary 
12:58 IST: India are 55/2 after 11 overs. Virat Kohli 18*, Cheteshwar Pujara 15*
12:57 IST: FOUR!! Touch of class there. Virat opens the face of the bat and plays it very late
12:54 IST: India are scoring at 5.09 runs per over 
12:53 IST: FOUR!! Good straight drive down the ground by Pujara and gets a boundary
12:46 IST: FOUR!! Nicely played by Pujara through the third-man area. India's intentions are clear 
12:44 IST: Very rarely it happens that a bowler hit Virat's helmet. Taskin is all pumped up 
12:43 IST: FOUR!! Oh that was quick. It was from Kohli's helmet 
12:42 IST: India definitely need time to take wickets on this pitch and I think they will look to declare by the end of day's play. May be an hour before the close 
12:40 IST: The intentions of the both, Vijay and Rahul, were not wrong as India are looking to score quickly. But having said that, the execution was not right 
12:35 IST: OUT! Trying to fiddle outside off and Rahul goes this time on 10. Double whammy for Bangladesh
12:33 IST: FOUR! Bludgeoned away through the off-side by KL Rahul off Taskin Ahmed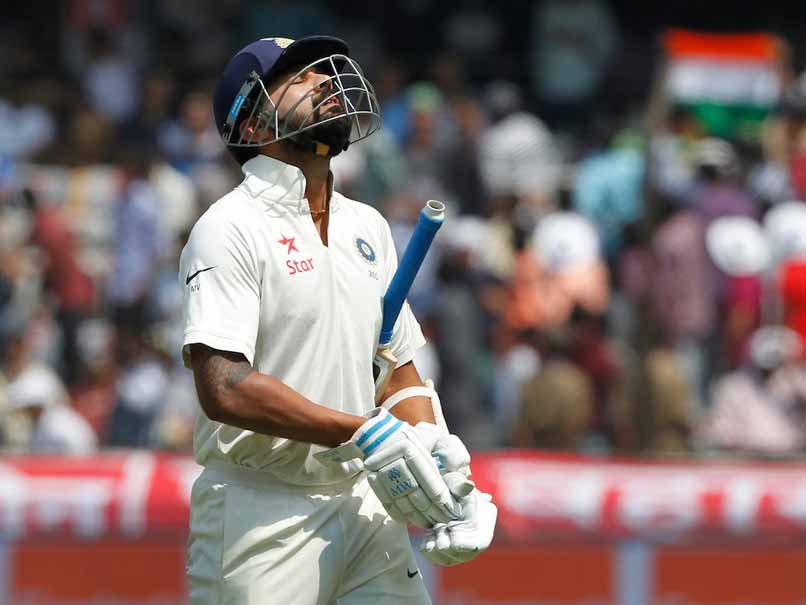 Live Cricket Score, India vs Bangladesh: Murali Vijay fell early in the second innings. 
Photo Credit: BCCI
12:30 IST: FOUR!! New batsman Pujara uses his feet nicely and hits a cover drive for a boundary
Wicket!!
Taskin draws the first blood. India lost their first on 12.#BANvIND pic.twitter.com/EU9xTAP9fO

— Bangladesh Cricket (@BCBtigers) February 12, 2017
12:25 IST: OUT!! Short and wide, tries to play an attacking shot and nicks it. He is out on seven. India 12/1
12:17 IST: FOUR! Steered to the leg side by Murali Vijay off Taijul Islam and he gets his first boundary
12:10 IST: We are back after lunch. India are 1/0 and lead by 300 runs
India had a chance to enforce follow-on but they have decided to bat again.#BANvIND pic.twitter.com/iibwk1bChh

— Bangladesh Cricket (@BCBtigers) February 12, 2017
Innings Break! Bangladesh all out for 388, trail #Ind (687/6d) by 299 runs. #INDvBAN pic.twitter.com/YRBLd2Tqxl

— BCCI (@BCCI) February 12, 2017
Test wicket no.250, @ashwinravi99 now the fastest to the landmark, gets it in 45 Tests #INDvBAN pic.twitter.com/H49xmZAl4s

— BCCI (@BCCI) February 12, 2017
11:30 IST: LUNCH!!! India go into the break with a lead of exactly 300 runs.
11:25 IST: India have come on to bat for only one over. Murali Vijay and KL Rahul are at the ground to start the second innings
11:20 IST: India lead by 299 runs and have decided not to enforce a follow-on 
11:18 IST: OUT!!! Mushfiqur is out!!! and Ashwin gets his 250th wicket, fastest to achieve the feat. Bangladesh are all out on 388 in 127.5 overs. 
11:17 IST: FOUR! You got to appreciate Mushfiqur, as a batsman. Stepped out and hit a straight boundary
11:16 IST: Mushfiqur takes a single in the second ball of the over. And Kamrul has 4 balls to face
11:15 IST: Bangladesh are 383/9 in 126 overs. Mushfiqur Rahim 122*, Kamrul Islam Rabbi 0*, need 105 runs to avoid follow-on  
11:11 IST: FOUR!! Innovative shot by the captain and gets a boundary
11:10 IST: No.11 batsman Kamrul Islam Rabbi comes onto the field. 
11:07 IST: OUT!!! Taskin Ahmed is caught in the slips and Jadeja gets the wicket
11:04 IST: Big shout of LBW!! Missing off-stump and Marais Erasmus unmoved
11:01 IST: FOUR!! Outside edge of the bat and Taskin gets his first boundary. This partnership is really frustrating India
The skipper shows his skill, temperament and patience to perfection. Wonderful hundred under tremendous pressure.#BANvIND pic.twitter.com/zeuUroXbZC

— Bangladesh Cricket (@BCBtigers) February 12, 2017
11:00 IST: Bangladesh are 369/8 after 121 overs. Trail India by 318 runs. Mushfiqur Rahim 114*, Taskin Ahmed 2*
10:57 IST: REVIEW! Sound and taken by the keeper. Umpire Joel Wilson gives that out. Nooo the third umpire overturns it. Taskin survives
10:56 IST: So, the fifth bowler Ravindra Jadeja comes into the attack now
10:55 IST: SIX! He smashed it over the mid-wicket boundary for a maximum. 12 runs of the over 
10:53 IST: FOUR! Dances down the track and hits it for a boundary
A 5th Test match century for @mushfiqur15 as he leads the fight for Bangladesh on Day 4 in Hyderabad! #IndvBan pic.twitter.com/SqgsHKuJi6

— ICC (@ICC) February 12, 2017
10:49 IST: R Ashwin comes into the attack now!! 249 wickets against his name. 
10:47 IST: The skipper's hundred is keeping India wait. Mushfiqur is playing some sensible cricket here, giving only a couple of balls to the number 9 to face
10:40 IST: Hundred!!! Mushfiqur Rahim gets the 5th century and he is so happy to achieve it. Completes it with a boundary
10:30 IST: Bangladesh are 347/8 after 116 overs. Mushfiqur Rahim 95*, Taskin Ahmed 0*, trail India by 340 runs
10:21 IST: REVIEW! Peach of a delivery by Ishant Sharma and Mushfiqur tries to pull it. Gets the edge and not-out given by the umpire. Replays say that it had hit the arm-guard. "Great decision" praises Gaffaney and India now don't have anymore reviews for the rest of the innings
10:22 IST: SIX! Short ball again and Mushfiqur goes for it and hooks it for a maximum
10:20 IST: Mushfiqur Rahim is still there and he should take most of the strike now
113.5: WICKET! T Islam (10) is out, c Wriddhiman Saha b Umesh Yadav, 339/8

— BCCI (@BCCI) February 12, 2017
10:18 IST: OUT!!! That's it. The short ball does it for him. Taijul Islam goes for 10 and Umesh Yadav gets his 3rd wicket
10:16 IST: FOUR!! Taijul does not look comfortable in the crease at all. His eyes were somewhere else, head on the other side. It seems, he will not survive for long
10:12 IST: Ooooh !!! Snorter of a delivery whizzes past Rahim's ear. Good bowling Ishant Sharma
10:06 IST: Ishant Sharma is standing at the gully. I think, for the first time in his career
10:05 IST: That's better from Umesh Yadav!! He should ball on the off-stump and focus to swing it from there
10:03 IST: FOUR! First boundary of the day comes from the willow of Taijul Islam. He placed it between the third slip and a gully
09:56 IST: Ishant Sharma comes into the attack now replacing Bhuvneshwar Kumar
09:45 IST: Indians have certainly maintained the ball well and the credit should be given to the fielders too for looking after it. As a result Bhuvi is making life difficult for the opponents
09:43 IST: Bhuvi is on fire!! Reversing the ball at will. The good thing is he can swing the ball both ways
09:42 IST: Umesh Yadav looks stiff!!! He is not bowling hundred per cent and his ball is not even carrying to the wicketkeeper 
09:40 IST: Umesh Yadav to bowl the second over. Bangladesh are 322/7
104.4: WICKET! M Hasan (51) is out, b Bhuvneshwar Kumar, 322/7 https://t.co/Ne2IQxxVKm #IndvBan @Paytm

— BCCI (@BCCI) February 12, 2017
09:37 IST: Pitched outside and the third umpire stays with the not-out decision, Taijul Islam survives!!
09:36 IST: REVIEW!! Wrapped on the pads, Bhuvneshwar appeal again. Not-out says the umpire but India takes the review here.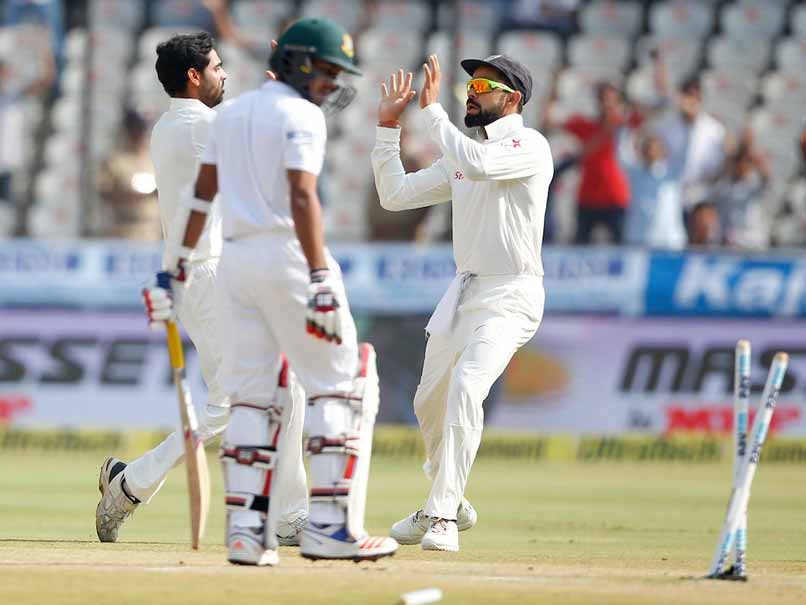 Live Cricket Score, India vs Bangladesh: Bhuvneshwar Kumar ended Mehedi Hasan's resistance
Photo Credit: BCCI
09:35 IST: OUT!! Bhuvi dismantles the middle stump. Brilliant from him and Mehedi Hasan's resistance ends on 51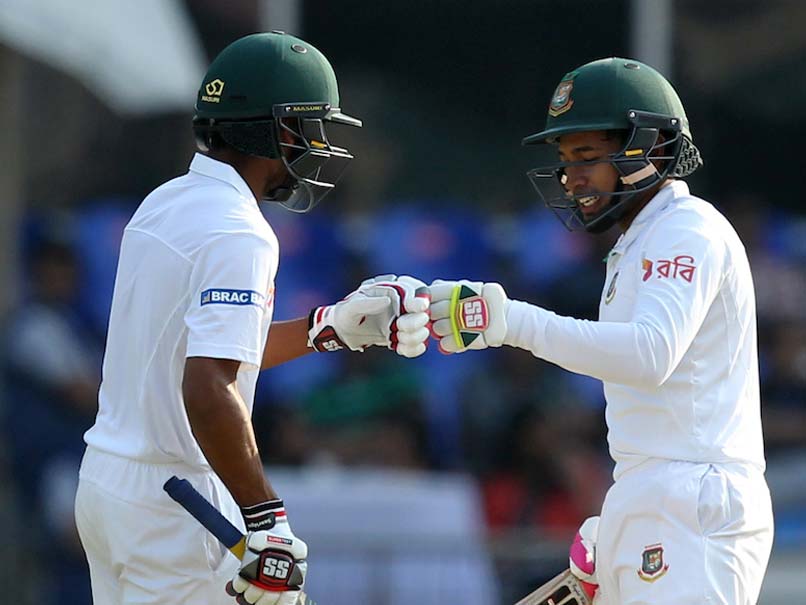 Mushfiqur Rahim and Mehedi Hasan added 87 runs for the seventh wicket. Photo credit: BCCI
09:32 IST: Pitch Report: "It doesn't look like an obvious result pitch. I would have liked to see the cracks much wider by now. It looks more like a day three wicket than a day four one. There is some rough but I wish it was more towards the good length spot. But, the true nature of this wicket gives Bangladesh a stronger chance for survival. It is the grass that has held the pitch together," reckons Sanjay Manjrekar in the company of Simon Doull.
09:30 IST: The players are at the ground. Bhuvneshwar Kumar to start the proceedings for India 
3000 test runs for @mushfiqur15 . He is the fourth Bangladeshi to do so in test cricket. pic.twitter.com/evxQwGG43A

— Bangladesh Cricket (@BCBtigers) February 11, 2017
09:20 IST: The pitch still looks good for batting. And the visitors can fancy their chances of giving a tough fight to the Indians.
09:15 IST: Bangladesh's first target would certainly be to score 166 runs more to avoid follow-on. India, on the other side will have to bowl their heart out. A lot will depend on how R Ashwin and R Jadeja bowl.
09:14 IST: The 4th day is about to start in 20 minutes time. Bangladesh are 322/6, thanks to the unbeaten 87-run partnership between captain Mushfiqur Rahim and Mehedi Raza. They still trail India by 365 runs.
09:10 IST: Hello and welcome to the live blog
Seasoned all-rounder Shakib Al Hasan and captain Mushfiqur Rahim both scored resilient half-centuries which ruined India captain Virat Kohli's plan of bowling out Bangladesh early.
A mention must also be made for teenager Mehedi Hasan, who scored his maiden half-century in Test cricket and also remained unbeaten along with Rahim.
Both Ravichandran Ashwin and Ravindra Jadeja remained pretty ineffective on Saturday and will give it one more try on Sunday to clinch the last four Bangladeshi wickets.