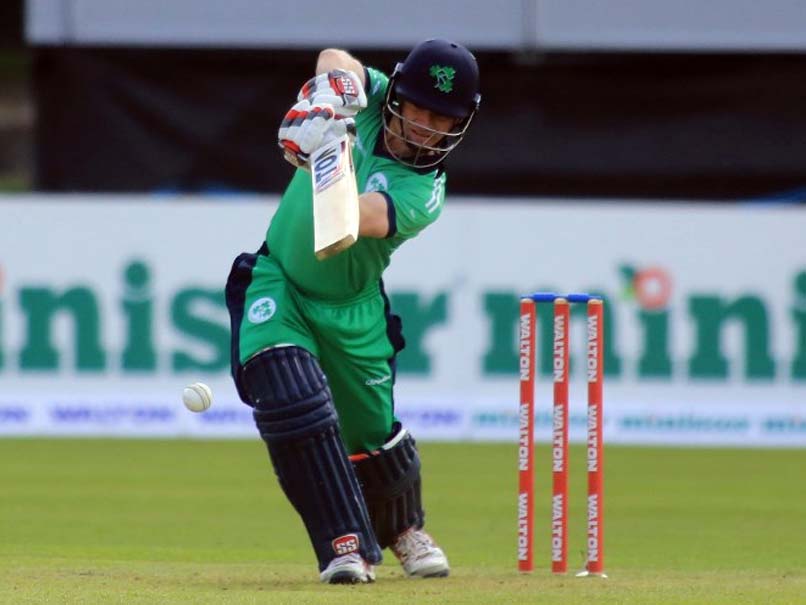 Ireland captain William Porterfield blasted the ICC for an obsession with the "big cheque".
© AFP
Ireland skipper William Porterfield slammed the International Cricket Council (ICC) for favouring the big teams, saying that cricket's world governing body has an obsession with the "big cheque". Porterfield's comments came after his team's five-wicket loss to Afghanistan, which meant the Irish missed out on 2019 World Cup qualification. Ireland's defeat in the virtual sem-finals of the World Qualifiers allowed Afghanistan to join defending champions Australia, India, Pakistan, Sri Lanka, Bangladesh, England, South Africa, West Indies and New Zealand in the 2019 finals in England and Wales.
ICC's decision to cut down the number of teams to 10 in the World Cup finals has been widely criticised and the Irish skipper joined in the chorus.
"How is there only two teams going (from the qualifiers) to a competition that's played every 208 weeks and you've got a six-week competition, to just play it so two or three big teams can play nine games on TV so the ICC can cash in with a big cheque, and a lot of teams are leaving here with nothing in their pocket," said an angry Porterfield.
"The big cheque they're getting from the World Cup has to be pushed back down through.
"All I hear is how good this competition has been, how everyone has beaten everyone, it's gone round in a circle.
"It has to be put back into the game because if countries don't have a World Cup to look forward to or the possibility of getting to the World Cup... if they actually give that carrot, dangle it in front of countries, surely cricket is going to get better in those countries and actually expand.
"I'm not just saying that because we didn't get there but I feel sorry for a lot of countries that are leaving here that don't know what's going to happen next week."
The ICC trimmed the World Cup to 10 teams for 2019 with all sides playing each other in a round-robin competition.
All will be guaranteed at least nine games compared to the three played by India, the sport's commercial superpower, at the 2007 edition in the West Indies where they lost in the first round.
"So close yet so far," added Porterfield after Afghanistan chased down their target of 210 in the final over.
As one of cricket's newest Test nations, alongside Afghanistan, Ireland have at least their first Test match against Pakistan this summer on the horizon.
"To some extent we're lucky. We've managed to get where we are. I feel sorry for Scotland, how it ended for them.
"For them to progress, it's going to be harder. We've got our pathway, as hard as it is, to keep drip feeding money out to keep improving facilities and things like that, from the ICC."
"And a lot of teams will leave here with nothing in their pocket. Scotland have come so close and yet so far themselves, but what have they got to look forward to for the next few years?"
(With AFP Inputs)