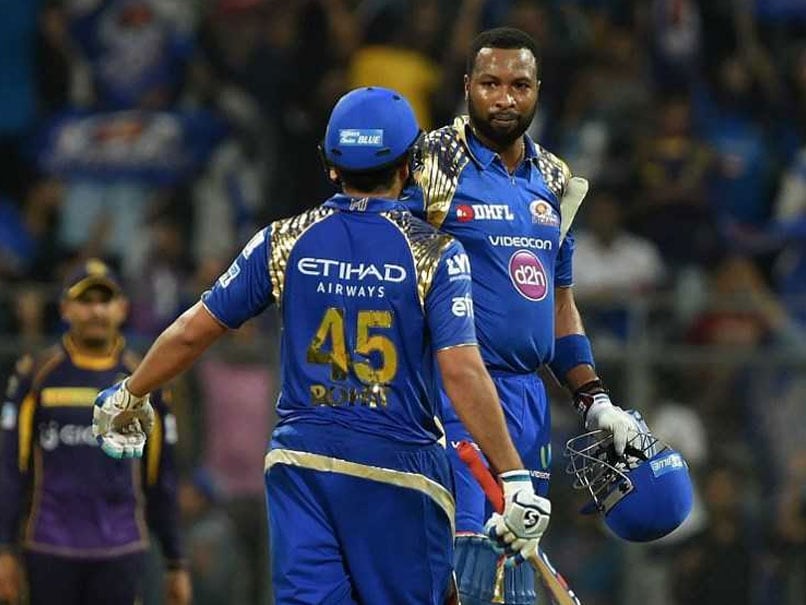 Kieron Pollard was retained by Mumbai Indians by using the RTM card during the IPL auction.
© AFP
It's been an emotional few days for Kieron Pollard. The all-rounder was on the wrong end of news regarding national commitments with newspapers in the West Indies claiming that he, along with some other Trinidadian cricketers, had decided to skip the World Cup qualifiers to play in T20 leagues around the world. Pollard took to Instagram to post a long and emotional message, revealing certain truths about his dealings with Cricket West Indies (CWI). While he might have been sidelined by the West Indies, Indian Premier League (IPL) franchise Mumbai Indians (MI) decided to put their complete faith in the big West Indian and retained him using the Right to Match (RTM) card during the recently-concluded Indian Premier League auction 2018.
Pollard, who has played for the Mumbai Indians since his IPL debut in 2010, thanked the franchise for retaining and "entrusting faith" in him.
"I just want to thank Mumbai Indians for entrusting faith in me once again. Going into the auction then hearing that you were going to be retained, you know you have forged a very good relationship. When you talk of commitment to one, you can be committed to. People stand by you in difficult times, in good times and you reward them in the end. I am happy to be back at Mumbai Indians and looking forward to do special things," Pollard was quoted as saying in an interview to ESPNCricinfo.
Asked whether he had any prior discussions with MI regarding the auction, Pollard said: "We had discussions before, but in auction you never know. But it gives you that sense of belonging. I also want to say this: playing the leagues gives me the fire inside to continue to perform and continue to show what I can do on a cricket field despite what other people think about me, about my performance, if I am good enough, if they want me or it. It gives me that burning desire. That is the motivating factor. They are not going to dampen my spirits. I am young. I have a lot of cricket left in me whichever cricket I play. I am going to give my 100 percent."
Meanwhile, West Indies' chairman of selectors Courtney Browne had accused Pollard along with three other senior players of accepting contracts to play in the Pakistan Super League and giving West Indies' World Cup qualifiers a miss.
While he already vented his frustration on Instagram, Pollard told ESPNCricinfo, "You can't decline an offer if you weren't selected. In the email, I was asked if I was available and if I am, then I need to play the Regional Super 50. I responded saying I would not be able to participate in the Super50. So that was the communication. There was not any discussion as they (CWI) have been claiming. They knew the qualifiers were clashing with the PSL. And they knew which guys were going to the PSL. So they did not even have the discussion with us.
"In 2016, I was dropped from the ODI team. Since then I have had no idea when or how or if I would be picked. So you (the selectors) ask me now if I am available? You didn't even say that I am selected. They did not say that you are selected and then we said no, we don't want to. That never took place," he added.
Pollard reiterated that his heart is still with the West Indies but due to the current situation, he does not know where the future is headed.
"Obviously my heart is still to play for West Indies. But with these sort of things happening, it is very, very difficult to say, 'you know what, I'm just gonna sit and wait'. If there's a clear plan of going forward we sit, we plan for the year, I am sure things can happen," he said.