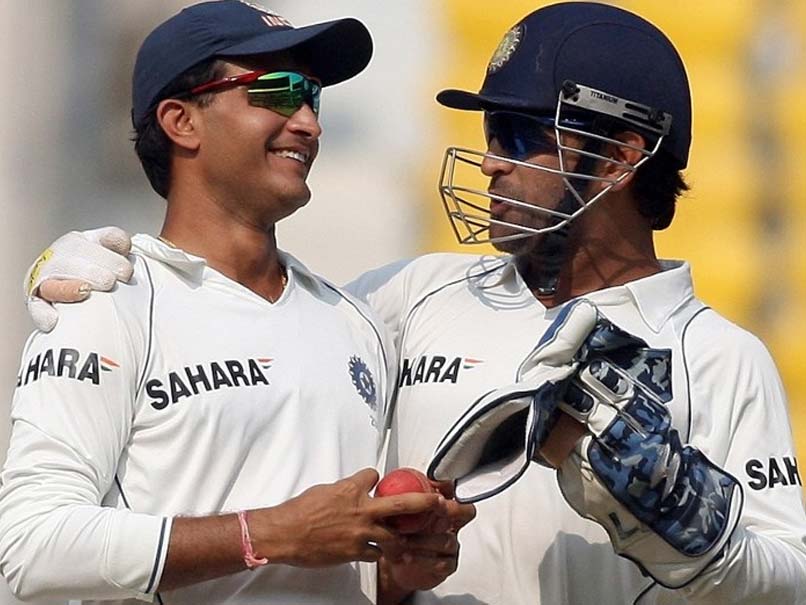 MS Dhoni asked Sourav Ganguly to captain the side on the last day of his career.
© AFP
Sourav Ganguly played his last international match for India in November 2008. The former India captain's final outing was the 4th Test against Australia in Nagpur. As the match drew to a close, Mahendra Singh Dhoni asked Dada to lead the side for one final time, as the Indian cricket fans bid goodbye to an iconic batsman and captain. However, there was more to this incident than what played out on our television screens. In his soon to be published autobiography, Ganguly has spilled the beans on what exactly transpired between the two on that day.
According to Ganguly, he had refused Dhoni's offer to lead the side when he first came up with it.
"As the match came to a close, Mahendra Singh Dhoni in a surprise gesture asked me to lead. I had rejected his offer earlier in the day, but could not refuse a second time," Ganguly says in one of the chapters of his book.
Interestingly, Ganguly had captained an Indian side for the first time exactly eight years to that day.
"Ironically, my captaincy career had begun exactly eight years ago on this very day. I handled the bowling changes and field placements while the last Australian wicket batted," he said.
However, Dada handed the captaincy back to Dhoni after just 3 overs.
"But I must admit, at that stage, I found it difficult to focus. So after three overs I handed it back to Dhoni saying, it is your job, MS. We both smiled."
In the book, Ganguly has also written about his love for Durga Puja -- playing the occasional dhak, distributing prasad to the public and even doing a bit of dhunuchi dancing during evening arati of the Puja.
The Prince of Kolkata, on one such occasion had to dress up like a 'sardarji' to avoid the crowd in Kolkata when he was India captain.
"I am so hooked to the Pujas that I make it a point to always accompany the deity on her final ride. In Bengali there is a semi-tragic word for it - bisharjon. This is when the deity is immersed in the Ganga. The scene is amazing - the energy is sky-high, the crowds full of joy and sorrow at seeing Durga Ma going away, it's truly memorable. The area around the river is so crowded that once, during my Indian captaincy days, I decided to go disguised as one of Harbhajan's tribe. Yes, disguised as a sardarji," writes Ganguly.