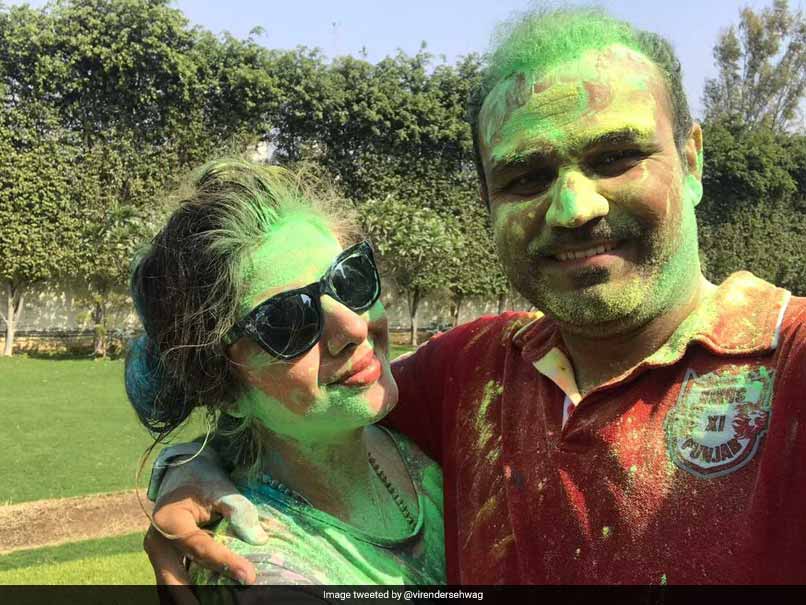 Virender Sehwag uploaded a photo on Twitter
© Twitter
Holi, the festival of color is here with pomp and show. The festival is all about fun, frolic, colors and merry making, as it's a celebration of everything that's lively and youthful. Indian festivals are diverse and it's a joy to partake in every single tradition and custom related to them. One of the most important Hindu festivals, Holi is celebrated with much fanfare by the community, across the world. While the world celebrates, sportspersons took to Twitter to wish their fans on the auspicious occasion of Holi.
Rangon se mat darna, Rang badalne waaon se darna. Don't be afraid of colours, beware of people changing colours. Wish you a Holi filled with love and harmony #Holi2018 pic.twitter.com/jgiJleHrFI

— Virender Sehwag (@virendersehwag) March 2, 2018
Last year Australia greats Matthew Hayden and Brett Lee, who were in India for commentary during the Australia's tour of India, enjoyed themselves as they played Holi.
This particular Holi is an special one for the Indian cricket team as they recently won the One-Day International (ODI) and Twenty20 International (T20I) against South Africa.
At the end of the tour, cricket greats Sunil Gavaskar and Greame Pollock presented India captain Virat Kohli with the Test mace for being the No 1 Test ranked team at the April 3 cut-off date. Along with the mace, a prize of $1 million was also presented to the team.
Virat Kohli's men return with 121 points as opposed to South Africa's 115 points, which is good enough for them to keep possession of the prestigious ICC Test Championship mace for the second year in succession at the April cut-off.
Kohli had became the 10th captain since 2002 to get his hands on the mace when he received it from Gavaskar following the Indore Test against New Zealand in 2016