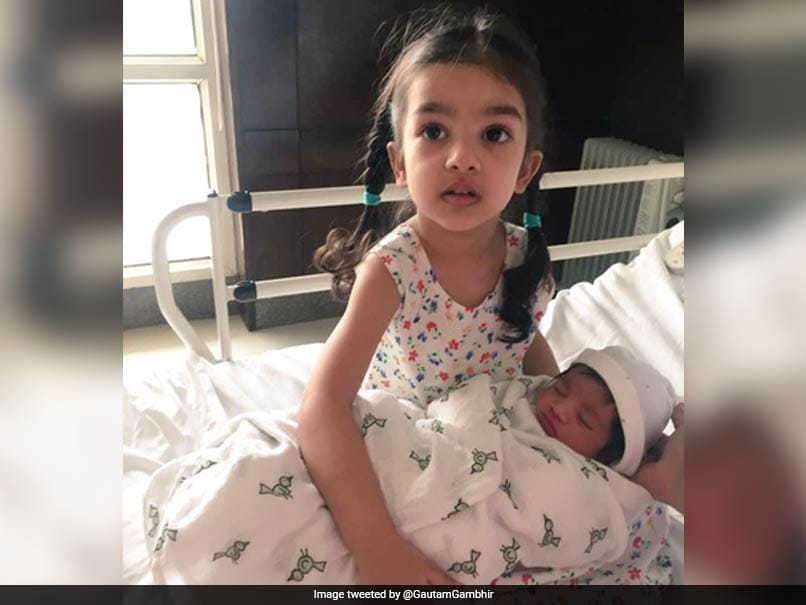 Gautam Gambhir announced his second daughter's name on Twitter.
© Twitter
Gautam Gambhir and wife Natasha had become proud parents for the second time last month. The Kolkata Knight Riders captain had then tweeted a picture to his fans, announcing the arrival of his second daughter. On Wednesday evening, Gambhir again took to Twitter and this time, announced the name of his second daughter which left many fans wondering what it meant. Gambhir's tweeted a picture of elder daughter Aazeen holding her young sister with the caption: "Two little princess who rule our hearts, Aazeen and Anaiza!"
Two little princess who rule our hearts,
Aazeen and Anaiza! pic.twitter.com/7Ld8T7gYnm

— Gautam Gambhir (@GautamGambhir) July 12, 2017
The name Anaiza is definitely unique and many fans wanted to know its meaning. There were a ton of well-wishers too, who wished the Gambhir family love, happiness and success on social media.
Gauti, we would love to know the meaning of Anaiza.! Such a beautiful name it is. Much love to Aazeen & Anaiza.

— Gautian Sreeja Roy (@Roysreeja8) July 12, 2017
Anaiza....wooooow lovely name..Loooooots of love to them..May God bless them.. Gauti plz share the meaning of Anaiza..

— Shilpa Mukherjee (@gautifan_shilpa) July 12, 2017
Adorable and cute angels with beautiful names. Gauti we would like to know the meaning of such a beautiful name "Anaiza"

— Mahima (@im_mahima) July 12, 2017
Gambhir had married Natasha in October 2011 and the couple had welcomed their first child in May 2014.
Gambhir is currently the captain of the Indian Premier League team Kolkata Knight Riders. Under his leadership, Shah Rukh Khan's franchise won the tournament twice - 2012 and 2014. This season, the team qualified for the Play-offs but while they won the eliminator against Sunrisers Hyderabad, their campaign came to an end against Mumbai Indians in the second qualifier. Gambhir had scored 498 runs in 16 matches at an average of 41.50 this year.
Gambhir's last outing for India was in 2016 when he had played the first Test against England.