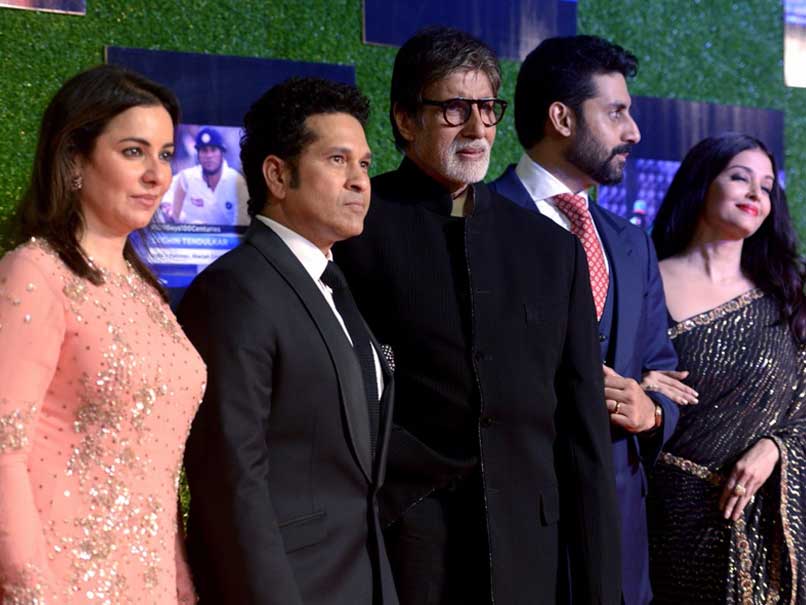 Bollywood megastar Amitabh Bachchan said it was a "fantastic film".
© Amitabh Bachchan/Twitter.
The stars from all around the country gathered under one roof to watch the special screening of the batting maestro Sachin Tendulkar's biopic -- 'Sachin: A Billion Dreams'. The grand premiere of the biopic was organised with a number of Bollywood stars and the entire Indian cricket team attending the event. Tendulkar's children -- Sara and Arjun -- and his brother Ajit Tendulkar were by his side. His childhood coach Ramakant Achrekar was also a part of the glittering event. With his body painted in tri-colour, Sudhir Kumar, Tendulkar's biggest fan, was also seen waving the national flag at the screening.
Thanks team #India for making the day special. A lasting image of the boys led by @imVkohli before they left for #CT17 #SachinABillionDreams pic.twitter.com/JYQIy29f7G

— sachin tendulkar (@sachin_rt) May 25, 2017
Former India World Cup winning captain Kapil Dev took to Twitter to wish Tendulkar for his movie.
I wish #SachinABillionDreams a great success. Because no one can match you @sachin_rt.

— Kapil Dev (@therealkapildev) May 25, 2017
Ajinkya Rahane, who is on the tour for Champions Trophy, also wished the batting legend.
thank you Sachin Sir for inspiring everyone Indian @sachin_rt pic.twitter.com/HvrLHwh0Qz

— ajinkyarahane88 (@ajinkyarahane88) May 24, 2017
. @sachin_rt #SachinABiliionDreams Is the story of boy who became a legend.A tale of achievmnts,emotions,highs & lows,straight frm hs heart. pic.twitter.com/mC43TjrOUo

— Anurag Thakur (@ianuragthakur) May 25, 2017
Among the personalities from the B-Town, the legendary Asha Bhonsle and Amitabh Bachchan graced the occasion, apart from the likes of Aamir Khan, Shahrukh Khan, Anil Kapoor, Aishwarya Rai, Abhishek Bachchan, Sushant Singh Raput, Anushka Sharma, John Abraham, Aditi Rao Hydari, A R Rahman, Sonu Nigam, Gulshan Grover, Kabir Khan, Mini Mathur and Kriti Sanon.
Thank you @sachin_rt for being so amazing. Your cricket will continue to unify Indians all over the world. Your life is most inspirational. pic.twitter.com/0IZU8QDQv7

— Anupam Kher (@AnupamPkher) May 24, 2017
What are you waiting for? Book your tickets now #2DaysToGo #SachinABillionDreams @sachin_rt pic.twitter.com/ku1AaI2JMt

— PRIYANKA (@priyankachopra) May 24, 2017
Bollywood megastar Amitabh Bachchan said it was a "fantastic film".
T 2435 - 'SACHIN a Billion dreams' movie last night ..filled with pride and emotion .. Sachin !!! pic.twitter.com/7n4BW2a5JW

— Amitabh Bachchan (@SrBachchan) May 25, 2017
Former India captain Mahendra Singh Dhoni, said it was fantastic to watch the biopic as it was made from Tendulkar's point of view. "Sachin A Billion Dreams is fantastic. It is quite different from what all of us are used to watching. It's Sachin's side of the story and what he felt at different instances throughout his career.
"The movie speaks about what he went through, what were his challenges and it was interesting to get the comments from people close to him, people who watched him over a period and the family members and close friends," said Dhoni.