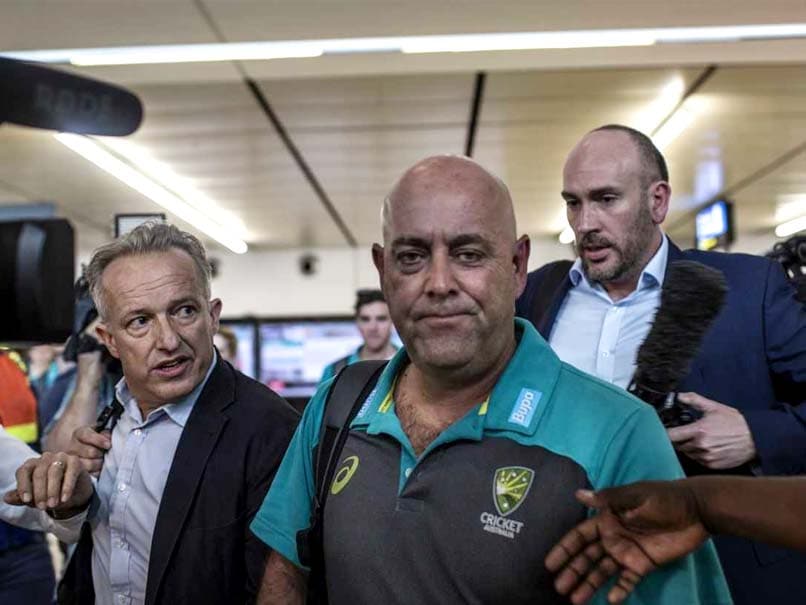 Coach Darren Lehmann survived the ball-tampering scandal that has rocked Australian cricket.
© AFP
Australian cricket team coach Darren Lehmann survived the ball-tampering scandal that has rocked the sport and will remain in charge of the national team. Lehmann took over as coach in 2013 when predecessor Mickey Arthur was sacked and was hailed as a saviour. The Australians have been successful under Lehmann, with a Test record of 30 wins, 19 losses and eight draws under his stewardship. But, fans now accuse the former Australian cricketer of overseeing the ball-tampering scandal that has dented the reputation of the famed Baggy Green cap.
The Australian trio of Steve Smith, David Warner and Cameron Bancroft will be sent home in disgrace as Cricket Australia came down heavily on their errant captain, his deputy and young opener for orchestrating a ball tampering conspiracy against South Africa. With Smith leaving South Africa, Tim Paine will captain Australia in the final Test with reinforcements in middle-order batsman Glenn Maxwell along with openers Joe Burns and Matt Renshaw.
"All three players (Smith, Warner, Bancroft) that have been reported will leave tomorrow. Renshaw, Maxwell and Burns will arrive in South Africa in the next 24 hours," Cricket Australia CEO James Sutherland told media on Tuesday.
"Time Paine has been officially appointed captain of the Test team," he added.
Sutherland informed that apart from the trio, no other player in the group had any prior knowledge about the wrongdoing.
"Contrary to inaccurate reports, Darren has not resigned. He had no prior knowledge," confirmed Sutherland.
Just after Sutherland said Lehmann had no prior knowledge of the plot to doctor the ball in the third Test against the Proteas, cricket world started trolling Lehmann on Twitter.
Lehmann never knew -

— Kevin Pietersen (@KP24) March 27, 2018
I can't believe for one minute that only three players knew what was going on...bowlers, coach and bowling coach weren't involved in discussions of how to get the ball moving...whether it be by cheating or not! ???? #sandpapergate

— Matt Prior (@MattPrior13) March 27, 2018
Darren Lehmann's driver did it.

— EngiNerd. (@mainbhiengineer) March 27, 2018
Lehmann so fortunate to survive. Even if the walkie-talkie business was innocent and he knew nothing of the ball-tampering, he has overseen and indeed encouraged the team culture.

— John Etheridge (@JohnSunCricket) March 27, 2018
Darren Lehmann looks like a man who does not have prior knowledge about anything :)

— Mohammad Kaif (@MohammadKaif) March 27, 2018
Serious sanctions are on its way. Another 24 hours. Slightly surprised that Darren Lehmann wasn't a part of the 'leadership group'. Also, find it hard to digest that no one else in the team was in the know. #SandpaperGate

— Aakash Chopra (@cricketaakash) March 27, 2018
By not naming Lehmann Credibility going down further for Australian Cricket !

— Vikram Sathaye (@vikramsathaye) March 27, 2018
The truth, The full story, Accountability and Leadership- until the public get this Australian cricket is in deep shit!

— Michael Clarke (@MClarke23) March 27, 2018
Sounds to me like Mr QC & Mr Lawyer have got involved because of the lengths of the bans........

— Michael Vaughan (@MichaelVaughan) March 27, 2018
But Australian Broadcasting Corporation senior cricket commentator Jim Maxwell said the coach had to accept some blame for an "arrogant" team culture where some players felt cheating was preferable to losing honourably.
Lehmann played 27 Tests and 117 one-dayers for Australia.