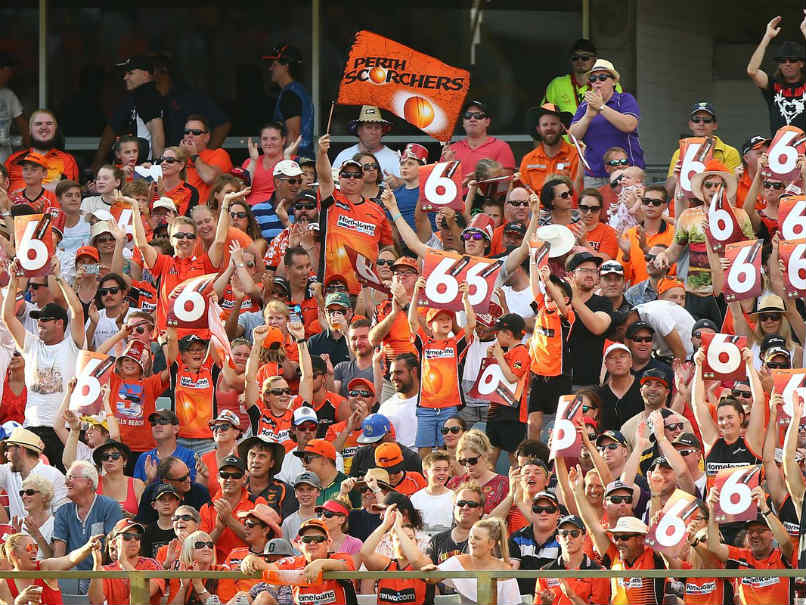 Twenty matches of the 35 Big Bash League games this season were sold out.
© BBL/Twitter
The Twenty20 Big Bash League came to an end on Saturday with Perth Scorchers securing their third BBL crown by beating Sydney Sixes in the final at the WACA. Records tumbled as fans witnessed some sterling performances on-field, however, even more impressive was the sheer number of people who turned up to watch the matches. Cricket Australia on Sunday said the enormous crowds and viewership for the fast-paced format this season had surpassed expectations. The Big Bash is in its sixth season and has used a blend of sport and entertainment to draw families and younger spectators to games.
Pyrotechnics on and off the field has seen more than one million people attend this season's matches with an average attendance of 30,114 per match, according to the CA.
"Once again, fans have well and truly spoken and we couldn't be happier with how this year's competition has progressed on all levels," Big Bash chief Anthony Everard said in a statement.
"The season has well and truly exceeded our expectations".
The league concluded on Saturday, with a sold-out crowd at the WACA Ground in Perth. Perth Scorchers crushed the Sixers by nine wickets in a completely one-sided final. Chasing 142 for victory, the Scorchers cruised to 144-1 with 25 balls to spare.
The highest turnout during the 2017 Big Bash League was witnessed when the Melbourne Stars and Melbourne Renegades took in each other in a derby at the MCG on January 1, that attracted 71,162 spectators. Meanwhile, twenty matches of the 35 BBL games this season were sold out.
Not just in stadia around the country, but there was an upswing in TV viewership as well. Host broadcaster, Network Ten, had an average viewership of 1,021,750 per match for the season.
The women's BBL, in its second season, also drew an "unprecedented level" of crowds and television viewers and encouraged more women and girls to play cricket, CA said.
More than 100,000 people watched the women's games this season, with the highest attendance of 24,000 recorded for the Melbourne derby on New Year's Day.
Cricket Australia has taken full advantage of the growing popularity of the Big Bash League by adding another eight matches to the men's competition next season.
The venues have yet to be announced, although Cricket NSW chief has said holding the opening round in Hong Kong could be one option.
(With AFP Inputs)