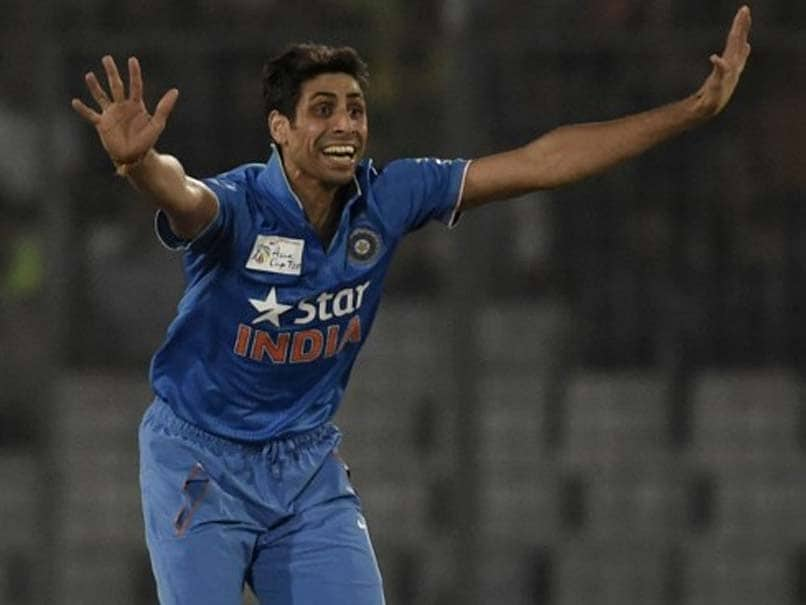 Ashish Nehra is eyeing to play in the Champions Trophy.
© AFP
Veteran pacer Ashish Nehra has revealed one of his greatest cricketing regrets of not accepting former India coach Gary Kirsten's offer to play Test cricket for India, back in 2009. Nehra feels that he shouldn't have turned down Gary's offer when he was just 30 years old. "When I look back, perhaps that's one regret I have. In 2013 when I played 6 Ranji Games in 6 weeks, I realised that I should have accepted that offer from Gary to play Test matches," he said adding," from 30-34, I could have easily played four years of Test cricket and may have played another 30-35 matches. But then that's life".
Nehra has been the proverbial Phoenix rising from the ashes everytime the doubting Thomases write his cricketing epitaph. And the ever-smiling pacer is far from finished even after hitting the wiser side of 30s, enjoying his cricket as he outwits opposition batsmen with pace and guile.
"At my age (he will be 38 next month), I am still a fast bowler. I was never the conventional 125-128 kmph bowler. Even today with the new ball, I set myself a target of bowling 138 kmph and I have to do that. Speed is not everything but if need be I can crank it upto 140 plus in T20s also," Nehra said in an interview.
When asked, if it puts pressure on him at the international level to perform consistently at the age of 38 when the body can't take much of a toll and also when current skipper Virat Kohli wants him in team as much as a Sourav Ganguly or MS Dhoni did during his hey days?
"If anyone says that he doesn't feel pressure at international level is lying. But at this stage of my career more than pressure, I feel a sense of responsibility as a senior cricketer -- to help young bowlers with inputs. "Me and MS are two guys from different age groups. Our job is to bring a sense of calmness, our experience in this team."
Nehra is taking one step at a time and not thinking far ahead and says that he is not even considering to play in 2019 World Cup.
"2019 is too far away and I can't play that far at my age even though I never planned when I was young. Even MS Dhoni who is two years younger to me may not be thinking that far ahead.
"Right now, I am preparing for IPL since Delhi hasn't qualified for Hazare Trophy. Then there's the Champions Trophy."
Nehra's next assignment will be the Indian Premier League with Sunrisers Hyderabad.
Ask him about rigours of playing a minimum 14 matches over six weeks, Nehra replied, "In IPL, you cannot preserve yourself and try to bowl fast. I cannot plan about IPL keeping Champions Trophy in mind.
"It all depends on how my body is responding. If I am fit, I might play all 14 and it might also be I can get injured before start. But I cannot think of giving 70 percent in IPL. That's not what a professional does," he said.
He has had a series of injuries and asked if that could be a problem considering the Indian team needs him in England during Champions Trophy, Nehra said, "If team management wants me and I am fit, I would like to play the Champions Trophy. I am preparing for it and that's why I played two Vijay Hazare Trophy matches after 16 months. It felt good."
(With inputs from PTI)