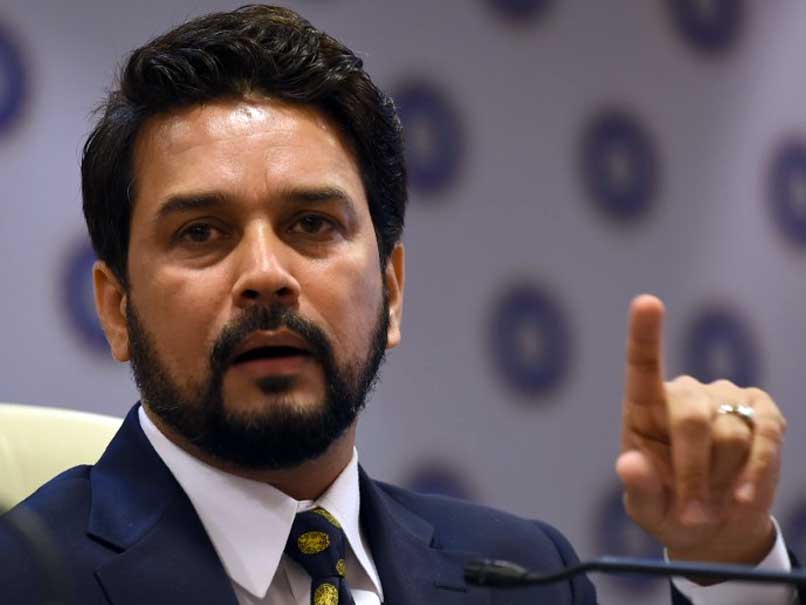 Anurag Thakur has tendered an 'unconditional and unqualified' apology to the Supreme Court.
© AFP
Former BCCI president Anurag Thakur, who battled long and hard against the restrictions recommended and ultimately imposed on the Board of Control for Cricket in India (BCCI), finally tendered an unconditional apology to the Supreme Court on Monday on the perjury charges slapped on him by the former Chief Justice TS Thakur last year. On January 2 of this year, the Supreme Court had stripped one of the most powerful men in world cricket of all his powers.
Thakur once held sway over a 5000 crore empire (The BCCI's net worth was Rs 5,436.897 crore in 2013-14), when he was sacked, along with BCCI secretary Ajay Shirke.
Thakur was seen on Monday on a back row seat of the crowded Courtroom No.2 in the Supreme Court. His companion, Krishna Popaley, once his administrative assistant at the BCCI, is out of a job too.
Thakur tendered an unconditional apology for having committed perjury. His counsel, the additional solicitor general PS Patwalia, explained, "I (Anurag Thakur) never intended anything... There is nothing in it. An impression somehow has got created."
Thakur had sought an earlier date to clear his name and return to public life but the court has set the date for hearing for April 17.
The only respite given by Justice D.Y Chandrachud is that Thakur does not have to appear in person for future hearings.
Thakur, like former BCCI supremo N Srinivasan, had tried to fiercely protect his flock. He gave them voice and pursued their case in the Supreme Court till TS Thakur knocked him out for "obstructionist attitude" earlier this year.
However, with the top court ruling decisively, there was little chance left for Thakur to keep fighting, as he now cuts a forlorn figure, with none of his four BCCI office-bearers anywhere to be seen.