Story Progress
Back to home
Vijender Singh vs Francis Cheka Highlights: Indian Knocks Out Cheka To Retain WBO Title
Vijender Singh continued his unbeaten streak in pro-boxing, as he knocked out former world champion Francis Cheka in three rounds to retain the WBO Asia Pacific Super Middleweight title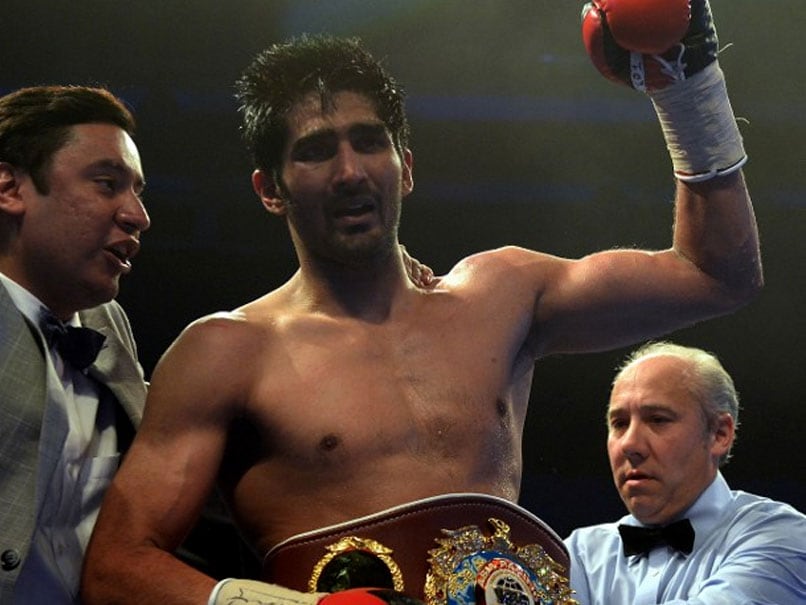 Vijender Singh knocked out Francis Cheka in the third round of their bout.
© AFP
Vijender Singh needed less than three rounds to retain his WBO Asia Pacific Super Middleweight title, as he knocked out former world champion Francis Cheka in New Delhi on Saturday. Vijender dominated the bout from the beginning and didn't let Cheka a chance to penetrate his defence. Catch the highlights of the Vijender Singh vs Francis Cheka bout here. (LATEST NEWS)
22:25 IST: That's it from us for tonight. Thank you for staying with us for the live coverage of the bout.
22:20 IST: Vijender Singh thanks the crowd for the support. He looks absolutely elated! This has been an incredible year for the boxer for Bhiwani. Bigger challenges await him in 2017.
22:18 IST: "He (Cheka) wanted to talk more and I wanted to let my punches do the talking. It worked in the end!" Vijender Singh says after his win.
22:04 IST: That's it! Vijender Singh retains his title by a technical knock out.
22:00 IST: Another solid round from Vijender! After landing a jab on his opponent, Vijender taunts Cheka. The Indian boxer is looking in fine fettle here.
21:55 IST: Vijender lands a couple of big punches on Cheka in the first round! A solid start from the Indian there.
21:52 IST: And we are off! Cheka makes an aggressive start, Vijender defends the early punches from his opponent.
21:50 IST: The national anthems of India and Tanzania have been sung. The bout is about to start anytime now.
21:45 IST: There is a loud roar from the crowd as Vijender Singh enters the ring. Can he retain his title tonight?
21:33 IST: Indian wrestling legend Sushil Kumar says he expects Vijender to knock out Cheka tonight. Will the Indian pugilist be able to match Sushil's expectations? Cheka may have some other plans of his own.
21:28 IST: Now for the main event of the night! Vijender Singh is about to defend his WBO Asia Pacific Super Middleweight title against his fiercest opponent yet, former world champion Francis Cheka.
21:25 IST: Scott Edwards wins the penultimate bout of the night, beating Pardeep Kharera by unanimous decision.
20:50 IST: Kuldeep Dhanda makes it 4-0 for Indian boxers on the night, He beats Egy Rozten by unanimous decision.
20:25 IST: In the night's third bout, Dharmender Grewal of India beats Uganda's Abasi Kyobe.
19:50 IST: Two bouts have been completed so far. In the first bout, Rajesh Kumar defeated Mubaraka Sseguya in the men's 61 kg category. In the night's next bout, Deepak Tanwar knocked out Sutriyono Bara Boys.
19:45 IST: Hello and welcome to our live blog.
The duo exchanged a few heated words at the weigh-in, as they faced off for one last time before the much-awaited fight.
Cheka has racked up 300 rounds in the 16 years of his career compared to the Haryana boxer's 27.
The 31-year-old Olympic medalist won his maiden bout in India, beating former WBC European champion Kerry Hope to clinch the WBO Asia Pacific Super Middleweight title.
Promoted
In that July bout, Vijender needed all 10 rounds to edge out the 34-year-old Welsh-born Australian.
The home crowd will expect Vijender to deliver a knock out blow in the capital to make it another memorable night for Indian boxing.
Topics mentioned in this article
Boxing
Vijender Singh
Live Blogs
Live Score