Story Progress
Back to home
Vijender Singh Eyes Another Knockout in Title Defence vs Francis Cheka
Undefeated in the circuit so far, Vijender Singh will defend his WBO Asia Pacific super middleweight title against Tanzania's Francis Cheka on Saturday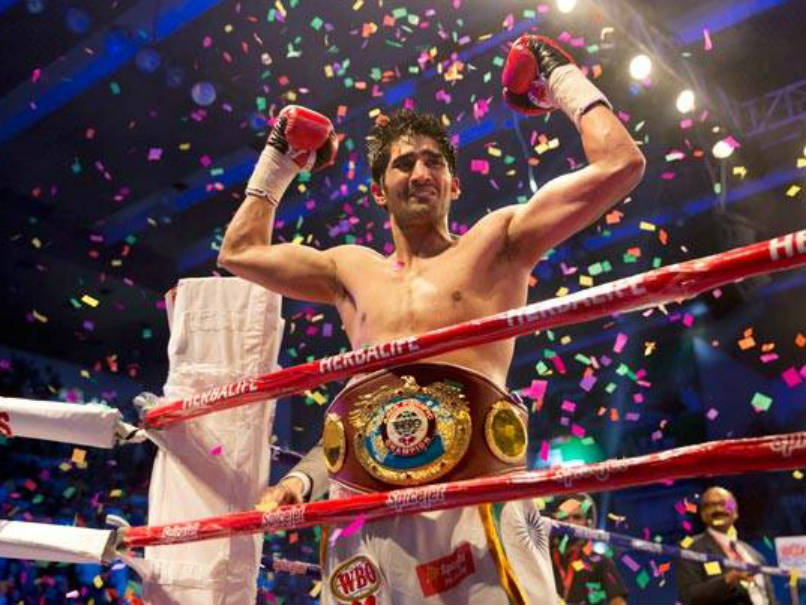 Vijender Singh is undefeated in his seven pro-boxing bouts so far.
© PTI
Highlights
Vijender Singh will face Francis Cheka in defence of his WBO title

Vijender had won the title by beating Kerry Hope in July

The Indian pro boxer is still undefeated in the circuit so far
Vijender Singh is seeking to make sure that there aren't too many doubters left once he is done with Tanzanian Francis Cheka tomorrow evening. While the Haryana boxer has had a fine start to his proefessional career, winning all seven bouts he has fought so far, Cheka is supposed to be his stiffest challenge so far. If the pre-bout is anything to go by, Cheka is keen on a real contest with the the home favourite, which both boxers claim he will win.
Vijender had fended off the challenge of former European champion Kerry Hope to clinch the WBO Asia Pacific super middleweight title in July this year.
However, the Indian pugilist now faces his stiffest challenge yet in the form of former world champion Cheka, who has scoffed at Vijender's Olympic bronnze medal win.
At the official pre-bout weigh-in today where he turned in exactly 76 kg, Vijender and Cheka faced off for one last time before the much-hyped bout.
While the Indian was his usual calm self, Cheka seemed high on excitement and declared that "I will now talk in the ring".
Vijender, with a wry smile on his face, retorted, "My job is punching and I will do that tomorrow, this title isn't going anywhere."
The 34-year-old Cheka is a veteran of 43 fights with 32 wins including 17 knockouts.
To break down the numbers even more, Cheka has racked up 300 gruelling rounds in the 16 years of his career compared to Vijender's 27.
Vijender, on the other hand, has been clinical at best so far. The Haryana boxer, who etched his name in history books as India's first Olympic medallist in boxing, has been dismantling opponents with a calm not usually associated with professional boxing.
The night will also feature five undercard bouts featuring greenhorns in the pro circuit.
In 67 kg weight category, Pardeep Kharera will be up against Scott Edwards, who hails from Australia. Scott has previously fought four bouts and has been victorious in all. In the same weight category Deepak Tanwar will take on Sutriyono Bara Boys from Indonesia.
In 61 kg, Kuldeep Dhanda is pitted against Egy Rozten, of Indonesia. Rozten has 19 bouts and has own five bouts with three KO wins. Also, Rajesh Kumar will take on Mubaraka Sseguya from Uganda, who has 11 bouts with 40 rounds under his belt, with a total of 8 wins and 4 KO's.
Promoted
In 95 kg category, Dharmender Grewal will take on Abasi Kyobe from Uganda. 
(With inputs from PTI)
Topics mentioned in this article