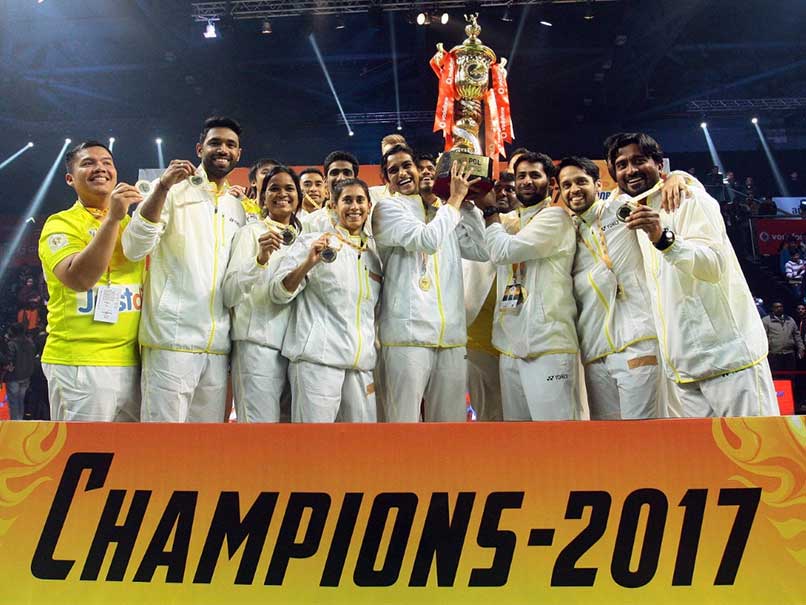 PV Sindhu defeated Sung Ji-Hyun to help Chennai Smashers win the PBL 2017 title.
© PBL
PV Sindhu defeated the in-form Sung Ji-Hyun 11-8, 11-8, to set Chennai on course for a win in the final. The Smashers started off by winning their trump match.
Chris Adcock and Gabrielle Adcock defeated the Nipitphon Phuangphuapet-Nadiezda Zieba duo of Mumbai Rockets 11-9, 11-6 to give Chennai a 2-0 lead.
Sindhu's win then handed Chennai a 3-0 lead, but Lee Yong Dae and Nipithphon Phuangphuapet won the men's doubles match, Mumbai's trump match, to curtail Chennai's lead to 3-2.
In the next match, HS Prannoy defeated Parupalli Kashyap 11-4, 8-11, 11-8 in a thrilling encounter to level the match at 3-3.
With the final moving into a fifth and deciding match, Mumbai Rockets' Ajay Jayaram and Tanongsak Saensomboonsuk of Chennai Smashers battled it out for every single point.
The latter, however, won by a scoreline of 9-11, 11-7, 11-3 to hand Chennai Smashers a 4-3 win and the PBL 2017 title.
Winners Chennai received prize money of Rs. 3 crore, while runners-up Mumbai Rockets were awarded Rs. 1.5 crore.
Shout out to the CHAMPIONS of Vodafone #PBL2017! They smashed #TheFinalSmash in style! Congratulations! #SmashPodu pic.twitter.com/V4aWerSuRe

— The Smashing Trophy (@PBLIndiaLive) January 14, 2017
Results:
Mixed doubles: Chris Adcock/Gabrielle Adcock (Chennai Smashers/Trump) beat Nipitphon Phuangphuapet/Nadiezda Zieba (Mumbai Rockets) 11-9, 11-6
Women's singles: PV Sindhu (Chennai Smashers) beats Sung Ji Hyun (Mumbai Rockets) 11-8, 11-8
Men's doubles: Lee Yong Dae/Nipithphon Phuangphuapet (Mumbai Rockets/Trump) beat Chris Adcock/Mads Pieler Kolding (Chennai Smashers) 12-10, 11-6
Men's singles: HS Prannoy (Mumbai Rockets) beats Parupalli Kashyap (Chennai Smashers) 11-4, 8-11, 11-8
Men's singles: Tanongsak Saensomboonsuk (Chennai Smashers) beats Ajay Jayaram (Mumbai Rockets) 9-11, 11-7, 11-3