Story Progress
Back to home
Afghanistan vs England Live Score, Over 46 to 50 Latest Cricket Score, Updates
Live Updates of Today Match between England vs Afghanistan from Old Trafford, Manchester. Check commentary and full scoreboard of the match.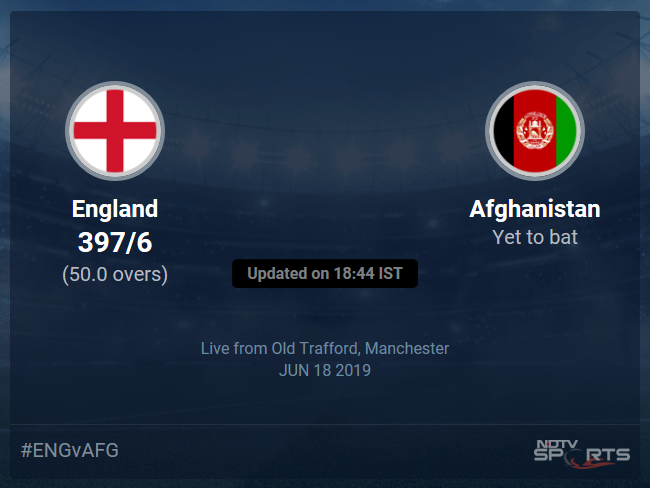 AFG vs ENG Latest Score
The England batters have probably batted the Afghanistan side out of the game! It will be interesting to see if they will go after this chase or will be happy to play out the 50 overs. England on the other hand, will try and bundle them out as quickly as possible and win by a huge margin. Join us for the chase in a short while.
Not a lot to write about the Afghanistan bowling. The scorecard probably says it all. Gulbadin Naib was probably the pick of the bowlers as he finished with a three fer. Mujeeb was good with his lines and lengths and finished an economical spell. However, Rashid Khan went for above 12 per over and Nabi too had a day to forget.
After winning the toss and electing to bat, if Morgan would have been offered 397, he would have surely taken it with both hands. However, they did not start off in the fastest manner as they finished Powerplay 1 at 46 for the loss of one wicket. Root and Bairstow then went along nicely and slowly but steadily upped the ante. The two added a 120-run stand and laid the foundation. Then too though, England never looked like they would get close to 400 but then the carnage began. Morgan right from the outset, went after the bowlers. He was dropped early on in the innings and he ensured to make Afghanistan pay for it. 17 sixes is what he hit in his 148 of 71 balls. Joe Root's 88 was equally important as he stuck around like a glue and Moeen Ali's cameo in the end took them extremely close to 400.
End of the annihilation! Some unreal hitting out there! Not only the Afghanistan players will be relieved to get off the field but a much-needed break for us as well.
49.6 overs (1 Run) Single to end the over. Full and wide outside off, Moeen gets down and creams it to sweeper cover for a single. Won't get to 400 but the hosts have demolished Afghanistan here. 19 off the final over. ENGLAND FINISH WITH 397/6 OFF THEIR 50 OVERS.
49.5 overs (6 Runs) SIX! Two-in-two. Dawlat started the over well but he is being thrashed here by Moeen. Full on middle and leg and once again Moeen smashes it over his favourite region, the mid-wicket region for a biggie.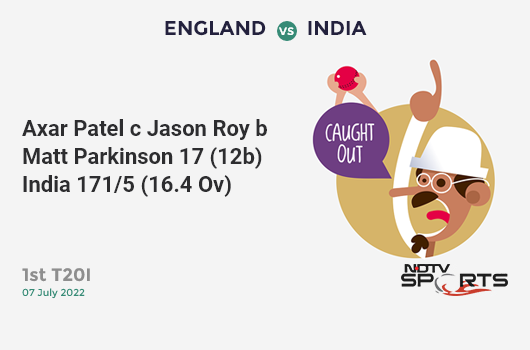 49.4 overs (6 Runs) SIX! This is deposited into the stands. Full on middle and leg, Moeen smacks it over mid-wicket for a maximum. Inching closer to 400 here are England.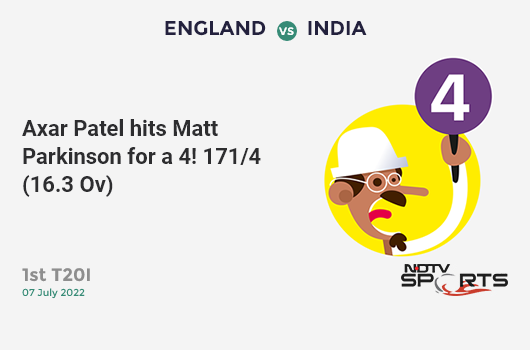 49.4 overs (1 Run) WIDE! Bouncer bounces over the head and it has been ducked. Umpire signals it as wide.
49.3 overs (4 Runs) FOUR! Harsh, very harsh. This game is so cruel for the bowler's at time. Dawlat once again bowls short on the body, Moeen looks to pull but it goes off the top edge. The ball goes towards the fine leg region and beats the chasing keeper to the fence. A very well directed short ball but it still goes to the fence.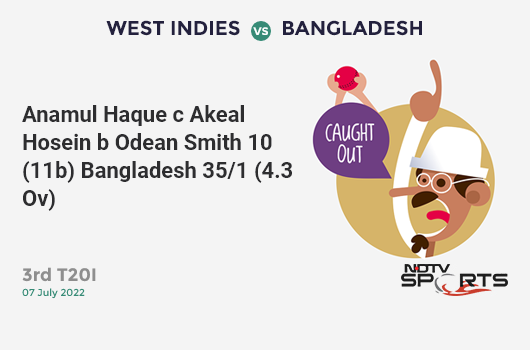 49.2 overs (1 Run) Just 1 run off the first 2 balls of the final over. Dawlat bangs it in short, Woakes looks to pull but gets an inside edge onto his body. The ball rolls to the side of the pitch and they take a run.
Chris Woakes walks out to bat next.
49.1 overs (0 Run) OUT! Bowled! Stokes cannot take his side to 400! Dawlat bowls it very full on the leg pole as Stokes was shuffling across, he looks to flick but misses and the ball goes onto disturb the leg pole. His third of the game, he has something to cherish about.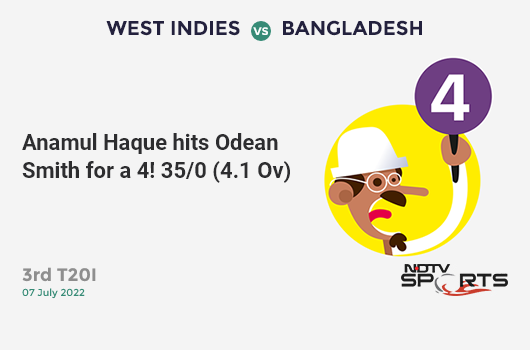 48.6 overs (6 Runs) SIX! Clobbered! A biggie to start the over and one to end it. Another very full delivery, Ali makes Rashid pay as he hits it over the long on fence. End of the misery for Rashid. One of the rare occasions where Afghanistan have bowled 50 overs and Rashid hasn't bowled his full quota of 10 overs. His figures read 9-0-110-0.
48.5 overs (1 Run) Shuffles across and pulls it to deep square leg for one.
48.4 overs (0 Run) DROPPED! Sums up Rashid's day! Short and outside off. Stokes looks to cut but gets an outside edge towards the keeper which he fails to hang onto.
48.3 overs (0 Run) NOT OUT! That was close though! Stokes was just about in there! Rashid bowls the googly outside off. Stokes looks to power it down the ground but misses. The keeper whips the bails off and appeals. The umpire takes it upstairs. Replays roll in and they show that Stokes did drag his foot out but manages to plant it back in but just.
A stumping appeal! Stokes is the man in question, Afghanistan do not look confident.
48.2 overs (1 Run) Goes short this time but gets away with it as Ali mistimes it to long off for one.
48.1 overs (6 Runs) SIX! Welcome back, Rashid Khan. Also, he has now conceded 100 runs. Once again he bowls right in the zone. Full and on off, this is smashed over the long off fence.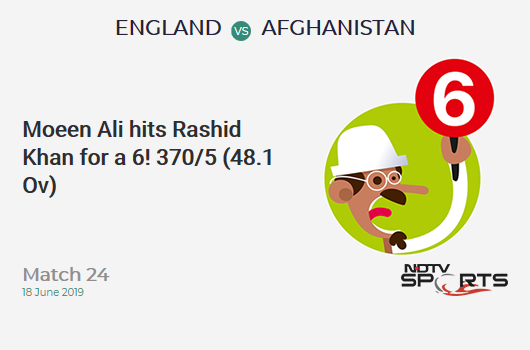 47.6 overs (1 Run) Length delivery outside off, Moeen plays it towards point for a single. 5 runs and a wicket from the over.
47.6 overs (1 Run) WIDE! Bowls short delivery down the leg side, Ali looks to go after it but misses it.
47.5 overs (0 Run) Length delivery on off, Ali plays it to point.
Moeen Ali makes his way out to the middle.
47.4 overs (0 Run) OUT! No impact from Jos Buttler. Short delivery outside off, Buttler looks to pull but gets a top edge. It goes straight to the mid off fielder where Mohammad Nabi takes the simplest of catches. Afghanistan need more of these. England might not reach 400 from here.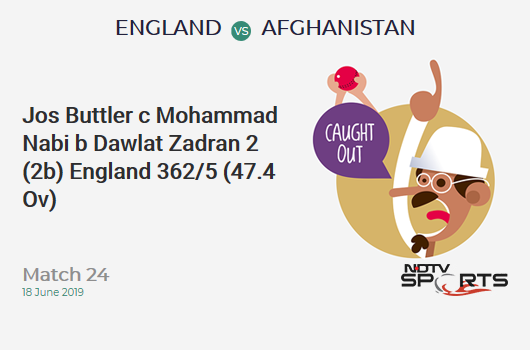 47.3 overs (2 Runs) Bowls a yorker on middle, Buttler does well to dig it out and flicks it through square leg. The batsmen get two runs.
47.2 overs (1 Run) Short delivery, Stokes pulls it towards square leg for a run.
47.1 overs (0 Run) Play and a miss! Good length delivery outside off, Stokes looks to play a scoop shot but misses it.
Ben Stokes is the new batsman in.
46.6 overs (0 Run) OUT! End of the fun! End of the carnage by this man. A once in a life time innings comes to an end here. The crowd is on its feet applauding the England skipper. His knock has probably batted Afghanistan out of the game. Extraordinary. He looks to smash this one out of the ground again. It is a slower ball outside off. Morgan ends up hitting it flat and straight to Shah at long off. So both the set batsmen are back in the hut in this over itself. Can England still get to 400?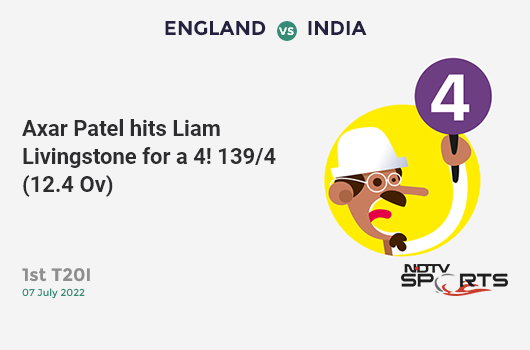 46.5 overs (6 Runs) SIX! 17th six! Breaks the record of the most sixes by a player in an ODI game. Once again the bowler misses his mark and he pays the price. Full and on middle, this is hit down the ground and it carries all the way.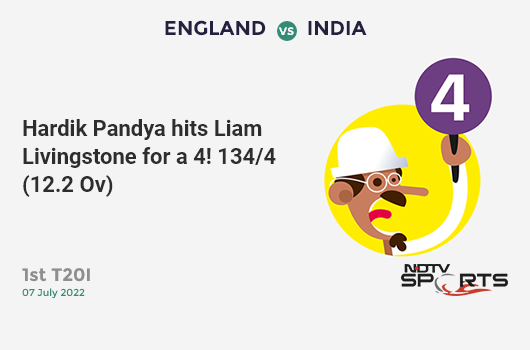 Jos Buttler is the new batsman in.
46.4 overs (0 Run) OUT! No hundred for Root! But very unselfish from him. He could have easily got to his third ton of this World Cup and created a record by playing the ball to its merit, he does not do so though. He looks to play in an aggressive manner. Tries to smash this slower one out of the park but does not generate the power he wanted and he holes out to long on where Shah takes it. End of another top innings from Root. End of the mammoth 189-run stand. This partnership has made 400 possible for England.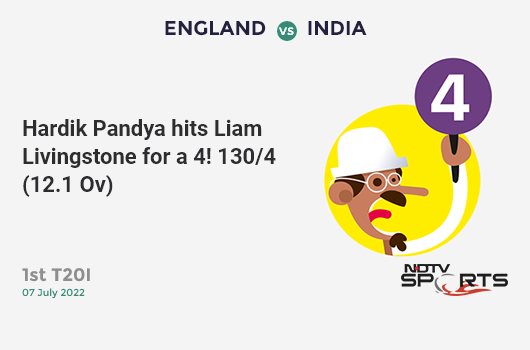 46.3 overs (1 Run) Played through mid-wicket by the batsman. The batsmen have run through for a single.
46.2 overs (6 Runs) SIX! Biggie from the second ball as well! This is carnage! His 16th maximum. He has equaled the record for the most maximums in a game. This is shorter and it is the slower one. Morgan has to generate all the power, he does so as he hammers it over the long on fence.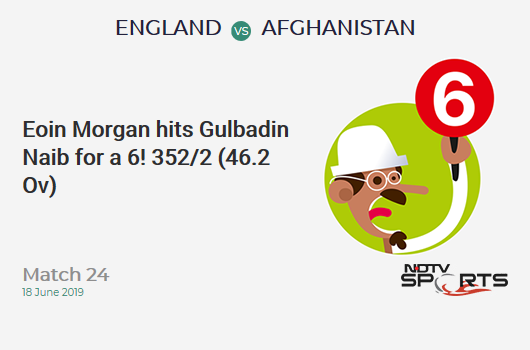 46.1 overs (6 Runs) SIX! Right in the slot and the mood Morgan is in, he won't miss out! Full and on off, Morgan smashes it over the long off fence. Six from the first ball.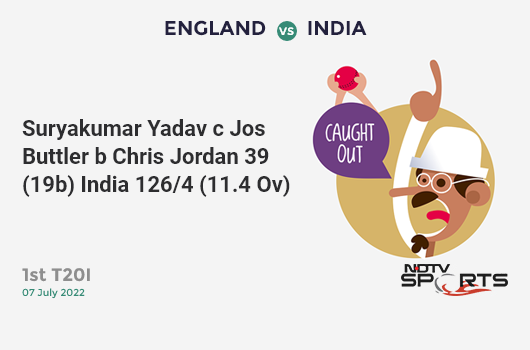 45.6 overs (0 Run) Looks to play the reverse sweep but misses. A dot to end but 17 from the over.
45.5 overs (1 Run) Driven through mid off by the batsman. They pick up a single.
45.4 overs (4 Runs) FOUR! For once today, he does not clear the ropes. Still will be happy with the result. Short and outside off, Morgan slaps it over cover and the ball trickles into the fence.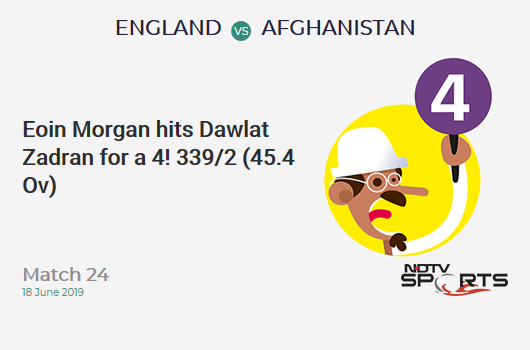 45.3 overs (6 Runs) ANOTHER SIX! This one is probably the smallest he has hit today, the ball hits the cushion directly. Zadran misses the yorker by a little and pays the price. Morgan hits it over long off and another six is signaled by the umpire.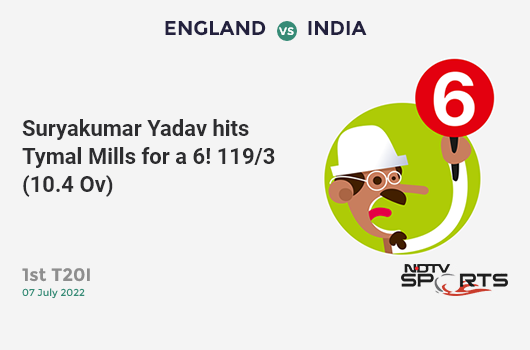 45.2 overs (1 Run) Shorter and on middle, this is pulled through square leg for one.
45.1 overs (4 Runs) FOUR! Full toss and it has been put away! A full toss on off, Root lofts it over covers and the ball races away. He is 13 short of a ton now.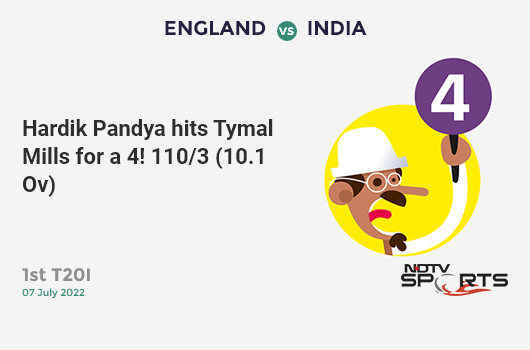 Topics mentioned in this article