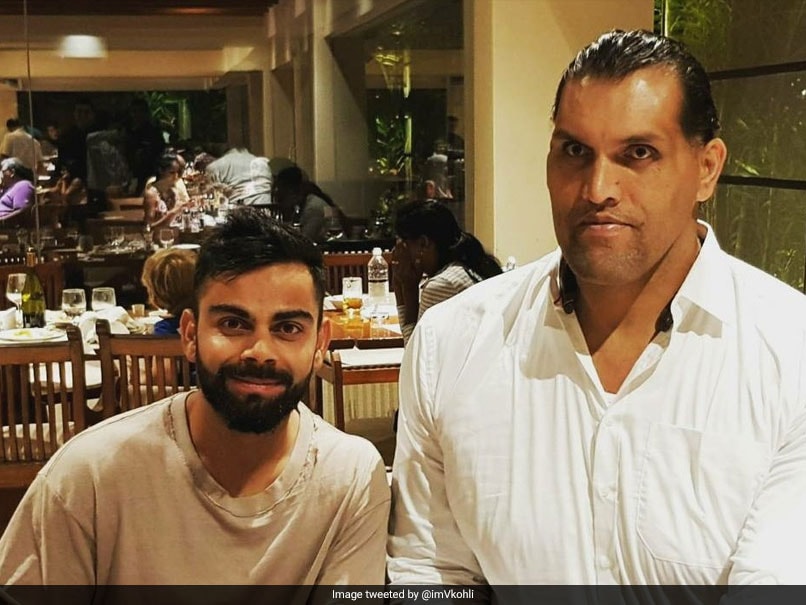 Virat Kohli met The Great Khali after India's win over Sri Lanka in Colombo.
© Twitter
Indian cricket captain Virat Kohli on Sunday led his team to another series win over Sri Lanka after the visitors won the 2nd Test by innings and 53 runs in Colombo. After the press conference and team celebration, Kohli met a rather interesting guest - former World Wrestling Entertainment (WWE) wrestler The Great Khali. "It was Great to meet The Great Khali, what a guy!," tweeted Kohli along with two pictures with the Punjab wrestler. The Great Khali has been part of several iconic duels in the WWE ring and is the first Indian to make it big in the business.
It was Great to meet The Great Khali, what a guy! ???? pic.twitter.com/FoUhHMWFcX

— Virat Kohli (@imVkohli) August 6, 2017
Kohli's fans were amused to see the pictures of the duo.
In front of khali u r look like child ????

— Sabana Khan (@sabanakhan_real) August 6, 2017
You r looking tiny in front of him ???

— Saumya ?? (@CineCaffeine) August 6, 2017
he looks like a giant.

— Rumon (@ShahidRumon) August 6, 2017
What a difference in terms of size....he is indeed huge. But a very down to earth person.

— Felix Jose (@felixjose1982) August 6, 2017
Some fans even had cricket-related advice for the India captain.
You need a fast bowler of his height

— Arup Samantaray (@arupsam) August 6, 2017
??? ?? ?? ?????? ???? ?? ????? ???,

— manoj joshi (@manoj_joshi16) August 6, 2017
Team India has developed a habit of winning, irrespective of geographical boundaries, and it is hungry to extend the consistent run, said Kohli after his side's win. It means India have already retained the series that they won here 2-1 in 2015, and now have a chance to complete an overseas whitewash when the third Test starts in Pallekele on August 12.
"Well, it's obviously nice to win this series again. We won this last time also, in 2015. Yes, we do have that chance, but honestly speaking, we are not looking at Test matches or Test cricket now as home and away anymore. We are just looking at Test matches as Test matches and we want to win anywhere that we play," Kohli said.
"If we can believe enough in our abilities then we are not really bothered about where we are playing. That kind of energy I can sense in the team, and the team believes that as well. We are creating a habit of winning that I think can be carried on in future as well."
Kohli said his team plays with a lot of passion and savours each others success and understand the importance of consistency.
(With inputs from PTI)
Topics mentioned in this article
India Cricket Team
Virat Kohli
Cricket
Sri Lanka vs India 2017