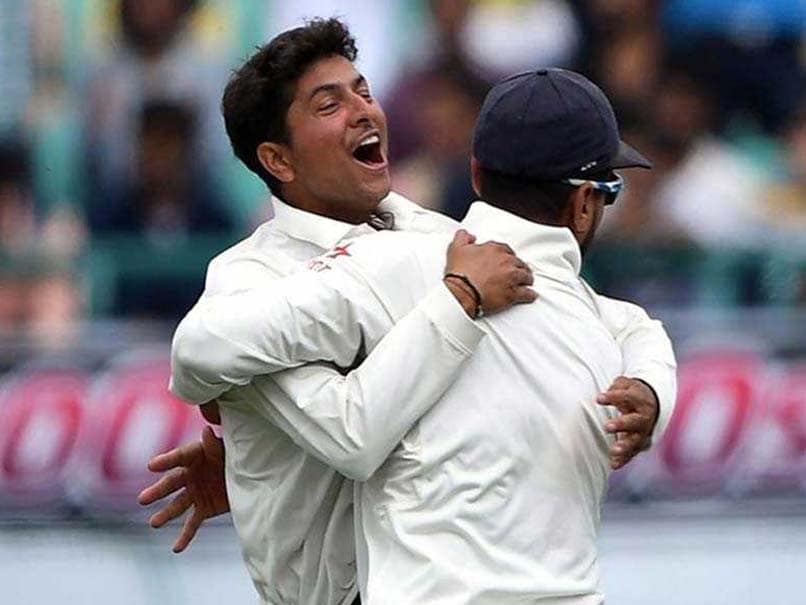 Kuldeep Yadav said that he will be very happy to play in the third Test.
© AFP
Chinaman Kuldeep Yadav firmly believes that his hard work will earn him a place in the playing eleven for the third Test against Sri Lanka at Pallekele International Cricket Stadium that begins Saturday. Kuldeep will have to compete against Axar Patel, who was included in the 15-member squad after Ravindra Jadeja was handed a suspension for breaching an ICC Code Of Conduct. Though Axar has been called to join the team, Kuldeep has the upper hand as he has been with the squad since the beginning of the tour as the third spinner. The 22-year-old said that he will be very happy to play in the third Test. He further added that he is nervous as he wants to perform well.
"Obviously there is excitement. I was excited to play my debut Test as well. So if I get a chance to play in Sri Lanka I will be very happy because this will be a result of my hard work. While I am excited, I am also nervous because I want to perform," said Kuldeep.
"It is still not clear (if I will play) because there are three days left for practice. But ever since I have come here, (Ravi) Shastri sir keeps on motivating me. I have been doing nets and he has been talking to me during the nets from even before the first Test. It is a good experience," he added.
If Kuldeep plays, it will be his second Test. Kuldeep had taken the cricketing world by storm on his debut in Dharamsala where he picked up four wickets for 68 in the first innings against Australia and was instrumental in helping India seal the series 2-1. Since then, he's had to play the waiting game for his next opportunity.
"Definitely you will have to wait for your chance if the No. 1 and No. 2 spinners in the world are in the same Test squad. You cannot walk into the team so easily and you have to wait as that's the rule of cricket. I try to stay with them mostly and keep talking to them and they help me a lot. So I have learnt a lot from them especially playing Test cricket with them."
"I have also been working with Bharat Arun for the past 10 years, ever since I was playing in Under-16 and then in Under-19 cricket too. I share a lot of things with him and he tells me a lot about bowling as well. He has been seeing me ever since I was a junior cricketer and he knows what I should do and what not to do," Kuldeep said.
Life has "definitely changed" for the 22-year-old spinner as he has been preferred as the third-choice spinner by the Indian team management given his near miss for the Champions Trophy squad and his ODI debut in the West Indies thereafter.
"For me, the single biggest important thing was playing in the debut Test. There cannot be a bigger moment than that. I was very nervous too, there was a lot of pressure and I couldn't sleep at night. Obviously when you are close to achieving your dream there is nervousness and playing Test cricket has always been my dream," said the young spinner.
Talking about his Test debut, Kuldeep recalled: "In my head I wasn't thinking who I am playing against, whether Australia or New Zealand, I was only thinking about taking as many wickets as possible. I just wanted to show what skill I have. And that is what I did. Anil sir and Ajinkya bhai both told me to just enjoy my bowling and do what I do in nets or what I have been doing since childhood."
"And in my head, the first ball was very important. I wanted to bowl the first ball very well and that was my thinking. So when the first ball was good, and 1-2 overs went well, I grew in confidence and lost my nervousness," he added.
Kuldeep played in all five ODIs and the T20I against the West Indies. Talking further about his experiences in the Caribbean he said, "Ahead of the ODI debut I wasn't as nervous. There was pressure in ODIs as well because the batsmen are attacking you. It took me three overs to settle down on my ODI debut before I figured out how to adjust my lengths as the wickets were very slow in the West Indies."
"I also talked to Mahi bhai (MS Dhoni) and Virat (Kohli) bhai and it became easier for me to perform in every match. It helps if the captain believes in you as half your work is done. Captain's belief is very important and Virat bhai supports me a lot.
There is still a chance that Kuldeep might miss out, as the square at the Pallekele International Stadium is quite grassy. But with three days to go for the start of the match, it could change very quickly as seen at the SSC in Colombo.
The Chinaman, meanwhile, is prepared to take the field against the sweeping Lankan batsmen.
"I didn't plan anything in particular before coming to Sri Lanka. But I did work a little bit on my mindset because you are bowling on overseas wickets. Here wickets are a bit similar to Indian wickets so you do have an idea how to bowl. Only the batsmen are a bit different in terms of their approach so obviously I have planned a little bit," he said.
"Kusal Mendis and Dimuth Karunaratne batted very well in the last Test. They played sweep very well. It is difficult for spinners if the batsmen are playing the sweep so effectively. But playing sweep also means a lot of chances for bowlers, so if you plan even a little about them it becomes very helpful," Kuldeep concluded.
(with PTI inputs)