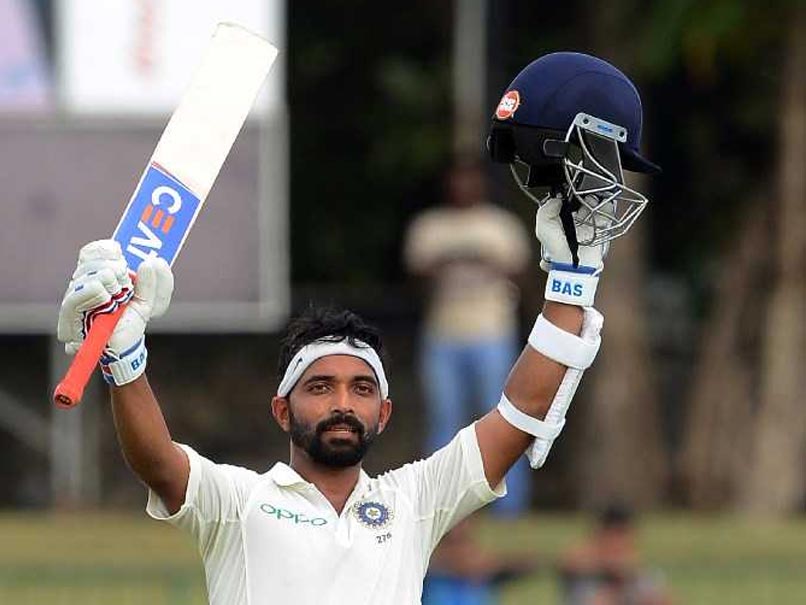 Ajinkya Rahane smashed his ninth Test ton to put help India reach 622/9 in their 1st innings.
© AFP
India vice-captain Ajinkya Rahane put on a batting masterclass along with Cheteshwar Pujara on Day 1 of the second Test against Sri Lanka, helping India amass 622 for nine in their first innings. The right-hand batsman notched his ninth Test ton and on Friday rated his century on a spin-friendly track as one of his best. Rahane had a long wait since 2016 to get to the three-figure mark in Tests. He took nearly 10 months and 17 innings before reaching his well-deserved century. The difficulty of playing on a spinning track was highlighted when Sri Lankan batsmen struggled to cope with the guile of Ravichandran Ashwin and Ravindra Jadeja on Day 2 of the Test on Friday.
After KL Rahul departed for 57, Rahane and Pujara stitched together a 211-run partnership to put India in a commanding position.
"This was one of the best innings against spinners. My focus was to dominate. Going in to bat I knew a little bit how the wicket was behaving, how much bounce it had and whether it suits my game or not. The communication between Pujara and me was that we hardly played any maiden overs. So we put pressure back on them. As the match goes on, it will be a more difficult wicket to bat on," said Rahane.
"When we played last time here against Sri lanka, especially after Galle Test match, we decided that using footwork against Herath was very important. So, throughout against him and their other spinners we wanted to use our footwork so we could get more runs on the backfoot.
"Especially on this kind of wicket, it is very slow and dry, so we knew that if we use our footwork we would get more runs. Bounce is quite variable. Some balls are bouncing and few balls are keeping low. We knew that if they play sweep shot its good for us we have the chance to get wickets.
"But it's not easy for batsmen playing on this wicket. Tomorrow will be key to our bowlers to bowl in right areas for long period of time," Rahane explained.
Till this century against Sri Lanka, Rahane had only scored three half-centuries and reached double figures only six times in his 17 innings and was dismissed for a duck against England in Mohali. The 29-year-old has scored 491 runs in seven matches till now in 2017, at an average of 54.55.
Rahane, however, said he was not too worried about reaching the three-figure mark.
"It was an important hundred but I was confident. Even throughout that time not getting a hundred for 9-10 Tests, I was confident about myself. I knew that if I get in, I will get a big one. It was all about thinking positively even throughout that period.
"Coming to Sri Lanka, I was batting well in West Indies as well I so wanted to carry that form forward. I decided if I play positively I will convert it to a big one. I was visualising even in dressing room and also in my hotel room, just thinking about what are the good shots on this wicket and how I am going to dominate their spinners," Rahane said.
"My mindset was completely blank coming into this innings. I wanted to take my time initially but later on, we thought if we dominate, if we change the momentum, they will be on the back foot straightaway, and that's what happened.
"It was like the same thinking that was in Melbourne in Australia (2014-15 in partnership with Virat Kohli). I wanted to dominate them and that's what we did. But here the challenge was slightly different.
"It was a spin-friendly wicket and we wanted to get a good partnership. I was talking to Virat in the dressing room before lunch (yesterday) that if we get a 150-200 partnership, they will be on the back foot and that's what actually happened, me and Pujara got that partnership,"
Rahane had scored a half-century in the first innings of the opening Test in Galle and remained 23 not out in the second innings as India won the first Test by a massive margin of 304 runs.
(With PTI Inputs)