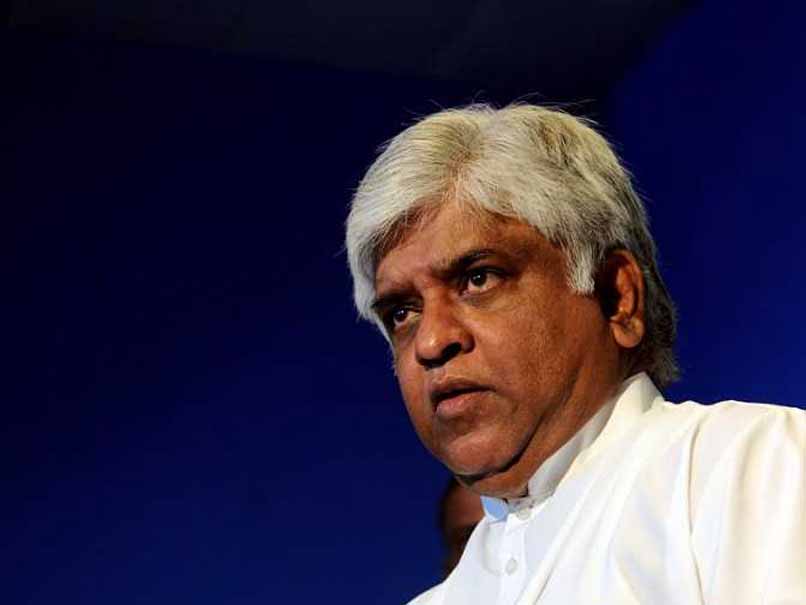 Arjuna Ranatunga asked Sri Lankan fans not to behave like Indian spectators.
© AFP
Former Sri Lanka captain Arjuna Ranatunga was derided on Twitter after his remarks regarding crowd trouble during the India vs Sri Lanka 3rd ODI in Pallekele infuriated Indian cricket fans. Ranatunga stirred up controversy when he asked Sri Lankan fans not to misbehave and not act 'like Indian spectators'. The Sri Lankan's remarks were in reference to Indian fans disrupting the 1996 World Cup semi-final match between India and Sri Lanka at the Eden Gardens in Kolkata. Twitterati on Thursday came out in force to voice their objection to the statements made by Ranatunga.
Crowd trouble forced the umpires to stop play for about 35 minutes when India were cruising to a series-clinching win in the third ODI in Pallekele on August 27.
India were 210 for four after 44 overs, needing another eight runs to win, when the players were sent back into the dressing room, following the rowdy behaviour from the home supporters, who resorted to throwing bottles onto the field of play.
"I request our cricket lovers not to behave like Indian spectators. We have a very good history and culture. Such misbehaviour is not accepted in our culture and history," Ranatunga was quoted as saying in various Indian media reports.
Needless to say, the comments didn't go down too well with the Indian fans.
@ArjunaRanatunga instead f telling ur fans to nt t behv lik Indian fans.Pls suggest ur @SriLanka team to play like #indian team.#IndvsSL

— Anushku_Anamika (@ItsPbg) August 31, 2017
@ArjunaRanatunga 1997 was the only year Srilanka played well against India, dont be frustrated ,build a team and prove with results #moron

— Mohan (@mohancs6) August 31, 2017
Arjuna ranatunga before talk about Indian fans teach disciple to ur Sri Lanka players, Suraj randiv Who bowled no ball to sehwag and (part1)

— Vignesh kitcha (@Vigneshkitcha) August 29, 2017
I strongly condemn your comments on Indian fans,,, @ArjunaRanatunga restrain from provocative words

— Praveen Kumaran (@MrThumbsup) August 30, 2017
@ArjunaRanatunga Pls thnk before spk, SL fans are silent when we hit the balls but in india not like that...

— senthil kumar (@psksenthil) August 31, 2017
By referring to Eden'O'96 you have made cricket poorer @arjunaranatunga

— Suresh(idly) (@sureshidly) August 30, 2017
@ArjunaRanatunga Neither your country nor your cricket is moving forward.Crowd behaviour the other day shows how backward is your country

— Harshad khodbole (@KhodboleH) August 31, 2017
Perhaps he can tell their srilankan cricketers to play like indian cricketers #ArjunaRanatunga

— giridharan (@giridharan71) August 31, 2017
Getting on indian crowd for something unpleasant happened in sri lanka shows your character @ArjunaRanatunga

— Dilip Varma Mudunuri (@DilipMudunuri) August 31, 2017
Depressed @ArjunaRanatunga urges srilankan crowd not be behave like indian crowd..
Lol..
Heights of depression...

— Dilip Varma Mudunuri (@DilipMudunuri) August 31, 2017
Sri Lanka will deploy unprecedented security for Thursday's fourth One-day International against India to prevent a repeat of crowd trouble which broke out following a humiliating defeat for the home side, police said.
Some 1,000 additional police will be deployed at the 35,000-seat capacity Premadasa Stadium in Colombo while CCTV cameras will be used to monitor the crowds, police said in a statement.