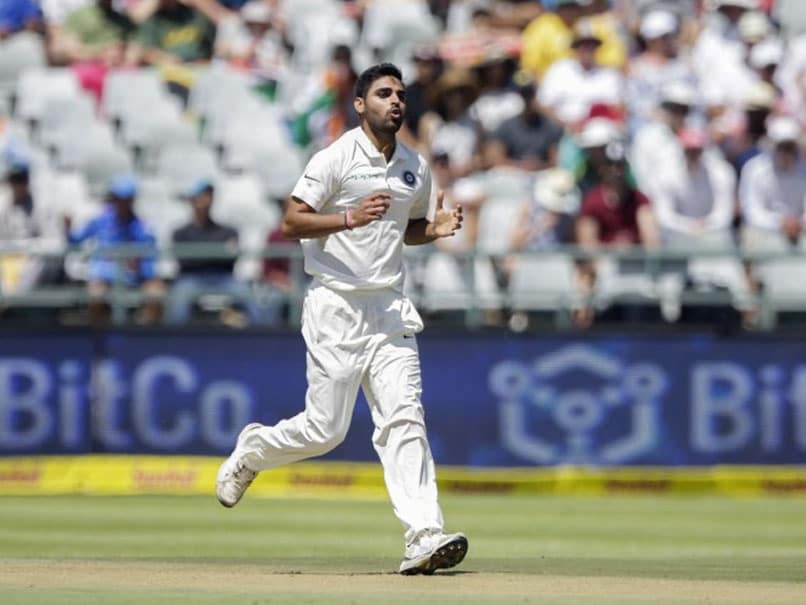 Bhuvneshwar Kumar was the pick of the Indian bowlers on Day 1 of the 1st Test.
© AFP
Indian pacer Bhuvneshwar Kumar had given the visitors much-needed early wickets to get them underway on Day 1 of the opening Test against South Africa at Newlands, Cape Town but half-centuries from AB de Villiers, Faf du Plessis and a Quinton de Kock cameo helped the hosts post a decent total on board. Bhuvneshwar ended the innings with four wickets but the right-arm fast bowler bemoaned India's failure to stop the run flow despite taking wickets and felt that India gave away 25-30 runs extra to South Africa.
South Africa found themselves in a spot of bother after being reduced to 12 for three but ended up reaching 286.
"If we want to be hard on ourselves, then yes we did give away a few too many runs to South Africa. I think they scored 25-30-odd extra runs. In every hour of play, there were 2-3 overs, where we gave away easy boundaries. That is an area we can improve on," Bhuvneshwar said at the end of the day's play.
South Africa maintained a run-rate of over four runs per over before ending at 3.90 in 73.1 overs.
"It is a concern for us. During the break also, we were talking about bringing the run-rate down because in Test cricket four runs per over is a lot. This is something we want to improve when we bowl in the second innings but overall we are happy with the lines and lengths we bowled," he added.
Like in the series against Sri Lanka, India were found wanting in their slip catching but Bhuvneshwar played down the issue.
"The slip cordon has held some great catches in the past so they will miss one or two. We do not go to bowl thinking they will not hold catches. We trust the slip cordon to hold their catches," he added.
He added that India weren't surprised that South Africa opted to bat on a green-top wicket.
"We had a feeling that they would opt to bat first. It didn't really surprise us. We wanted to bowl first after winning the toss so it was fine with us. They were good conditions to bowl first.
"The ball was seaming a lot for the first 10-15 overs. We were able to use those conditions to get first three wickets in five overs," Bhuvneshwar said.
AB de Villiers played a counter-attacking knock and the bowler conceded that even after initial blows, the former Proteas skipper had taken away the session from them.
"When it comes to AB de Villiers, he is the best in the world and you have to be at your best to bowl to him. He was counter-attacking us and took the game from us. He didn't take it completely but he took the session away from us. It would have been good if we had got him out early," he added. South Africa were reduced to 142 for 5 at one stage but recovered to reach 286 runs.
(With PTI Inputs)