Story Progress
Back to home
India vs South Africa Highlights, 1st Test Day 1: India In Trouble As South African Pacers Strike Early
Highlights, India vs South Africa, 1st Test, Day 1: India ended Day 1 with 28 runs on board for the loss of 3 wickets.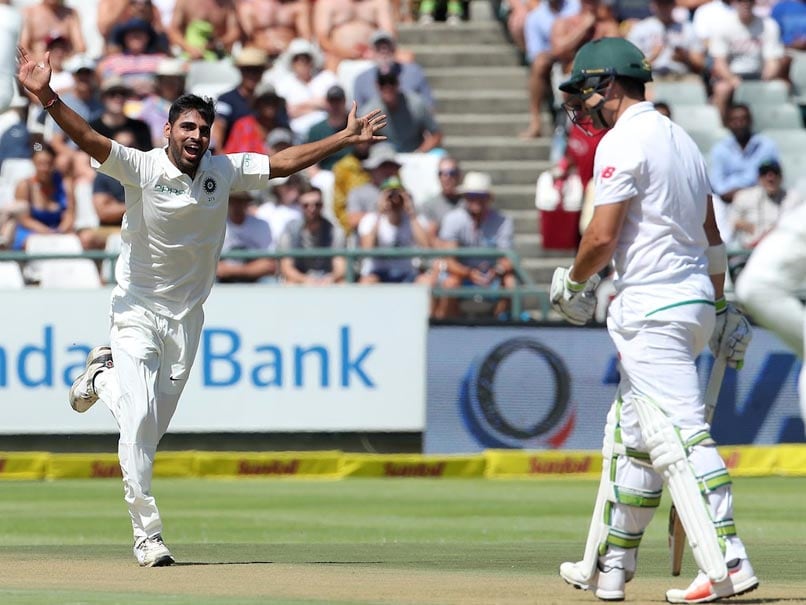 Highlights, India vs South Africa: Bhuvneshwar Kumar took 4 wickets on day one
© Twitter
Virat Kohli-led Team India ended the first day on 28 runs for the loss of three wickets on Friday. The pace trio of Vernon Philander, Dale Steyn and Morne Morkel sent Murali Vijay, Shikhar Dhawan and India skipper Virat Kohli back to the pavilion, respectively. Vijay was the first Indian batsman to depart in the 5th over after he edged the ball to the first slip fielder. Dhawan fell after a brief cameo of 16 runs after he was foxed by a short delivery from Steyn. The top edge looped up in the air and Steyn himself took an easy return catch to send the Indian left-hander packing. Kohli also failed to read Morkel's bounce and edged the ball straight to Proteas keeper Quinton de Kock. (Scorecard)
Earlier in the day, South Africa were bundled out for 286 runs in 73.1 overs. AB de Villiers (65) and Faf du Plessis (62) scored their half-centuries to ensure the hosts reached a respectable first innings score. De Kock (43) and Keshav Maharaj (35) played crucial knocks for the hosts in the middle overs. Bhuvneshwar Kumar and Ravichandran Ashwin shone with the ball for the visitors taking six wickets between them.
Highlightsbetween India vs South Africa, 1st Test, Day 1, straight from Cape Town
21:31 IST: Stumps | Day 1
India end Day 1 with 28 runs on board for the loss of 3 wickets.
21:19 IST: OUT! Kohli out for 5 runs. Morkel strikes on his first ball. Kohli edges to the keeper de Kock. India 27/3 in 8.1 overs
21:10 IST:Skipper Virat Kohli is at the crease. Onus on him to stick around after South Africa peg back visitors.
21:05 IST: OUT! Dale Steyn strikes. Shikhar Dhawan walks back to the pavilion for 16 runs. Couldn't read the bounce and a straight forward catch by Steyn.India 18/2 in 5.2 overs
21:00 IST: OUT! Murali Vijay departs for 1 run. A well-judged catch taken by Elgar. India 16/1 in 4.4 overs
20:52 IST: Review lost by South Africa.Calls for LBW overturned by the third umpire. Murali Vijay survives. India 10/0 in 3 overs
20:45 IST:Dale Steyn returns after a year's sabbatical. Vijay faces Steyn's first ball. His line and length in the first over remained impeccable.
20:43 IST: FOUR!Dhawan opened the face of the bat and guides the ball to the boundary. Gets two boundaries off the first over. A superb cover drive by the left-hander. A good over for the visitors. India 9/0 in 1 over
20:39 IST: India's innings begins.
Both the Indian openers are put in the middle. Murali Vijay and Shikhar Dhawan open for India. Vernon Philander will begin proceedings for India
20:30 IST: And its over for South Africa in the first innings. Morne Morkel is caught plumb on the pads. LBW out. Ashwin takes his second as South Africa bundle out for 286 runs in 73.1 overs. (AB de Villiers (65), Kumar 4/86, Ashwin 2/21)
South Africa 286 all out
20:12 IST: OUT! Ashwin strikes. Rabada departs.Rabada gets an outside edge, gives it straight to Indian keeper Saha. South Africa 282/9 in 70.3 overs
20:11 IST:21 overs left for the day. Rabada and Steyn trying to accumulate as many runs as possible for the hosts. India need two more wickets to bundle out South Africa. South Africa 280/8
19:50 IST:Bhuvi comes back to the attack. He has bowled 17 overs giving away 80 runs and taking 4 wickets. Whenever the hosts look set for a partnership, the Indian bowlers strike back with their fine bowling display. 23 overs remaining for the day. South Africa 271/8
19:45 IST:Dale Steyn is the batsman. Its now a matter of time for India to take the remaining two wickets. Ashwin appears to be on fire. Saved a comfortable boundary. A run-out and another super save at the boundary. Great stuff from him. South Africa 265/8
19:39 IST: OUT! Run out. Maharaj departs for 35 runs. A poor call by Rabada but Ashwin on target with his throw to send Maharaj back to the pavilion. South Africa 258/8
19:33 IST:Nothing exciting going on in this match. In the last 10 overs, the South Africans have scored 36 runs for no loss of wickets. Hardik Pandya is brought back into the attack. South Africa 258/7
19:22 IST:250 up for South Africa in 58.3 overs. The hosts are scoring at a run rate of 4.27. Both Maharaj and Rabada are taking singles to keep the run-rate going. Maharaj has now raced to 32 runs while Rabada is batting on 14.South Africa 252/7
19:20 IST:Keshav Maharaj is playing some good shots while Rabada is playing an anchor's role. Barring the partnership between AB de Villiers and Faf du Plessis, South Africa have failed to put a formidable partnership. Credit to the Indian bowlers for taking wickets at regular intervals.
19:10 IST:Bhuvneshwar Kumar has been the pick of Indian bowlers. He already has taken 4 wickets and is a wicket away from his fifth five-wicket haul of his Test career. South Africa 298/7
19:05 IST:Five runs off the over. Kagiso Rabada opened his account this over with a gentle push on the offside giving him three runs.
19:00 IST: Play resumes with South Africa on 230/7.Around 37 overs remain for the day. Bumrah takes the ball.
18:43 IST:The second session of the day was mixed as the South African batsmen scored runs freely but on the other hand the Indian bowlers scalped important wickets and aim to restrict the side to a modest total. This session saw debutant Jasprit Bumrah get his maiden wicket as he castled the danger man AB de Villiers for 65. Following which, Quinton de Kock (43) and Vernon Philander (23) scored runs at will. Despite the fall of wickets, the hosts managed to score runs at a fast rate. While, Bhuvneshwar got rid of De Kock for 43 and registered his fourth wicket of the game, Mohammad Shami cleaned up Philander with a beautiful delivery which came back in sharply. With Maharaj and Rabada on strike, South Africa need to stretch their total as much as possible.
18:42 IST: That is tea! South Africa 230/7 (Du Plessis 62, De Villiers 65; Bhuvneshwar 4/68)
18:36 IST: Four!Back of a length delivery from Hardik Pandya, which came back in, was guided away by Maharaj past gully for a boundray.
18:33 IST:Kagiso Rabada is the new batsman in.
18:30 IST: OUT! Shami gets his first wicket of the match.Good length delivery on the stumps, Philander was on the front foot to defend but the ball reversed and rocked the middle stump.
18:27 IST: SIX!Ashwin tossed up the ball and Maharaj clobbered the ball straight down the ground for a huge six.
18:23 IST:Shami goes for two overs in his comeback over. Concedes eight runs in the over.
18:19 IST:Virat Kohli brings back Mohammad Shami in the attack.
18:13 IST: Dropped!Bhuvneshwar misses out on the wicket of Maharaj as Dhawan drops a regulatory catch at the slips. Kohli is not happy.
18:09 IST:Keshav Maharaj is the new man in.
18:08 IST: OUT!A length delivery outside off, de Kock looking to go forward with defense gets a slightest of edges as Bhuvneshwar picks his fourth.
18:06 IST: Four!On the pads from Bhuvneshwar and De Kock flicks it away for a boundary. 200 also comes up for South Africa.
Here's the 200 for SA as De Kock (43) and Philander (20) continue to flourish. It's 202/5 now with just over a half-hour left i the session #ProteaFire #SAvIND #FreedomSeries pic.twitter.com/Fzvo95hRXC

— Cricket South Africa (@OfficialCSA) January 5, 2018
18:03 IST:Indian bowlers have cut down on the flow of runs. However, the hosts are trying to squeeze out opportunities to score boundaries.
17:59 IST:50-run partnership come sup between Philander and De Kock.
17:54 IST: Four!Little bit of width from Ashwin and it almost cramped De Kock but the batsman managed to cut it for a boundary.Welcome to the crease Ashwin.
17:53 IST:Ravichandran Ashwin is introduced in the bowling attack.
17:51 IST: Four!Short and wide from Bhuvneshwar, Philander throws his bat at the ball and it takes a thick outside edge and flies over the fielders at slips.
17:50 IST: Four!Looking to go through the on-side, Philander edges the ball as it goes past the gully.
17:45 IST: Four! Half-volley from Hardik and Philander puts it away with power through covers.
17:44 IST: Four!Vernon Philander gets off the mark with a boundary through extra covers.
17:40 IST: Four!Sweet timing from De Kock as he drives Bhuvneshwar through covers effortlessly.
17:38 IST: Four!De Kock waits for the Bhuvneshwar length ball and then opens the face of the bat at the last moment to guide the ball towards the third man boundary.
17:35 IST:Indian bowlers are creating problems for the South African batsman with the pace and bounce but are failing to pick up wickets.
17:29 IST: Four!Three consecutive boundaries for De Kock off Bumrah. First one goes straight down the ground, second one goes through point and the third one is through the covers. Beautiful display of skill.
17:26 IST: OUT!!Wide outside off from Pandya, Du Plessis looking to ct, edges it back to the keeper and he receives it gracefully. The South African departs for a well made 62.
17:24 IST:Huge appeal for LBW! Length delivery from Pandya angled, du Plessis fails to defend as the ball hit him in line with the off stump. India sent this upstairs but umpire's call on wickets hitting saved du Plessis.
17:22 IST: Four!!Back-to-back boundaries for Du Plessis off Hardik. Both the boundaries were flicked beautifully through the on-side.
17:18 IST: Four and fifty!!Du Plessis reaches his 16th Test fifty. Cuts Bumrah with authority through point.
Width offer to Du Plessis and he accepts by cutting Bumrah away for four to raise his 16th Test 50. SA 134/4 with new man De Kock on 3 #ProteaFire #SAvIND #SunfoilTest pic.twitter.com/J6yMpki1FM

— Cricket South Africa (@OfficialCSA) January 5, 2018
17:17 IST:After getting beaten a couple of times, de Kock gets off the mark with a flick through mid-on.
17:11 IST:Quinton de Kock is the new batsman in.
17:10 IST! GONE!Jasprit Bumrah gets his maiden Test wicket as he castles AB de Villiers for 65. Big, big wicket for the Indian side.
16:59 IST: Safe! Huge caught-behind appeal yet again from the keeper and he seems confident. India take a DRS. And Bumrah over-stepped.
16:54 IST: A huge caught behind appeal from the keeper and captain Kohli but the umpire was not interested. However, the ball went past Du Plessis' bat real close. Close shave.
16:47 IST: Four! Du Plessis dispatches the low full toss straight down the ground. Poor bowling from Hardik, second boundary of the over.
16:44 IST: Four!Du Plessis looking to drive Hardik Pandya, nicks the full ball as it flies past the man at the gully. Lucky, yet again. Also, the 100-run partnership come sup between Du Plessis and De Villiers.
16:43 IST:Bumrah gives just two runs in the first over after lunch, good start.
16:41 IST:Jasprit Bumrah begins the second session of the day and De Villiers gets two quick runs.
16:40 IST: We are back for the post-lunch session.
16:02 IST: Stay tuned for the post-lunch session.The Indian bowlers shone for the first half hour of the game after which the visitors  took the attack to the opposition and steadied the ship. It seems du Plessis and De Villiers have got comfortable in the middle. Only Bhuvneshwar was the effective bowler of the lot and no sign of Ashwin yet. What will be Kohli's game-plan for the post lunch session.
16:00 IST: South Africa 107/3 (Du Plessis 37*, De Villiers 59*; Bhuvneshwar Kumar 3/39) at lunch.
15:59 IST: Four!Back of a length from Bhuvneshwar and Du Plessis cuts the ball past the fielder at point.
15:57 IST: Four!Short ball from Bhuvneshwar, De Villiers gets into his position early and pulls the ball off the front foot. 100 comes up for South Africa.
15:53 IST:Hardik Pandya has been introduced in the bowling attack.
15:52 IST:The South African side has upped their anti against the Indian bowling attack and is nearing their century.
15:47 IST:du Plessis punches Shami to extra-covers, Bhuvneshwar fails to collect and Kohli is not happy with the effort. Two runs for the Sout African captain.
15:44 IST: Four and a fifty!!AB de Villiers cuts Shami with authority to notch up his 41st Test fifty.
15:42 IST: Four! Bumrah goes wide outside off and the South African captain dispatches the ball for a boundary.
15:36 IST: Four!Shami straying on the pads, Du Plessis flicks it with authority for a boundary.
15:35 IST: South Africa 71/3 in 20 overs.
15:25 IST: Four!Over-pitched delivery from Bumrah and de Villiers crashes the ball straight down the ground. What timing and placement.
15:20 IST:De Villiers is nearing his 41st half-century.
15:17 IST: Save!Close call for Du Plessis. Shami gets a good bounce and Du Plessis, takes off his bottom hand, edges the ball to Kohli at second slip. However, the ball bounced beofre Kohli could complete the catch.
15:12 IST: Four!Back-to-back boundaries for Du Plessis off Bumrah. The first one gets dispatched through the off-side and the second one was straight down the ground.
15:10 IST: Four!Short from Shami, de Villiers gets into position early and whacks the ball over mid-wicket.
15:09 IST: Four!Back of a length delivery from Shami, de Villiers insides edges the ball past the leg-stump to collect a boundary. Lucky.
15:06 IST: Four!Short delivery from Bumrah, du Plessis pulls, the ball clips the gloves and flies past the keeper for a boundary. Lucky there.
15:00 IST: Drinks are on the ground.Indian bowlers have been completely on-mark till now as the hosts are struggling to middle the ball. However, de Villiers is living dangerously as he clobbered Bhuvneshwar for four boundaries in a single over. Captain Kohli will be elated with his team's performance. On the other hand, de Villiers and du Plessis will have to steady the innings and bat cautiously.
14:50 IST: Four!Bhuvneshwar into the bowling and de Villiers gets another boundary. Back of a length delivery outside off, gets some elevation and de Villiers plays with soft hands as the ball beats the fielders at slip and rolls away to the boundary.
14:46 IST: 10 overs gone, South Africa 34/3.De Villiers launched the counter-attack after his team lost three early wickets.
14:44 IST:Jasprit Bumrah is brought into the bowling attack
14:41 IST: Four!Width outside off and de Villiers punishes Bhuvneshwar for yet another back-to-back boundaries.
14:38 IST: Four! Back-to-back boundaries for de Villiers off Bhuvneshwar. Playing his natural attacking game, the South African.
14:35 IST:South African batsmen are currently struggling against the brilliance of Indian bowlers. Captain Kohli will be mighty impressed with his bowlers.
14:28 IST:Six overs gone and India are off to a magnificent start.
A fantastic start for #TeamIndia as @BhuviOfficial claims the wicket of the two openers #FreedomSeries #SAvIND pic.twitter.com/cvAmBinOGW

— BCCI (@BCCI) January 5, 2018
14:27 IST:Captain Faf du Plessis comes to the crease.
14:24 IST: WICKET!Bhuvneshwar is on fire! He has left the South African top-order in tatters. This time Amla departs. South Africa is in real trouble, 12/3 in 4.5 overs. The Bhuvneshwar delivery pitched on a good length, held its line. Amla looking for a back-foot punch, edges the ball back to the keeper, who accepts the catch with full gratitude.
14:17 IST: FOUR! First ball boundary from de Villiers as he flicks Mohammad Shami through mid-wicket. Gets off the mark in style.
14:15 IST:AB de Villiers, right handed bat, comes to the crease.
14:14 IST: WICKET!Bhuvneshwar's delivery came back in sharply and caught Markram off-guard as the ball hit him on the pads. Dream beginning for Indian side.
14:12 IST: Four!Over pitched delivery from Bhuvneshwar and Markram drives it for a boundary.
14:09 IST:First run on the board for South Africa as Markram gets off the mark.
14:05 IST:Brilliant start from Bhuvneshwar, a wicket maiden to start the proceedings.
14:03 IST: WICKET!Dream start for India as Bhuvneshwar removes Dean Elgar for a duck on the third ball.Beautiful delivery from Bhuvneshwar, pitches around off, moves away a little bit as Elgar edges the ball back to the wicket-keeper.
13:57 IST: Alright, game time!Dean Elgar and Aiden Markram opening the batting for South Africa and Bhuvneshwar Kumar is opening the bowling for India.
13:54 IST:Both teams are on the ground for their respective national anthems.
13:45 IST: South Africa playing XI:
SA XI: D Elgar, A Markram, H Amla, AB de Villiers, F du Plessis, Q de Kock, V Philander, K Maharaj, D Steyn, K Rabada, M Morkel

— BCCI (@BCCI) January 5, 2018
13:40 IST: Team India playing XI:
IND XI: S Dhawan, M Vijay, C Pujara, V Kohli, RG Sharma, W Saha, H Pandya, R Ashwin, B Kumar, M Shami, J Bumrah

— BCCI (@BCCI) January 5, 2018
13:30 IST: South Africa captain Faf du Plessis wins toss, elects to bat. Jasprit Bumrah makes his Test debut for India.
South Africa wins the toss. Elects to bat first in the 1st Test at Cape Town #FreedomSeries #SAvIND pic.twitter.com/lFkTJMVNpb

— BCCI (@BCCI) January 5, 2018
13:27 IST: We are just minutes away from the toss.Stay tuned!
Promoted
13:18 IST:India pacer Jasprit Bumrah receives his Test cap from captain Virat Kohli.
Proud moment for @Jaspritbumrah93 as he receives his Test cap from #TeamIndia Skipper @imVkohli #FreedomSeries #SAvIND pic.twitter.com/H7s4w8gSmh

— BCCI (@BCCI) January 5, 2018
13:12 IST:Team India discuss their strategy ahead of their first Test against the Faf Du Plessis-led side.
Team talk ahead of the first Test here in Newlands #TeamIndia #SAvIND pic.twitter.com/542WGeUURP

— BCCI (@BCCI) January 5, 2018
13:00 IST: Hello and welcome to the live blog of the first Test match between India and South Africa straight from Cape Town.
Ironically, it will be the Mumbai duo of Ajinkya Rahane and Rohit Sharma who will in the hot seat if there are any questions about the batting. But that is just for now. Other may join that list as the series progresses. India have a poor record in South Africa as they lost five out of six series and drawn one. Since 1992, India have only won two out of 17 Tests played on South African soil -- in 2006-07 under Rahul Dravid and in 2010-11 under MS Dhoni.
Topics mentioned in this article