Story Progress
Back to home
Virat Kohli Reveals The Reason For Picking Rohit Sharma Over Ajinkya Rahane
Speaking after the 1st Test at Newlands, Virat Kohli defended the team selection saying that Rohit Sharma was picked over Ajinkya Rahane based on current form.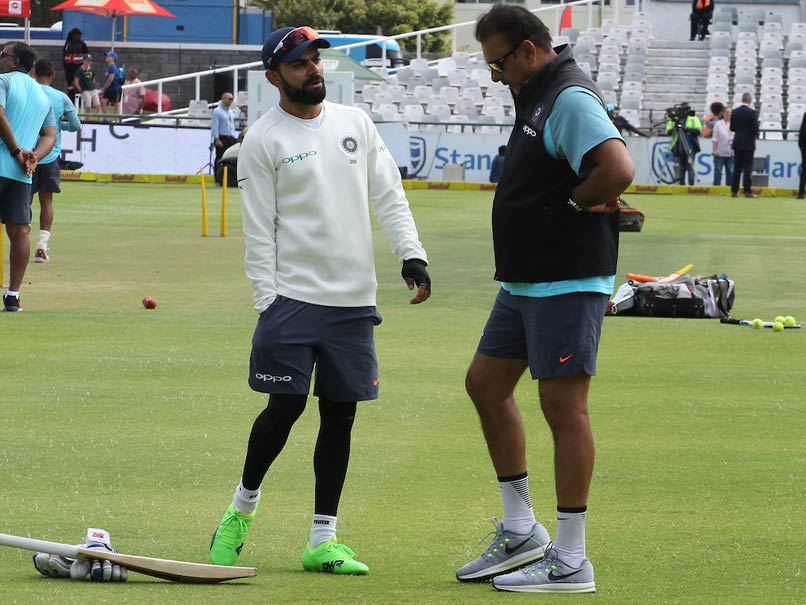 India's team selection came under scrutiny following their 72-run loss in the 1st Test.
© BCCI
Highlights
Rohit Sharma was preferred to Rahane for 1st Test at Newlands

Virat Kohli defended his decision to pick Rohit over Rahane

India lost the 1st Test to South Africa by 72 runs
When India announced their playing XI for the first Test against South Africa on Day 1, a few eyebrows were raised, especially with Ajinkya Rahane's name missing from the teamsheet. Rohit Sharma was chosen over India's vice-captain and that angered some fans. The decision didn't bear fruit as Rohit recorded scores of 11 and 10 in his two innings as the famed Indian batting line-up failed to fire in pace-friendly conditions against a potent South African pace battery. Following India's 72-run loss on Day 4, Indian skipper Virat Kohli revealed the reasoning behind the selection.
Speaking after the match at Newlands, Kohli defended the team selection saying that Rohit was picked over Rahane based on current form.
"Well, we decided to go on current form. Rohit has scored runs in the last three Test matches that he has played, and he was batting well, even in the series against Sri Lanka," said Kohli in the post-match media conference.
"These things can always be looked at in hindsight -- thinking what if or what if not. But we decided to go with this combination and current form was definitely the criterion," added Kohli.
Rahane, who has not been amongst the runs of late, had a successful tour of South Africa four years ago. With 209 runs, he was third highest run-getter in the series behind Kohli (272 runs) and Cheteshwar Pujara (280).
India lost the first Test by 72 runs with the batting letting them down in both the innings. Barring a brilliant 93 from Hardik Pandya, none of the other batsmen made any real contribution as India failed to chase a target of 208.
Meanwhile, South African captain Faf du Plessis too was left surprised with some of India's team selection. The Proteas skipper said that the inclusion of Jasprit Bumrah and Rohit in India's playing XI had surprised him and his team.
"We were surprised yes. We didn't think that Jasprit Bumrah would have played. We know that he's done really well in one-day cricket but we were preparing more for the other seamers because they've played a lot of Tests," said Du Plessis.
Promoted
"I think the other guy was Rohit Sharma ahead of Ajinkya Rahane. He's been in a bit of form one-day cricket wise so they're probably just running with that," he said.
(With PTI Inputs)
Topics mentioned in this article