Story Progress
Back to home
ISSF Shooting World Cup: Jitu Rai Wins Gold in 50M Pistol Event, Silver For Amanpreet Singh
Jitu Rai won the gold medal in the 50m pistol event at the ISSF Shooting World Cup on Wednesday, while Amanpreet Singh won the silver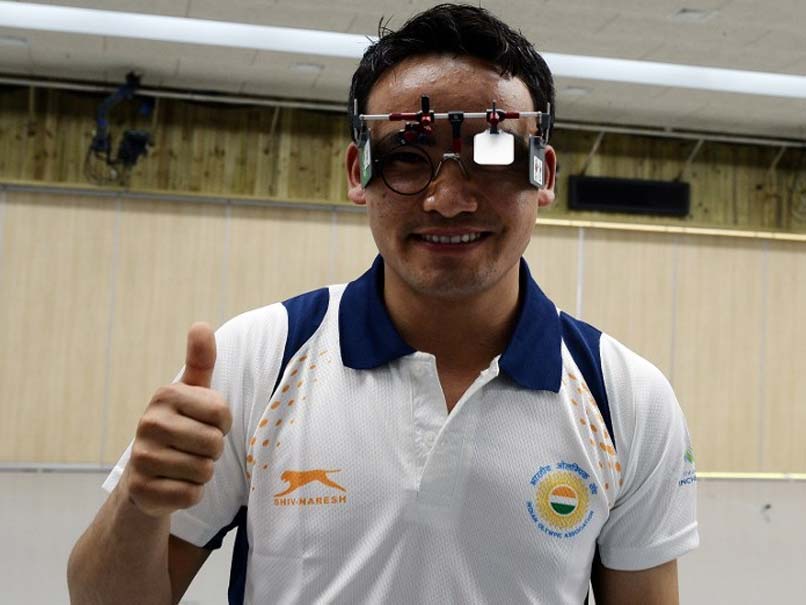 Jitu Rai has clinched India's first gold medal of the ongoing ISSF Shooting World Cup.
© PTI
Highlights
Jitu Rai has won the gold at the ISSF Shooting World Cup

Amanpreet Singh finished second to win the silver

Rai and Singh won the medals in the 50 metre air pistol category
Jitu Rai on Wednesday won the first gold medal for India in the ISSF Shooting World Cup at the Karni Singh Shooting Range in New Delhi on Wednesday when he ran away with the 50-metre Air Pistol event as India finished with a one-two podium finish. The silver medal went to Amanpreet Singh. Jitu, who had won a bronze in the 10-Metre Air Pistol event on Tuesday, scored 230.1 points, while Amanpreet Singh finished with 226.9. The bronze medal went to Vahid Golkhandan of Iran with 208.0 points.
Earlier in 2014, Jitu Rai had won the silver medal at the ISSF World Cup in Munich, in the 10 metre air pistol event. At the Maribor World Cup in the same year, he won a silver in the 50 metre pistol event, and a gold at the 10 metre air pistol event.
In doing so, he won three medals in nine days at the World Cup to become the first person to win two medals at a single World Cup for India. He was ranked number 1 in the world, in 10 metre air pistol and number 4, in 50 metre pistol, in July 2014.
Rai went on to win gold medals in the 50 metre category at the Commonwealth Games and the Asian Games in the same year.
Jitu Rai's staggering haul of seven international medals during one year saw being rewarded with the Arjuna Award in 2015.
He also won a silver medal in the 10m Air Pistol event at the ISSF World Cup in 2016 held in Baku, Azerbaijan.
The Lucknow-born 'Pistol King' serves in the Indian Army, having been recruited to 11th battalion of the Gorkha regiment.
Talking about his victory, Rai said, "It's amazing to win this gold medal, during the first combined World Cup held here in India, in front of my supporters. It's a great honour and a true emotion to see the Indian flag atop the podium."
"I closed the 2016 season with a World Cup Final silver, and I always dreamt about starting 2017 in the best way here in India. I wanted our flag to fly high."
This was the 29-year-old's second medal in two days, having bagged a bronze in 10m air pistol on Tuesday. And like Tuesday, Rai was languishing at sixth place at the end of first two series of five shots each in the final, which included a horrendous 6.6.
"I didn't have a perfect start today, but I guess that's the fun of the sport. I like it that way, uncertainty is part of the game, otherwise, there is no excitement. I climbed into the lead shot after shot and I think it was a nice match.
"I am very happy that today also I made my way back into the top after being at the bottom. I fought till the end and I enjoy doing that. I had one or two bad shots but I told myself that I should not think about that," he said.
The World Championship silver and Asian Games gold medallist said he was all along confident of a good result.
"There was a deficit of 0.3 with Amanpreet in the gold medal round, I was behind. So, I thought if I am able to shoot to the best of ability, I could surpass him. The aim was to be very meticulous in taking my shot. There was no pressure on me. May be it's possible he may have felt pressure, he may have thought it's my first World Cup final, but he is a very good shooter and he shot really well today. He maintained his lead but lost his way a bit in the later rounds," he said.
"When I shot 6.6 I told myself I have to do better. I don't think about the last shot, whether it's a bad shot or god shot. Everybody has his different style of shooting. I don't think about bad or good shots, I am not going to get anything from them. Even if I am at the bottom, the thought of losing never comes across," Rai added.
Promoted
Looking ahead, he said, "I am planning to compete in all World Cup stages this year. We have ISSF World Cup Munich ahead of us, and I will work to correct a few things before flying there. I am looking forward to the rest of the season."
(With PTI Inputs)