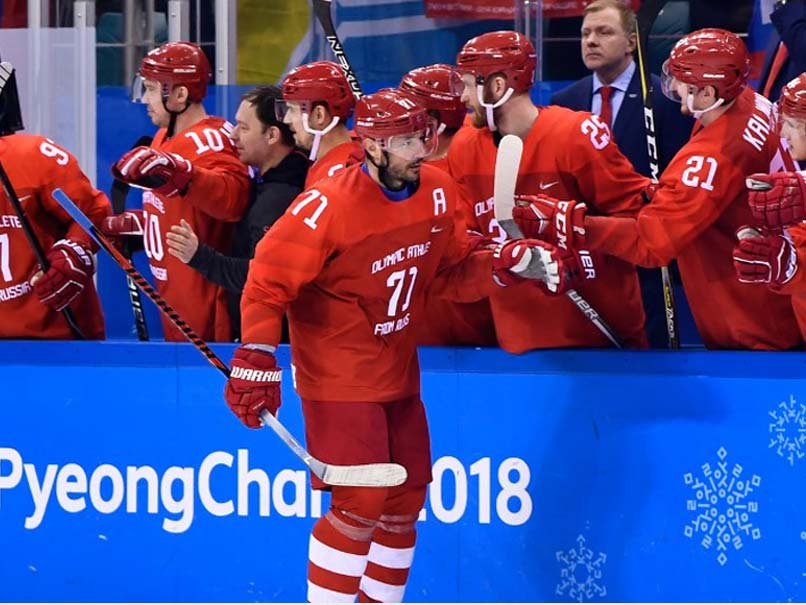 Ilya Kovalchuk scored for Russia in an electric atmosphere on Saturday.
© AFP
Ilya Kovalchuk and Nikolai Prokhorkin each scored two goals and the Olympic Athletes from Russia blanked arch-rival United States 4-0 in an electric atmosphere on Saturday at the Winter Olympic men's hockey tournament. Russia has not won Olympic hockey gold since 1992 but an all-star lineup from the country's two top clubs showed the skill and tenacity that made them 2018 favourites, securing a quarter-final berth with the victory. "We played well. We came out strong. Our goalie made some great saves," Kovalchuck said. "It's good we have the extra day off. We'll take the time and prepare."
Russian goaltender Vasili Koshechkin made 29 saves in the shutout.
Slovakia, which opened by shocking the Russians 3-2, lost to Slovenia 3-2 in a shootout, but an emotional and hard-hitting USA-Russia showdown proved the marquee event.
The political rivals stirred passions long before players began warming up as rowdy fans waved Russian and US flags with chants of "U-S-A" and "Russ-i-a" -- screaming that only grew louder as the game unfolded in an intense setting.
While US coach Tony Granato played down any "Miracle on Ice" repeat talk, there were echoes of the 1980 Lake Placid Olympic upset of the Soviet Union by a collection of US amateurs.
With NHL talent absent for the first time since 1994 over money issues and injury fears, a young US squad with mostly Europe-based talent faced an all-star lineup from Russia's two best clubs, including five-time Olympians and ex-NHL stars Kovalchuk and Pavel Datsyuk.
But these Americans found no goals, much less miracles.
"It's a disappointment. We've got to reset ourselves and come back and play our way in," US captain Brian Gionta said. "They have a great team. They moved the puck extremely well, controlled the game for a long time. We have to do a better job using our speed."
US collegian Jordan Greenway and Russian forward Alexander Barabanov traded early shoves to set a physical tone.
"He didn't want to let go of me," Greenway said. "He wanted to do a little dance. I was ready to do it."
The Russians seized a 2-0 lead on Prokhorkin's brace, but he was involved in a melee late in the second period.
US forward Chris Bourque, the smallest man on the ice, answered a takedown by going after Prokhorkin, who responded in kind as both were sent off for roughing.
"There were too many hits," Prohorkin said. "I'm glad we got the win."
Kovalchuk blasted a shot past US goaltender Ryan Zapolski from the right faceoff circle with 0.2sec remaining in the second period, boosting the Russian lead to 3-0.
Kovalchuk struck again 28 seconds into the third period, zipping a laser shot from the opposite circle for the final goal.
"I still have some goals left in my tank," Kovalchuk said. "I hope to get some more."
- Czechs edge Canada -
Jan Kovar and Petr Koukal scored in a penalty shootout to lift the Czech Republic over defending champion Canada 3-2. Canada could still qualify directly for the quarter-finals by beating South Korea on Sunday.
"We have to keep our heads up and come in tomorrow confident. We can't dwell on it," said Canada's Maxim Noreau, whose final shootout effort clanked off the left post to seal the Czech triumph.
"It was a good game for us," Canada coach Willie Desjardins said. "We created lots of chances. Now we move ahead. We know we have to get better."
The Czechs would clinch a quarter-final spot Sunday by beating Switzerland, which routed South Korea 8-0.