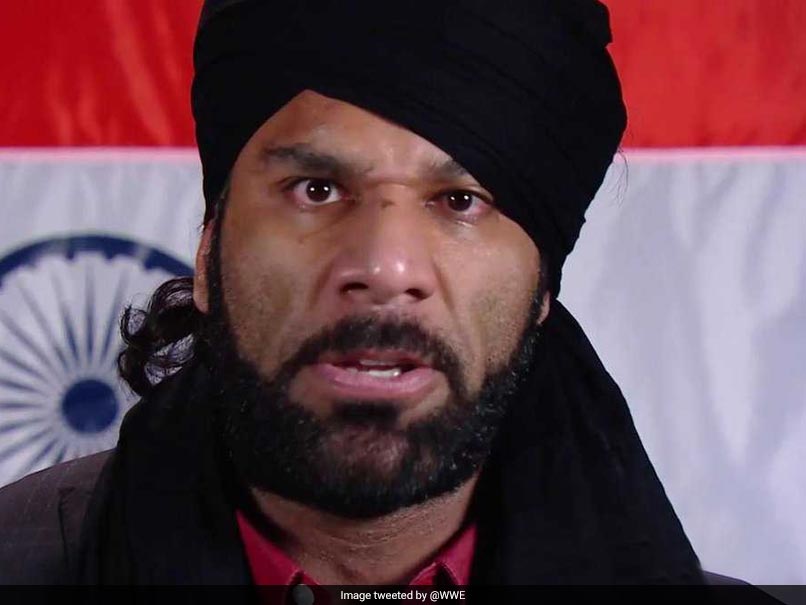 Jinder Mahal issued a new threat to Triple H.
© Twitter
As New Delhi gears up for the big-ticket World Wrestling Entertainment (WWE) match between Jinder Mahal vs Triple H, to be held in India at the Indira Gandhi Indoor Stadium, former WWE champion Mahal issued a new threat to his opponent in a video posted on his official Twitter handle. In the video, Mahal claimed that even though Triple H is an unstoppable force, the former will become unstoppable when he faces him in his own land and in front of his people.
"Match ban gaya hai (The match has been made). The biggest match in Indian history -- Triple H versus Jinder Mahal. Triple H, we have seen more of you in the past few months than we have in the past few years and still you remain that same unstoppable force. But in India, in my land and in front of my people, I become unstoppable. So Triple H...December 9th, Indira Gandhi Indoor Stadium...The King of Kings, The Game versus The Modern Day Maharaja and Triple H...you will bow down," asserted Mahal.
The match was announced after the company cut down its two-day show to one, on December 9. Initially, Mahal was supposed to defend his title against Kevin Owens. But ahead of Survivor Series 2017, Mahal lost his championship belt to the Phenomenal One (AJ Styles) in the seventh edition of SmackDown Live in Manchester, the United Kingdom after a reign of 170 days.
WWE, which is trying to spread roots in the Indian market, has taken this event very seriously as COO Triple H had called out to Mahal for a 'dream match' in India.
"I decided India that if you want it bad enough, I will reply you. Let me hear your voice and if it is loud enough then I'll return to New Delhi on December 9 and I will step into that ring to compete. But, it won't be against just anybody. It will be for the biggest match in India's history. It will be Modern Day Maharaja Jinder Mahal, the former WWE champion against the King of Kings, The Game, The Cerebral Assassin," Triple H said.
"@WWEIndia...@JinderMahal...I only have one question for you...the question is...India, Jinder Mahal...are you ready?," Triple H signed off.
Mahal was quick to reply to 'The Game's' (Triple H) challenge and touted the match as one of the biggest matches in his career. "I'm honoured that you considered me as an opponent in India, in New Delhi. But I must warn you Triple H...you may be the King of Kings but I'm The Modern Day Maharaja and I'm simply unstoppable when I have my people with me. So Delhi walo? Dasso yeh match dekhna chahte hoh aap? Humara Jinder Mahal vs Triple H. Dasso? (So Delhi people, do you want to see Jinder Mahal vs Triple H?)," said Jinder.
With the mega-event sorted out in India, The Modern Day Maharaja will look to take back his championship belt.
Mahal issued a challenge to AJ Styles for a Championship match by invoking his rematch clause at the pay-per-view Clash of the Champions 2017 on December 27 later this