Story Progress
Back to home
Attempting A Trick For First Time, US Moguls Skier Says, 'Screw It. I'm Going To Go For It.'
Casey Andriga finished third of 20 skiers in the final qualification round, which he had to ski because he failed to qualify Saturday.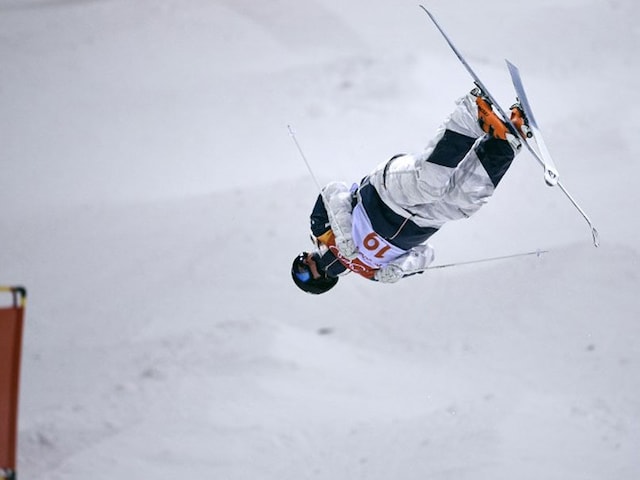 US Casey Andringa competes in the men's moguls final during 2018 Winter Olympic
© AFP
Highlights
Casey Andringa is a 22-year-old Coloradan

Andringa contemplated quitting his sport less than a year ago

Andriga could see his friends and family at the base of the slope
Under a dark-as-a-pocket night sky on the other side of the world, with floodlights illuminating the white snow spitting from above and whisking along the ground, the moguls course at Phoenix Snow Park took on the appearance of a dream Monday night. It must have felt that way to Casey Andringa, a 22-year-old Coloradan who had contemplated quitting his sport less than a year ago, and who now stood atop the hill, next to the best men's skiers in the world, one run away from an Olympic medal.
Andriga could see his friends and family at the base of the slope, identifiable by their white t-shirts emblazoned with, "Are You Afraid" and Andriga's signature. He could hear them cheer. He almost burst out in laughter, at the joy and improbability of it all.
"It was everything I could have asked for," Andriga said.
Andriga didn't really feel any different a few minutes, after he went for broke, for the hardest run of his life, and just missed pulling it off. Andriga did not win a medal, but by skiing brilliantly Monday night, making the six-man final round of the men's moguls competition and finishing fifth, he had still authored one of the more unlikely American achievements of these games.
At the start of last year, the U.S. ski team chose 11 athletes for its various tiers of national teams. Andriga was not among them. He considered quitting.
"There was a jillion steps between there and this point right here," Andriga said.
He already had suffered a near-death experience because of an infection close to his brain, torn the meniscus in both his knees and fractured his skull. But when someone asked him, "Are you afraid?" it struck a nerve. He redoubled his resolve and moved into a pop-up trailer - dubbed "The Viking" - in the woods for two months this summer. He emerged a better skier than ever before, and on Jan. 20, he made the Olympic team.
Contrast his path with that of the gold medalist, and his presence in the final starts to feel even more remarkable. Canadian Mikael Kingsbury has been the unquestioned ruler of men's moguls skiing since his late teens. In 2012, at 19, Kingsbury became the second man ever to finish in the top three at every International Ski Federation event, winning eight of the 13 competitions. Now 25, Kingsbury is in his seventh year of being ranked No. 1 in the world. He went a year straight without losing, a streak that ended just before he left for South Korea.
Kingsbury, though, had never landed the ultimate prize. At the 2014 Sochi Olympics, he lost to now-retired fellow Canadian Alexandre Bilodeau and claimed only silver. He entered PyeongChang, his second Games, as perhaps the most overwhelming gold medal favorite in any event. Think Chloe Kim, but in the prime of her career, not at the start. Even Andriga said he would have been "sad" had Kingsbury not won gold. Kingsbury captured first with a flawless final run, scored an 86.63, more than four points faster than silver medalist Matt Graham of Australian. Japan's Daichi Hara took bronze.
"It's just unbelievable," Kingsbury said. "I won the Olympics. I'll be the Olympic champion for the rest of my life."
Andriga couldn't beat Kingsbury, but he could compete with him in the category of disbelief. In qualifying Saturday, Andriga finished 14th, missing the bye to the first round of finals by four spots. He skied slower than he expects of himself and erred in landing his first jump.
"Coming to the Olympics, you have so many people telling you how it's going to feel, how you should feel about it all," Andriga said. "I felt I had to be moved by every single second, or I had to feel, like, the seriousness and the intensity coursing through me."
Andriga's personal coach suggested he get away and reset, so he took the three-hour trip to Seoul with Jesse and his girlfriend. They walked through the city, laughing and reminiscing. He found a new favorite dish, which he could identify only by the name his traveling party gave it: "We're calling it the cheese river," he said. He tried some chestnuts roasted on an open fire. The trip reminded Andriga why he loves skiing - because it connects him to people he loves, because it allows him to consume new cultures, because it brings him joy.
"I woke up this morning, that's what I want to do today," Andriga said. "I want to have fun."
Andriga finished third of 20 skiers in the final qualification round, which he had to ski because he failed to qualify Saturday. "I don't get why anyone would want to qualify in that first round," Andriga said. "You just get to ski one less run." In the first round of finals, Andriga finished fifth of 20 - less than a point behind Kingsbury. He finished third as the field thinned from 12 to six.
Between runs, he determined he would try, for his final jump, a cork 1080 truck driver. He had never tried it on a full, top-to-bottom run.
"That's not really something you do," Andriga said. "But I knew if I wanted to get on the podium, I was going to have to run that trick right there. And so I said, 'Screw it. I'm going to go for it.' "
The move asked him to spin three full times while also flipping and grabbing his skis with both hands, like a truck driver holding a large steering wheel. It was, in Andriga's mind, the hardest trick any rider had attempted in the entire contest.
The course had grown more difficult with wind, wear and a thin coating of fresh snow. He may have been fatigued from the extra run. For whatever reason, Andriga caught less air than he expected, which prevented him, just barely, from finishing the entire flip. He didn't wipeout, but his backside touched down. He crossed the line with a 75.50, good enough for third place at the time, but with little hope of holding a medal position with Kingsbury and Hara remaining.
The U.S. failed to medal in men's moguls for the third straight Olympics, but Andriga was having too much fun to care. He was not supposed to be here, let alone in the final round. Having made a name for himself here, Andriga faces the decision of whether to head back to The Viking. As an Olympian, Andriga received star treatment: fancy lodging, expensive jackets, nice clothes. Would he no longer need to train in the middle of the woods, in a $2,000 camper?
"No way," Andriga said. "Never."
Topics mentioned in this article