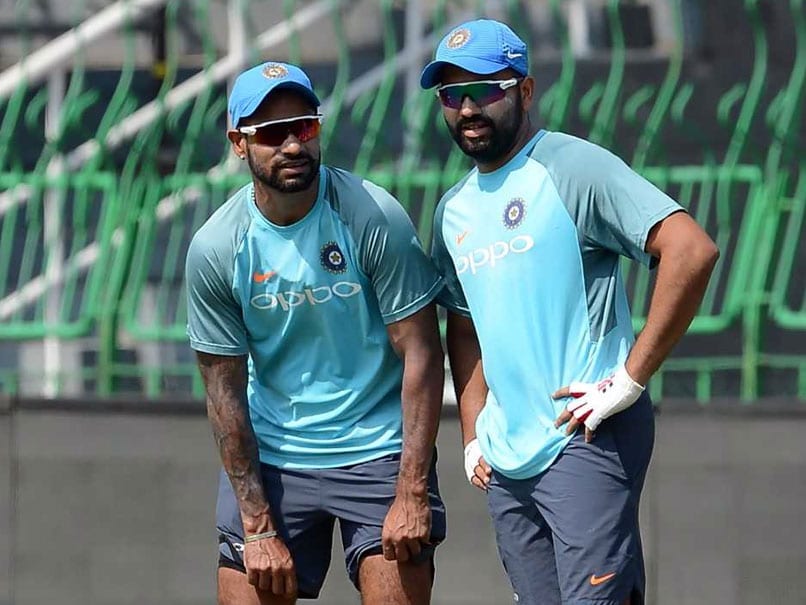 Rohit Sharma and teammates during a training session at the R Premadasa Stadium.
© AFP
India will be facing Sri Lanka in the first match of the Nidahas Trophy 2018 Twenty20 Tri-series later on Tuesday. With regular captain Virat Kohli rested, Rohit Sharma has been given the responsibility of leading the team. The side, without skipper Kohli and the veteran Mahendra Singh Dhoni, will give chance to the youngsters to make a name for themselves. With captain Rohit professing that they are not the favorites to win the T20 title, India are not leaving any stone unturned to give their best and win another title. Ahead of the clash in Colombo, the Board of Control for Cricket in India (BCCI) tweeted a video of Team India practicing.
"Lot of intensity during practice on the eve of the 1st game of the Nidahas Trophy. An exciting contest awaits here in Colombo. Action starts soon," BCCI Tweeted.
As for the youngsters chosen in the side, the aim would be to stay on the selectors' radar for next year's World Cup.
India have faced Sri Lanka in 18 international matches this season (6 Tests, 8 ODIs and 4 T20 Internationals) on home and away basis.
Bangladesh is the third team in this series and though the sprightly bunch is known to add excitement, the series itself is not exactly an anticipated event after a rather exhausting trip to South Africa.
Wicketkeeper-batsman Rishabh Pant, who has just two T20 international appearances, and pacer Mohammed Siraj, 23, have being given the opportunity to gain international experience.
"We are happy to be here and expect to play some good cricket in the Nidahas Trophy," Rohit had said in a press conference.
"It is an honour for me to lead the side and it is going to be no different in this series. I am excited to see how this young team performs," the 30-year-old said.