Story Progress
Back to home
Sunrisers Hyderabad vs Punjab Kings: IPL 2022 Live Cricket Score, Live Score Of Today's Match on NDTV Sports
Live Updates of Today Match between Sunrisers Hyderabad vs Punjab Kings from Wankhede Stadium, Mumbai. Check commentary and full scoreboard of the match.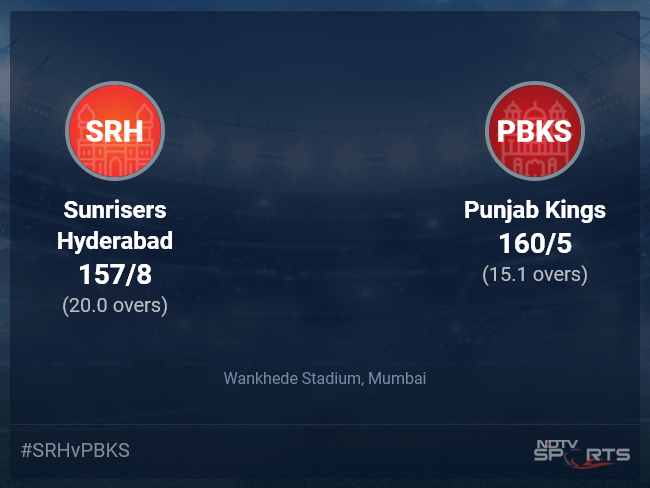 SRH vs PBKS Latest Score
A dedicated team of experts bring you live score, live cricket score, live match update on Sports.NDTV.com. After 15.1 overs, Punjab Kings, chasing a target of 158, are 160/5. The live updates of Sunrisers Hyderabad vs Punjab Kings scorecard is also available. It is the perfect platform to follow your favourite teams in Indian Premier League 2022. Keep a track on your favourite batsmen and bowlers through Indian Premier League 2022 today match, ball by ball commentary, Sunrisers Hyderabad vs Punjab Kings, Sunrisers Hyderabad vs Punjab Kings live score, Sunrisers Hyderabad vs Punjab Kings scorecard. Follow the excitement of the Indian Premier League 2022 on Sports.NDTV.com as you can follow live match updates and live cricket score through our platform.
Right then, that is all we have from this game and that is all we have from the league stage of this season. It is time for the playoffs now and first up it will be Gujarat going up against Rajasthan in that all-important Qualifier 1. You can catch all the action from that game on Tuesday, 24th of May at 7.30 pm IST (2 pm GMT). As you know, our coverage will start in advance. So do join us for the same. Till then, goodbye and cheers!
Harpreet Brar is the PLAYER OF THE MATCH for his brilliant spell of 4-0-26-3. He says the wicket was suitable for spinners so he was happy and just wanted to take the opportunity and wanted to finish on a high. Adds that he just tries to bowl in his area and stay calm under pressure. Tells that his wicket of Markram was special as the bowl spun nicely and he tried to get him on the front foot. On Arshdeep Singh, Brar says he is happy for him and he deserves to play for the national side. Shares that he will spend time with family as he is away from home for the past 4 months, and then work on his skills.
Mayank Agarwal, the skipper of Punjab, says that his ribs will be soar and he hopes that it is not broken. Adds that the positives have been many like the way Livingstone batted and the brand of cricket they played. He applauds the performance of Dhawan, Arshdeep and Bairstow the way he batted after he started opening and says that the brand of cricket they play, will fail at times but he is proud of the way they played and can do well in the next season. Tells that they could not stitch back-to-back wins and they lost wickets in the cluster this season but apart from that they played good cricket. Mentions that the message from this game was clear that they meant business and they wanted to get two points on the board and enjoy themselves.
Liam Livingstone is up for a quick chat. He says it felt like he was hitting the ball well throughout the tournament. Says it was the perfect game for them - attacking as well as being smart. He knew his match-ups were Umran and Sundar. He tried to play the left-handers as well and feels he hasn't hit a left-arm spinner over extra covers. Says it is all about learning and hopes to take his game to the next level. Feels that they need to be aware of the game but he tries to take on his match up and plays with how the game goes. Shares that it was nice to prove a few people wrong and hopefully improve and get much stronger in the future. On his bowling, it comes out naturally and in T20 cricket, it is nice to help in all three departments.
Bhuvneshwar Kumar, the skipper of Hyderabad, says the captaincy was a good feeling but a win would've been a better one. Adds that he felt that they were a few runs short but with good fielding, they could've taken it till the end. Tells that the first half was brilliant but the second half was make it or break it but they didn't come good in the second half and that is something they will work for the next year and hope to come back stronger. Mentions, Umran Malik, Abhishek Sharma, Rahul Tripathi are some positives this season and in the middle phase, Markram and Pooran have been superb as well. Shares that he'll keep playing till he feels 100 % and he enjoyed this season as well.
Time for some interviews!
Hyderabad after choosing to bat could not put a par score on the board and probably were 15-20 runs short. They kept losing wickets in the middle overs after a good start by Abhishek Sharma and it was only the partnership between Sundar and Romario Shepherd that took them to the score they got in the end. However, once you are defending a modest total you need to take every chance that comes your way but the fielding in the game from Hyderabad was well below the standards required. That cost them and in the end, they were just blown away by the power of the Punjab batting lineup.
Punjab bowlers did their job pretty well in the first half of the game and despite the death overs not going their way, they had a modest total to chase. It was Brar who took wickets in the middle overs to restrict the scoring rate and finished with three wickets. However, the chase was not supposed to be as easy as it turned out in the end. Bairstow came out with intent but departed soon and so did Khan but both of them made sure that Punjab had a good score on the board after the Powerplay. When Mayank got out in the 8th over, it looked like this game will go close but Livingstone joined Dhawan and after that, the pendulum just swung in Punjab's favour. They lost a couple of wickets after that but the scoring rate was always above the required rate and in the end, Livingstone finished things off with another entertaining knock of 49 off just 22 balls
This is what Punjab were always capable of and they have proved that in their last game of the season! The firepower in their batting lineup has made an absolute mockery of this chase! BANG BANG stuff from Punjab and they finish the season on a high. Hyderabad would be disapppointed with their performance in this game but the most disappointing part for them would be their fielding that was just well below the standards that we see at this level of cricket.
15.1 overs (4 Runs) FOUR! Prerak Mankad on his debut, hits the winning runs. A length ball, outside off. Mankad drives it on the up and over covers for a boundary. Punjab win by 5 wickets and with 29 balls to spare.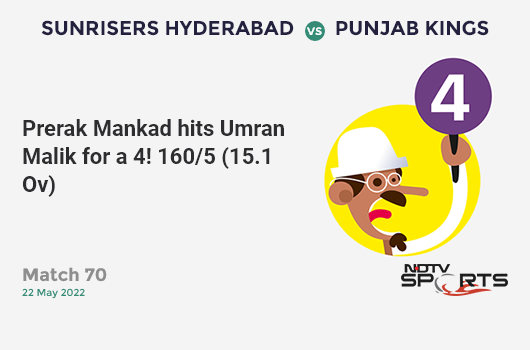 Match Reports
Topics mentioned in this article