Story Progress
Back to home
Royal Challengers Bangalore vs Sunrisers Hyderabad Live Score Ball by Ball, IPL 2022 Live Cricket Score Of Today's Match on NDTV Sports
Live Updates of Today Match between Royal Challengers Bangalore vs Sunrisers Hyderabad from Brabourne Stadium, Mumbai. Check commentary and full scoreboard of the match.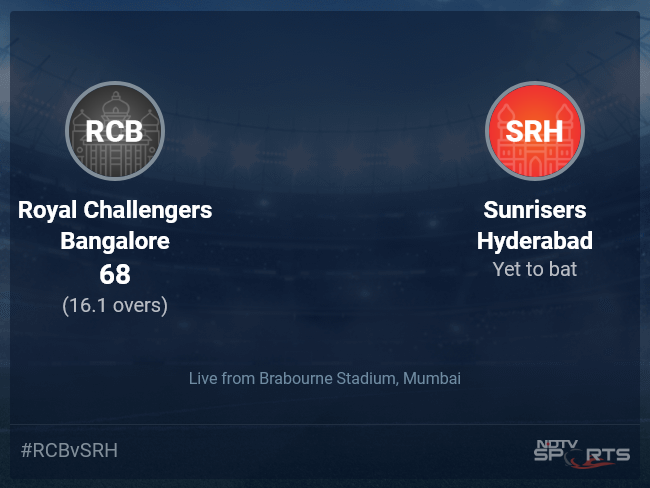 SRH vs RCB Latest Score
Follow the Indian Premier League 2022 live cricket score on Sports.NDTV.com. After 16.1 overs, Royal Challengers Bangalore are 68. Get live score, ball by ball commentary and much more. Keep track of Indian Premier League 2022 today match between Royal Challengers Bangalore and Sunrisers Hyderabad. Everything related to Royal Challengers Bangalore and Sunrisers Hyderabad match will be available on Sports.NDTV.com. Stay updated with Royal Challengers Bangalore vs Sunrisers Hyderabad live score. Do check for Royal Challengers Bangalore vs Sunrisers Hyderabad scorecard. You can get scorecard updates, match related facts. Get quick live updates with ads, Sports.NDTV.com, which is the perfect destination for live cricket score.
We are back for the chase!
Right then! This should be a piece of cake for Hyderabad! They have a big chance to boost their net run-rate as well. Bangalore will need something special to defend this total. Stay tuned as the chase begins shortly.
Dale Steyn, the bowling coach of Hyderabad, is down for a chat! He says that they bowled really well and all the pitches have offered something for the pace bowlers early on. Adds that they have some quality bowlers in their ranks and they have been training really hard in the nets. Talking about Umran Malik, he says that he is improving each game and he seems to be coming into his own.
Hyderabad will be nothing but proud about their performance here. It all started with Marco Jansen grabbing three wickets in his very first over. Bangalore were in trouble from the second over itself. Glenn Maxwell did show some kind of hope, but he too failed to carry on and was dismissed within the Powerplay itself. All the bowlers grabbed at least one wicket. T Natarajan and Marco Jansen grabbed three wickets each, while Umran Malik picked one wicket and gave away just 13 runs. Not to forget, the contribution by the spinner, Jagadeesha Suchith who took two wickets as well. Only two of the batters from Bangalore got to a double-digit score, which tells you the kind of evening they have had. Disappointing innings for Bangalore.
It's fair to say, Hyderabad do have one of the best pace attacks in this exuberant league. What a clinical performance this has been! Exactly five years ago, Bangalore were dismissed for 49 runs, and today they have been dismissed for just 68 runs, which is the lowest total in this year's tournament so far. Brabourne's pitch keeps surprising us, on one day we witness over 400 runs in a game, while on a day like this, getting to a score of 100 looked tough for the batting side.
16.1 overs (0 Run) OUT! CAUGHT! Another brilliant catch from Kane Williamson and Bangalore are bundled out for 68! Bhuvneshwar Kumar comes back into the attack and gets the last wicket. This is a length ball, around off. Mohammed Siraj looks to heave it away. It takes the top edge and goes high in the air towards the mid off region. Williamson there, backtracks, and takes a good catch.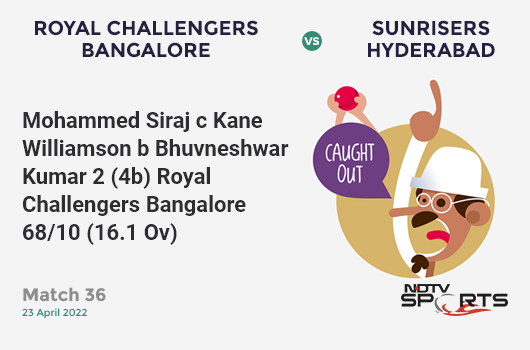 15.6 overs (1 Run) Back of a length, around off. Mohammed Siraj taps it past the point fielder and collects a run. He will retain the strike.
15.5 overs (1 Run) Shorter in length, outside off. Josh Hazlewood hangs back and cuts it uppishly towards the deep cover fielder for one run.
15.4 overs (1 Run) Back of a length, around off. Mohammed Siraj drags it towards mid off and takes a single.
15.3 overs (0 Run) On a length, around off. Siraj taps it to cover.
Strategic break! Hyderabad continue to be on top! Well, there is no doubt about that! Bangalore are left with just one wicket now. Even a target of 100 would be something to bowl at but even that seems farfetched. Mohammed Siraj is the last man in.
15.2 overs (0 Run) OUT! BOWLED! Hasaranga looks for a big one but he misses and ends up throwing away his wicket. A length ball, around off. Wanindu Hasaranga sits back and looks to heave it across the line. He fails to get any bat on it and the ball cannons onto his off pole. Bangalore lose their ninth wicket. Natarajan bags his third wicket. Will he end Bangalore's misery in this over itself?
15.1 overs (0 Run) Back of a length, around off. Wanindu Hasaranga defends it to the off side.
Match Reports
Topics mentioned in this article