Story Progress
Back to home
Royal Challengers Bangalore vs Gujarat Titans Live Score Ball by Ball, IPL 2022 Live Cricket Score Of Today's Match on NDTV Sports
Live Updates of Today Match between Royal Challengers Bangalore vs Gujarat Titans from Wankhede Stadium, Mumbai. Check commentary and full scoreboard of the match.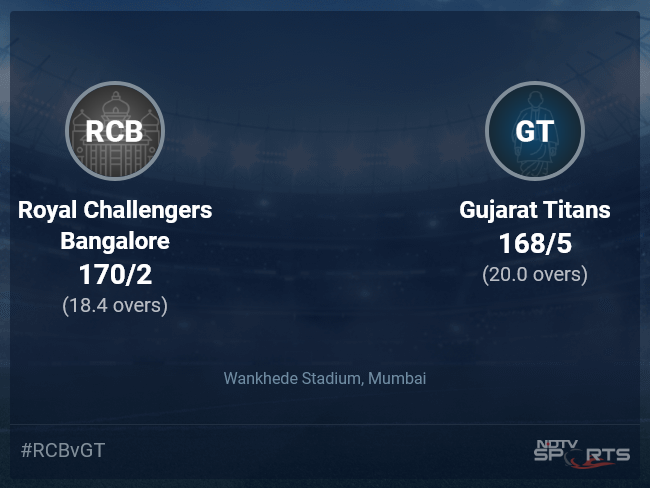 GT vs RCB Latest Score
Follow the Indian Premier League 2022 live cricket score on Sports.NDTV.com. After 18.4 overs, Royal Challengers Bangalore, chasing a target of 169, are 170/2. Get live score, ball by ball commentary and much more. Keep track of Indian Premier League 2022 today match between Royal Challengers Bangalore and Gujarat Titans. Everything related to Royal Challengers Bangalore and Gujarat Titans match will be available on Sports.NDTV.com. Stay updated with Royal Challengers Bangalore vs Gujarat Titans live score. Do check for Royal Challengers Bangalore vs Gujarat Titans scorecard. You can get scorecard updates, match related facts. Get quick live updates with ads, Sports.NDTV.com, which is the perfect destination for live cricket score.
Right then, that is all we have from this game. The action continues on 20th May and it will be Rajasthan going up against Chennai at the Brabourne Stadium. That game starts at 7.30 pm IST (2 pm GMT). As you know, our coverage starts well in advance. So do join us for the same. Till then, goodbye and cheers!
Virat Kohli is the PLAYER OF THE MATCH for his brilliant knock of 73 off 54 balls! He says it was an important game for them. He knows he has not done enough for the team, he wanted to create an impact and he is very happy and this win has put them in a great position. Adds that he needs to keep the perspective right. There are expectations because he has performed at the highest level. Admits that he works really hard, he practiced 90 minutes in the last net session and he backed himself today. Shares that he thinks, why is it happening to him but he can't complain more, back in England in 2018 as well, similar things happened, so he just feels grateful, works hard and tries to help his team. Adds that his first shot off Shami felt that he is in good shape today and he knew tonight he has to back himself. On the fans, he says he is blessed for the love and the support he has got.
Faf du Plessis, the skipper of Bangalore, says that this is the kind of stuff they were looking for (about the performance of big players in this game) and says that probably they have not done that so far this season. Tells those emotions get Kohli going and he tries to play his role when he is around him. Talks about the Maxi catch and says that was awesome and they needed wickets and that set the tone for them. He says that the run out by him was also pretty special. Mentions that tonight was pretty important for them and it was important to show the character today and tells that one or two consistent performances have got them into this position (depending on other teams to qualify for the playoffs) but says that this was an important game for them. Says that he is banking on Rohit to go big against Delhi and win the game.
Time for the presentation.
Glenn Maxwell is down for a chat. He says that there was no point in soaking up time and he tried to take the pressure away from Kohli by being ultra-aggressive. Talks about the ball that hit the leg stump and tells that some times one needs such luck. Says that the catch he took is a result of his hard work and it did not come out of a blue but he has practiced for it. Mentions that the surface was spinning a bit and he wanted to do his part. Says that they will watch the Delhi- Mumbai game and play a bit of golf and tells that they deserve to be part of top 4 and hopes that Mumbai can do right things for them.
Hardik Pandya, the skipper of Gujarat, says it was about a par-score, the ball was stopping in their innings but they were happy with the score. Adds that the wickets were holding and they were trying to bowl slow but Maxi played really well and things didn't go their way. Tells that they have had lost back-to-back wickets and that pushes them back slightly, they have talked about it in the meetings as well. Admits he was happy to get back with runs and feels this game was learning for them. On Saha, he informs that he was feeling his hamstring and it was a precautionary measure to keep him off the field.
Time for some interviews!
Gujarat's skipper wanted to test his side by batting first and they were put to a tough test in this game. This game was a good learning curve for them, especially with the ball but with the bat, they will be happy that their skipper, Hardik is back among runs. Sai Kishore was good with the ball for them and sometimes it is not bad to lose as that will motivate them to improve further and comeback more stronger in playoffs.
Bangalore were chasing a par score on a sluggish pitch but Faf du Plessis and Virat Kohli put together a 115-run stand to bat Gujarat out of this game. They were a bit lucky too at the start but everyone needs luck in this game and both of them took full advantage of the luck that went their way. Faf du Plessis was dismissed in the 15th over by Rashid but till that time Bangalore were in quite a comfortable position and the arrival of Maxwell only made things worse for Gujarat as he blasted 40 off just 18 balls. Earlier in the game, Maxwell, Hazlewood and Hasaranga were the wicket-takers for Bangalore and despite the expensive last two overs, Bangalore did well with the ball especially keeping in mind the injury to Harshal Patel.
Coming to the performances of this game, one has to say, that the big three of Bangalore have really stepped up today. Maxwell delivered with the ball and gave good finishing touches with the bat as well while Faf du Plessis played a responsible innings at the top of the order. However, the most pleasing one for Bangalore fans and Indian fans will be the performance of King Kohli. He came out with intent and that passion we are so used to seeing from him in the middle and delivered with a fantastic 73 off 54 balls.
Bangalore stay alive in the competition with a dominating win! They needed to make a strong statement in this game and get those crucial two points and they have done that in style. Now, they have done everything in this game that was in their control and have eliminated Punjab and Hyderabad from the playoff race in the process. They now need Delhi to lose their last game as Delhi still have a superior net run-rate and would equal with Bangalore on 16 points if they win their last game.
18.4 overs (4 Runs) FOUR! BANGALORE ARE ALIVE! Shorter and around off. Maxwell looks to pull but gets a leading edge and over the keeper for a boundary. Bangalore win by 8 wickets and with 8 balls to spare.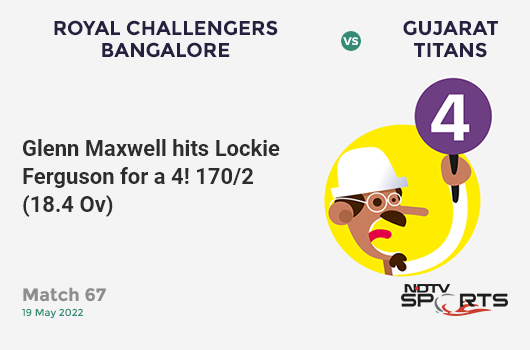 18.3 overs (4 Runs) FOUR! This time he nails it perfectly! Around off, shorter and Maxwell gets low and ramps it over short third man for one-bounce four.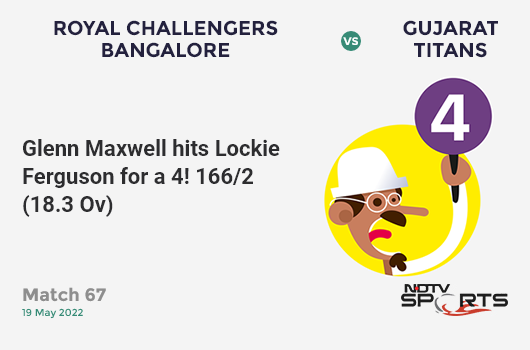 18.2 overs (0 Run) Short of a length and around off, at 145 clicks. Maxwell gets low to upper cut but gets cramped for room. He misses.
18.1 overs (4 Runs) FOUR! Punished! A length ball, outside off. Maxwell hangs back and thumps it over the bowler's head for a boundary.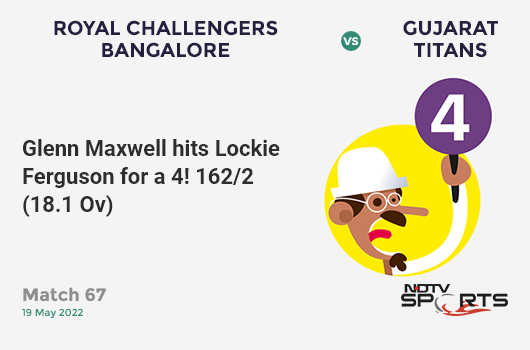 Lockie Ferguson is back on. He has bowled only one over so far.
17.6 overs (1 Run) Too full and on off. Maxwell turns it to deep mid-wicket for a single. 11 needed in 12 balls.
17.5 overs (1 Run) Outside off, on a length. Karthik slaps it to deep cover for a single.
17.4 overs (1 Run) A slower ball, yorker, on middle. Maxwell jams it to mid-wicket for a single.
17.3 overs (4 Runs) FOUR! A length ball, outside off, slower again. Maxwell waits and cuts it hard over extra-cover for a boundary.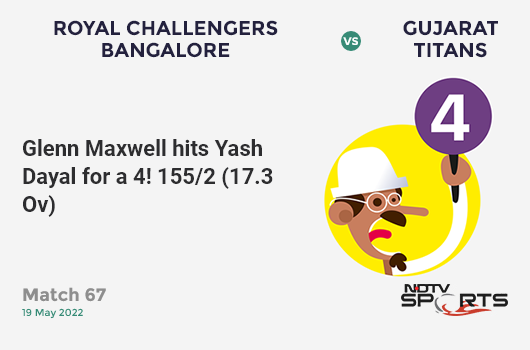 17.3 overs (1 Run) Wide! Slower and way down the leg side. Maxwell leaves it alone.
17.2 overs (0 Run) Too full and outside off. Maxwell tries to reverse sweep but misses.
17.1 overs (2 Runs) A slower ball, length and on off. Maxwell nudges it to deep mid-wicket for a single.
16.6 overs (1 Run) Darts it on the pads, Maxwell tucks it to deep mid-wicket for a single.
16.5 overs (1 Run) Around off, quicker and Karthik tucks it to mid-wicket for a single.
Dinesh Karthik walks out to the middle.
16.4 overs (0 Run) OUT! STUMPING! Rashid Khan gets his man but is it too late! Kohli pre-meditates and dances down the track and Khan follows it with a quicker, short ball, googly as well. Virat Kohli swings wildly across but misses and Wade, the keeper collects and clips the bails off. End of a brilliant innings from Virat Kohli.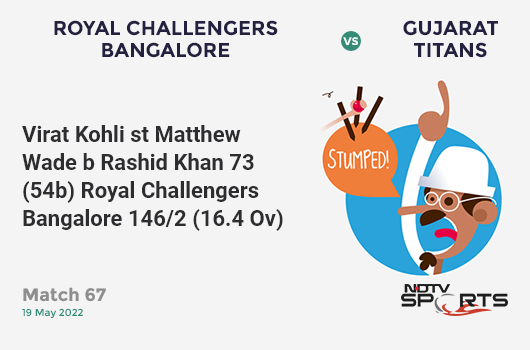 16.3 overs (0 Run) Floated and on off. Kohli skips down and tucks it to mid-wicket.
16.2 overs (6 Runs) SIX! UP AND AWAY! Overpitched delivery, around off, turning away. Kohli shows full face of the bat and lofts it over long off for a biggie.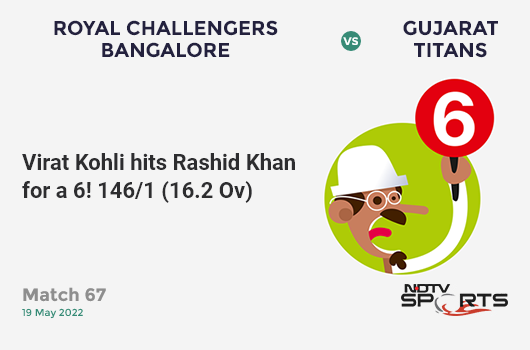 16.1 overs (1 Run) Tossed up, just outside off. Maxwell mistimes his swing across the line to square leg for a run.
15.6 overs (1 Run) Length and on middle. Maxwell awkwardly pulls it to deep square leg for a single. 30 needed in 24 balls.
15.5 overs (6 Runs) SIX! What a shot! A length ball, around off. Maxwell switch-hits as he smacks it over third man for another biggie. Pure entertainment.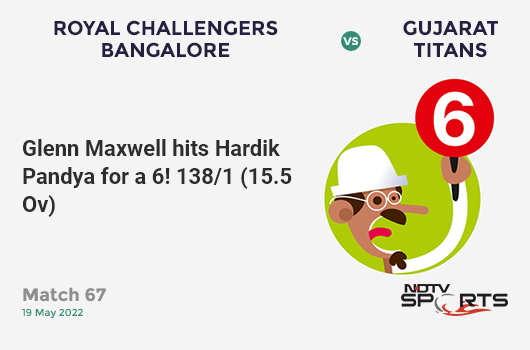 15.4 overs (0 Run) This is on a length and around leg. Maxwell opens his body to pull but misses.
15.3 overs (4 Runs) FOUR! Maxwell has NRR on the mind! A length ball, slanting on the pads. Maxwell whacks it to deep backward square leg for a biggie.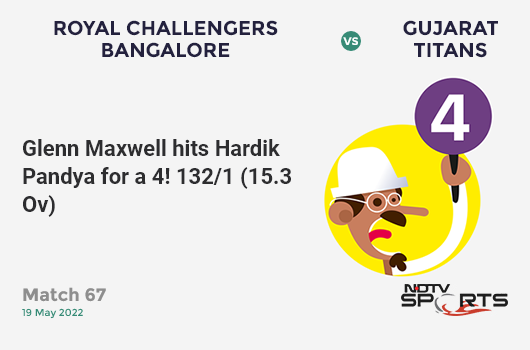 15.2 overs (6 Runs) IN THE AIR AND SIX! Fuller ball on middle. Maxwell clears his front leg and lofts it high up in the air, he gets much elevation and enough distance to clear the long on fence.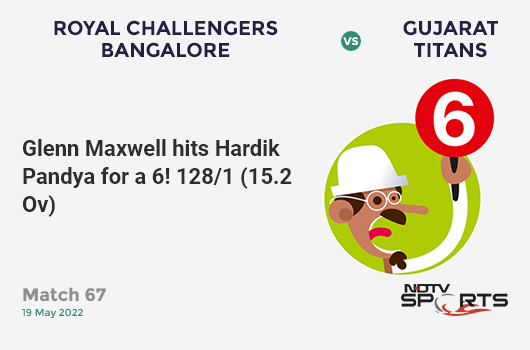 15.1 overs (1 Run) Length and on middle. Kohli nudges it to mid-wicket for a single.
Match Reports
Topics mentioned in this article