Story Progress
Back to home
Royal Challengers Bangalore vs Chennai Super Kings Live Score Ball by Ball, IPL 2022 Live Cricket Score Of Today's Match on NDTV Sports
Live Updates of Today Match between Royal Challengers Bangalore vs Chennai Super Kings from Maharashtra Cricket Association Stadium, Pune. Check commentary and full scoreboard of the match.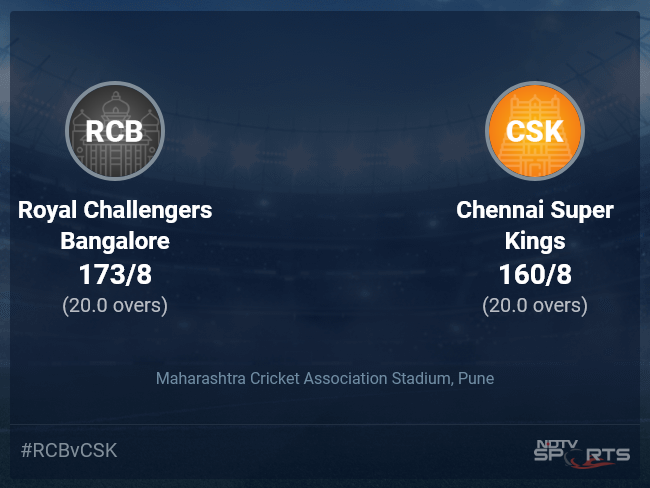 CSK vs RCB Latest Score
Follow the Indian Premier League 2022 live cricket score on Sports.NDTV.com. After 20.0 overs, Chennai Super Kings, chasing a target of 174, are 160/8. Get live score, ball by ball commentary and much more. Keep track of Indian Premier League 2022 today match between Royal Challengers Bangalore and Chennai Super Kings. Everything related to Royal Challengers Bangalore and Chennai Super Kings match will be available on Sports.NDTV.com. Stay updated with Royal Challengers Bangalore vs Chennai Super Kings live score. Do check for Royal Challengers Bangalore vs Chennai Super Kings scorecard. You can get scorecard updates, match related facts. Get quick live updates with ads, Sports.NDTV.com, which is the perfect destination for live cricket score.
Right then! That is all we have from this match. The action continues on Thursday, the 5th of May as an inconsistent Delhi side takes on Hyderabad with the latter looking to snatch back their place in the top four. That match will begin at 7.30 pm IST (2 pm GMT) but our build-up will start much earlier. Do join us then. Take care and goodbye!
HARSHAL PATEL (4-0-35-3) IS THE PLAYER OF THE MATCH. Says that he didn't start well in the first over as he was trying to bowl the slower ones but floated a few under the bat and they went to the boundary. Tells that he is trying to concede lesser boundaries and is looking to correct his mistakes, and better his sequencing. Feels he was more effective in the first half of the season and is looking to regain that form. Regarding changing his ends for the left-handers, he replies that it was more to do with the dimension of the ground. Shares that at the top of your mark, you need to have clarity of thought as a bowler on what you want to do. Talks about the mind games by saying that when the batters are expecting slower ones, he tries to deceive them by bowling the hard-length deliveries and yorkers. Further says that he has not bowled them enough this season but would look to bowl them in the latter half of the tournament.
Faf du Plessis, the captain of Chennai, says they needed this win and the guys were having a chat before the match about it. Reckons that they are heading in the right direction with the bat and the bowling has been consistent. Adds that 165 was par and anything above that was defendable. Mentions that after the Powerplay, they got two quick wickets and that changed the energy in the field. Adds that it helps to have experienced players when there's some advice needed and the senior-player group helps him. Mentions that they need to keep improving in the batting department and the top-order needs to fire more as they have enough big hitters down the order and they don't want the middle order to be under pressure. Wants to keep improving in the batting department and play positively. Regarding any thought of improving the NRR, Faf replies that once they get the opportunity in a game, they will think about it but right now winning the games is the priority.
Glenn Maxwell is down for a quick chat. He says that they are over the moon. Adds that it was a good bowling performance, the wicket was tacky but they did a great job. Regarding his bowling, Maxwell shares that the way Moeen and Jadeja bowled, it showed that the finger spinners have some assistance from the pitch so he tried to put it in the right areas and it helped him to have a couple of lefties out there. Further tells that the round the wicket angle for the right-handers was to cramp them up for room. Hopes to ride this winning momentum and feels that they are going in the right direction.
MS Dhoni, the captain of Chennai, says they did well to restrict them to 173. Feels they were up to the mark but were let down by the batsmanship, as they needed more partnerships. Says they lost wickets at regular intervals and the shot selection was the problem. Mentions that at times you need to curb your instincts and MS feels that had they batted slightly better, they would have got lesser runs to score at the backend. Shares that the pitch kept on getting better and had they kept wickets in hand, it could have been different. Further says that they need to keep looking at what went wrong. Tells that they were not lacking much confidence in this game, in any department. States that it's easy to get distracted with how many points you have. Opines that it's all about the process, if you keep doing that right, the points table will take care of itself.
Bangalore might have just turned a new leaf after this win. They had runs on the board but didn't start well with the ball but then Shahbaz Ahmed and Glenn Maxwell turned it on and dragged Bangalore back in the game by picking up wickets. Runs still continued to flow but timely wickets especially towards the end from Josh Hazlewood and Harshal Patel kept them ahead of the game. Patel bowled a bit of a nervy last over but thankfully for him, the opposition had too many runs to get in the final over. Stay tuned for the interviews.
Chennai got off to just the start they needed but then Ruturaj Gaikwad and Robin Uthappa fell in quick succession. Devon Conway carried on and was timing the ball sweetly but the wickets kept on tumbling. Devon Conway got to fifty and then got out. After that Moeen Ali who was set, couldn't hang around much either. MS Dhoni had too much to do on his own and this time he couldn't turn the tide in his side's favour. The tailenders did hit a couple of lusty blows but it was a bridge too far. This loss might just prove to be the final nail in the Chennai coffin.
Finally, finally, Bangalore get one over their rivals Chennai and what an important win this could be in the context of their season! It is generally their batters who win matches but the bowling unit stepped up this evening to guide Bangalore back into the top four.
19.6 overs (1 Run) BANGALORE WIN BY 13 RUNS! Back of a length, around off, Maheesh Theekshana plays a mistimed lofted shot towards covers for just a single. Two important points for Bangalore and they break into the top four now.
19.5 overs (0 Run) A well-directed bouncer, around leg, Maheesh Theekshana somehow sways away from the firing line.
19.4 overs (4 Runs) FOUR LEG BYES! Sliding down the leg side, Maheesh Theekshana tries to glance but misses. It clips the thigh pad and races away to fine leg for a boundary. Job done now for Bangalore.
19.3 overs (6 Runs) SIX! Short again from Harshal, around off at 129 kph, Maheesh Theekshana rides the bounce and clobbers it over wide long on for a biggie.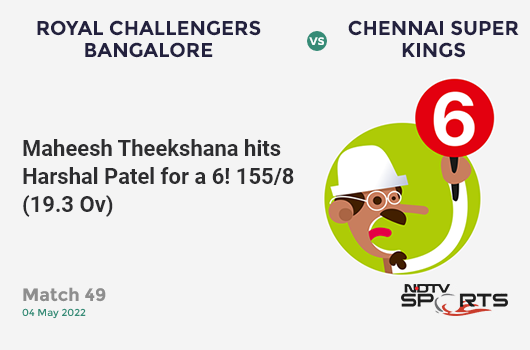 Maheesh Theekshana is the new man in.
19.2 overs (0 Run) OUT! CAUGHT! Harshal Patel again bounces back after conceding a biggie. Digs it in short, around off at 129.4 kph, Dwaine Pretorius tries to power it across the line but instead gets a big top edge. Virat Kohli settles underneath it at long on. This chase is almost put to bed now.
19.1 overs (6 Runs) SIX! That's smoked! The chase remains alive. A length ball, around off, it's in the slot and Dwaine Pretorius launches it over mid-wicket for a biggie. 25 needed off 5 balls.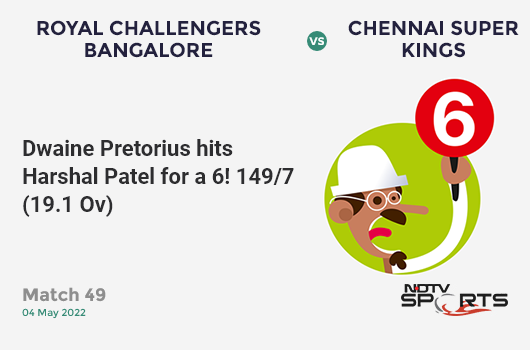 18.6 overs (1 Run) Length and on off. Dwaine Pretorius punches it to mid off for a single. 31 needed off 6 balls.
18.5 overs (4 Runs) FOUR! Edged away! The chase is still on! Short and around off. Dwaine Pretorius tries to hook it away but gets a top edge over the keeper and for a boundary.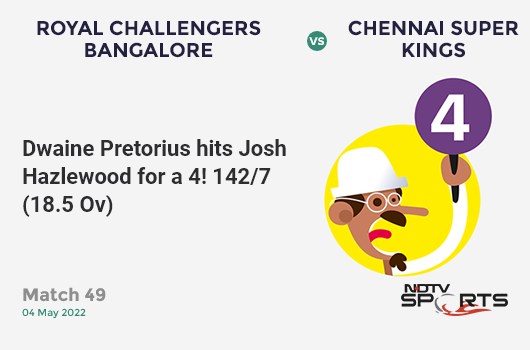 18.4 overs (1 Run) A length ball, on middle, Singh is cramped for room as he pulls it to mid-wicket for another run.
18.3 overs (1 Run) On a length and around off. Dwaine Pretorius hits it to long on only for a single. Singles won't do for Chennai.
18.2 overs (1 Run) Tad fuller and on middle, Singh flicks it to deep mid-wicket for a single.
Simarjeet Singh is in next.
18.1 overs (0 Run) OUT! DHONI HOLES OUT! Josh Hazlewood has been the best bowler for Bangalore all evening and he has hit the jackpot by removing MS at this stage of the chase. Delivers it a touch short and around off at 134.1 kph, MS Dhoni rocks on the back foot and packs a punch at this delivery. He pulls firmly but it goes flat and straight towards Rajat Patidar at deep mid-wicket. He takes the pressure catch and Chennai are staring down the barrel now. 39 needed off 11 balls.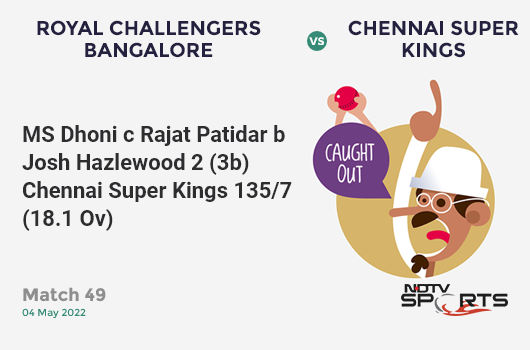 17.6 overs (1 Run) A length ball, outside off. Dhoni taps it to covers and hurls across for a quick single.
17.5 overs (1 Run) A full ball, on middle. Pretorius tickles it straight to short fine leg. A quick single is taken.
17.4 overs (0 Run) Pace on from Harshal Patel and this is nicely bowled! Hits the length hard and bowls it around off. Pretorius looks to play at it but gets beaten. Another dot ball and the pressure keeps on mounting.
17.3 overs (0 Run) On a length and on off. Pretorius looks to tuck it away but gets an inside edge onto his pads.
Dwaine Pretorius is the new man in.
17.2 overs (0 Run) OUT! TAKEN! Harshal bounces back to remove the set batter. He changes his line and delivers a slower length ball outside off at 122.6 kph, Moeen is deceived completely as he reaches out for it. Ends up chipping it tamely to extra cover where Mohammed Siraj makes no mistake. Bangalore get their noses slightly in front in this match.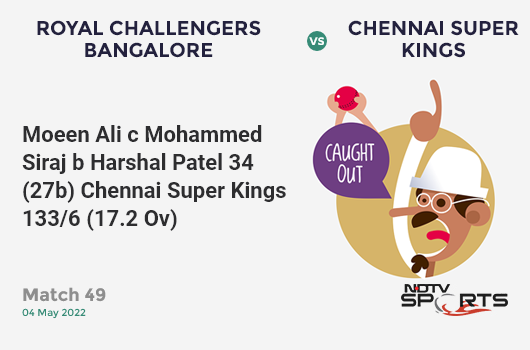 17.1 overs (6 Runs) SIX! Just what Chennai needed! That's an exceptional hit from Moeen Ali. Harshal delivers it on a length, around off, Moeen Ali swings his bat across the line and sends it whistling over square leg for a biggie.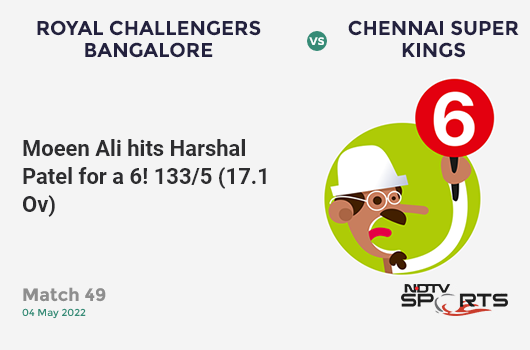 16.6 overs (1 Run) Around the hips and pulled away past backward square leg for a single. Just five off the over. 47 needed now off 18 balls!
16.5 overs (0 Run) Beaten! Hazlewood tightens his line on the off stump line and angles it across. Ali tries to run it fine but the ball zips past the outside edge. Another dot ball!
16.4 overs (0 Run) Good shot for no run! Fullish delivery, around off. Ali drives it on the up and crunches it straight to the man at extra cover.
16.3 overs (1 Run) Back of a length, outside off. Dhoni stays on the back foot and slashes it towards deep backward point for a single. He is off the mark!
16.2 overs (1 Run) This is slanted across off and Ali just steers it past short third man to turn the strike over.
16.1 overs (2 Runs) Full and straight, Ali works it through wide mid on and races back for the second. Good running between the wickets.
MS Dhoni is the new man in.
15.6 overs (0 Run) OUT! TAKEN! Good composure shown by Virat Kohli and Ravindra Jadeja walks back after another sedate knock. Harshal Patel bowls it on a length around the off stump and takes the pace off once again. Jadeja tries to launch it over the long off fence but ends up slicing it high and towards wide mid off. Kohli from extra cover moves to his left and keeps his eyes on the ball to pouch the skier safely. 52 needed now off 24 balls.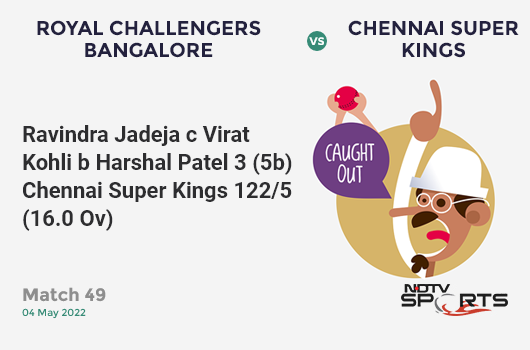 15.5 overs (1 Run) Change of pace now, slower and around off. Ali pushes it towards covers for a single.
15.4 overs (2 Runs) Aerial but safe! After a couple of dots, Moeen Ali tries to break the shackles. This is on off and Ali looks to swing across the line but gets it off the toe end towards cow corner. Rajat Patidar does well to run from the mid-wicket fence and put in the dive but can't reach it. Two taken.
15.3 overs (0 Run) Around the top of off this time, Ali hangs back and punches it towards extra cover.
15.2 overs (0 Run) Over middle, Ali defends it back onto the deck.
15.1 overs (1 Run) Harshal bowls this one on a good length and angles it into the body from 'round the wicket. Jadeja pushes it through mid-wicket for a single.
Match Reports
Topics mentioned in this article