Story Progress
Back to home
Royal Challengers Bangalore vs Chennai Super Kings: IPL 2022 Live Cricket Score, Live Score Of Today's Match on NDTV Sports
Live Updates of Today Match between Royal Challengers Bangalore vs Chennai Super Kings from Maharashtra Cricket Association Stadium, Pune. Check commentary and full scoreboard of the match.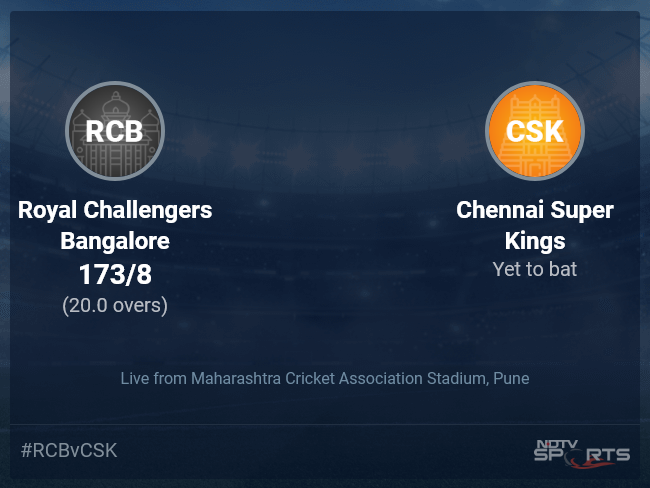 RCB vs CSK Latest Score
A dedicated team of experts bring you live score, live cricket score, live match update on Sports.NDTV.com. After 20.0 overs, Royal Challengers Bangalore are 173/8. The live updates of Royal Challengers Bangalore vs Chennai Super Kings scorecard is also available. It is the perfect platform to follow your favourite teams in Indian Premier League 2022. Keep a track on your favourite batsmen and bowlers through Indian Premier League 2022 today match, ball by ball commentary, Royal Challengers Bangalore vs Chennai Super Kings, Royal Challengers Bangalore vs Chennai Super Kings live score, Royal Challengers Bangalore vs Chennai Super Kings scorecard. Follow the excitement of the Indian Premier League 2022 on Sports.NDTV.com as you can follow live match updates and live cricket score through our platform.
We are back for Chennai's reply.
An exciting first innings filled with ebb and flow and the score on board is about par. Bangalore have quality bowlers in their ranks but the openers of Chennai have found a bit of momentum. It promises to be a fascinating encounter between bat and ball. Stay tuned for the chase.
Mahipal Lomror (42 off 27 balls) is up for a quick chat. Says it feels good and he is happy to contribute to the team. Adds that when you have such big players, there is no shortage of motivation. Mentions the ball was gripping and sticking and it was two-paced as well and looking at the wicket, he feels they can defend the total.
Once the Bangalore innings fell flat on its face, Rajat Patidar and Mahipal Lomror attempted to revive it with a quickfire stand but the former was dismissed at the start of the 16th over. Bangalore did manage 50 runs in the last 5 but lost five wickets in the process as well, robbing them of some momentum.
It was a fantastic start for Bangalore in the Powerplay as they amassed 57 runs and didn't lose a single wicket. The momentum was with them but the introduction of Chennai's spinners stifled their charge. Moeen Ali was in the thick of things, making a big impression in his comeback game and he claimed the wickets of both Faf du Plessis and Virat Kohli. The period after the Powerplay saw three wickets going down, including Glenn Maxwell's, and Chennai choked the flow of runs. Moeen and Jadeja combined for eight overs and conceded only 48 runs.
What an electrifying end to this innings! 3 wickets in the penultimate over and then 16 runs in the final, punches were exchanged towards the end and Dinesh Karthik's stay ensures that Bangalore finish close to the 175-run mark.
19.6 overs (2 Runs) A searching yorker, turns out to be a low full toss. Dinesh Karthik doesn't get under it and only manages to dig it out towards mid-wicket. Dwaine Pretorius chases and slides to stop the ball. He slips slightly while getting up and the batters steal the second run as well. Bangalore end on 173/8!
19.5 overs (0 Run) OUT! RUN OUT! It is given out in the end and Harshal Patel has to depart without playing a single delivery. This is full and around off stump. Dinesh Karthik drills it to long off and denies the run as he knows they won't be able to come back for the second but Harshal Patel is already halfway down the track. The throw is speared in from Devon Conway and the bails do come off at the bowler's end. The decision is checked by the third umpire and he checks it a few times as the ball slipped out of Pretorius' hand as he disturbed the stumps. The third umpire is satisfied though as the bail did come up while the ball was still in contact with Pretorius.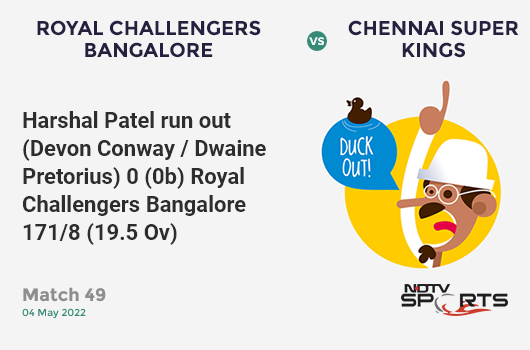 A run out chance! Harshal Patel is out of his crease when the bails are rattled but the ball is not in the hand of Dwaine Pretorius at that moment. The ball touches the stumps after the deflection from the hand and the bails popped up at that time. Harshal Patel fails to make his ground and OUT is the answer.
19.4 overs (6 Runs) SIX! THUMPED! Dwaine Pretorius pitches it up right in the slot on off, Karthik hangs deep in his crease and opens his arms to pump the ball over the long on fence for another biggie.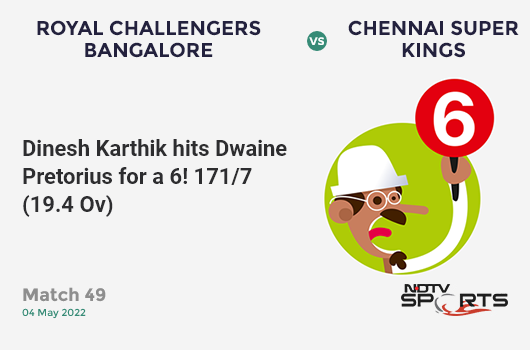 19.3 overs (2 Runs) This is pitched up, around off. Karthik lifts it over the wide mid off region and picks up a couple of runs.
19.2 overs (6 Runs) SIX! HAMMERED AWAY! Dwaine Pretorius misses the yorker mark by a few inches and DK pounces onto it. It's around off, right in the slot, Karthik swings his big blade across the line and dispatches it over deep mid-wicket.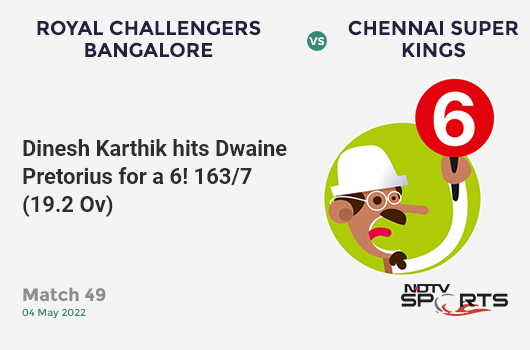 19.1 overs (0 Run) Shout for an lbw! Close, but not close enough for Dwaine Pretorius. Pretorius delivers it from 'round the wicket and gets it in right at the toes of Dinesh Karthik who misses the whip and gets rapped on the pads. Huge appeal from the bowler and it is given. Karthik reviews it straightaway. There's nothing on UltraEdge but Ball Tracking shows it's just pitching outside leg. Karthik survives!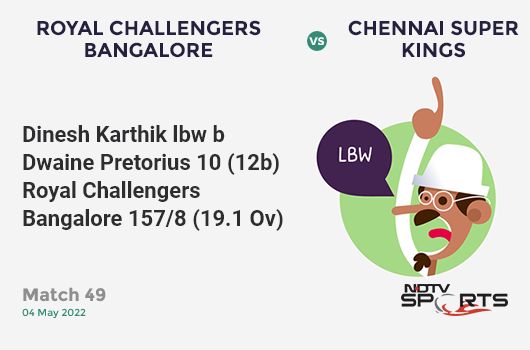 Harshal Patel walks out to the middle.
18.6 overs (0 Run) OUT! Cleaned up! Too good for Shahbaz Ahmed and Maheesh Theekshana picks up three wickets in the 19th over! This is quick again, at 102 kph and around the off stump. Ahmed tries to drive away from the body but it is the carrom ball yet again and the ball turns in. It goes between bat and pad and goes on to rattle the stumps. What a game changer this over could prove to be!
18.5 overs (1 Run) On middle, pushed down the ground for one.
18.4 overs (0 Run) Comprehensively beaten there, Dinesh Karthik! Short and outside off but it is the carrom ball. Karthik moves past the off stump and tries to work it on the leg side but gets beaten.
18.3 overs (1 Run) This is full and quick, on off. Ahmed drives it down to long off for a single.
Shahbaz Ahmed to face the hat-trick ball.
18.2 overs (0 Run) OUT! TAKEN! Ruturaj Gaikwad almost spills this one too but Maheesh Theekshana has two in no time! This is on off and Wanindu Hasaranga tries to smoke it over the long off fence. The Sri Lankan gets no timing on it whatsoever and Gaikwad runs in from the deep to dive forward and take it on the second attempt. Maheesh Theekshana is on a hat-trick now!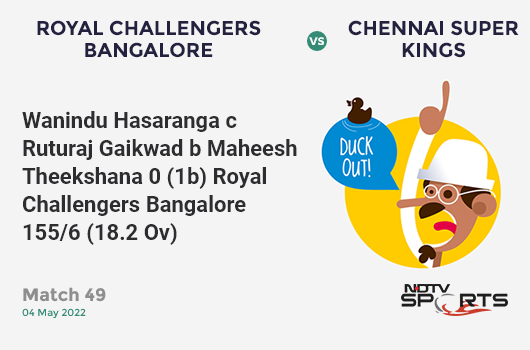 Wanindu Hasaranga comes in now.
18.1 overs (0 Run) OUT! CAUGHT! Huge gamble from MS Dhoni but it has paid off! Maheesh Theekshana serves a low full toss on the middle stump line at around 101 clicks. It is fired in. Mahipal Lomror looks to take on the long on fielder but neither gets the elevation nor the power. The ball goes to Ruturaj Gaikwad and he takes the catch after almost making a meal of it. Lomror departs after a blistering knock.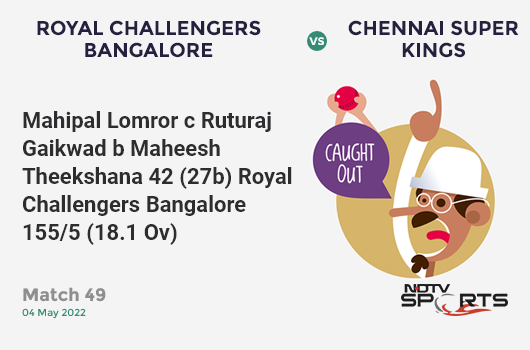 Maheesh Theekshana to bowl the 19th over.
17.6 overs (2 Runs) Two more and that makes it 18 off the over! Full and at the toes, Karthik clips it in front of square on the leg side and picks up a couple of runs.
17.5 overs (1 Run) Full and wide, Lomror reaches out and slices it behind point for a single.
17.4 overs (6 Runs) SIX! Wow! Just a slap for a maximum! This is in the slot outside off, Mahipal Lomror fetches it and hits it flat and hard over the wide long on fence. Top shot! The 150 is up for Bangalore.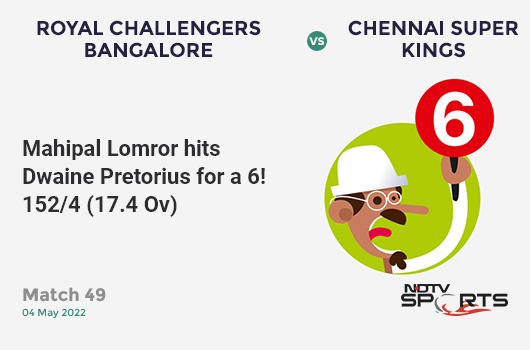 17.3 overs (2 Runs) That looked like a nasty fall! This is pitched up, around off. Mahipal Lomror looks to whack it through the line but miscues it high and towards the extra cover region. Ravindra Jadeja steams in from the fence and puts on the afterburners to get a hand on it but ends up spilling it. He takes a tumble and seems to have hurt his knee, hope he is fine. Two taken.
Halt in play! Ravindra Jadeja has injured himself while trying to take the catch. The physio rushes out to assist him. He looks fine!
17.3 overs (1 Run) WIDE! Pretorius trying to take away Lomror's swinging arc but spills it way beyond the tramline. Wide called.
17.2 overs (2 Runs) Change of pace and a change of length as well from Dwaine Pretorius. Full and slow, outside off. Lomror pushes it through extra cover and races back for the second run. Good running.
17.1 overs (4 Runs) FOUR! Up and over! Short of a length, outside off. Mahipal Lomror frees his arms and muscles the ball over mid off for a boundary.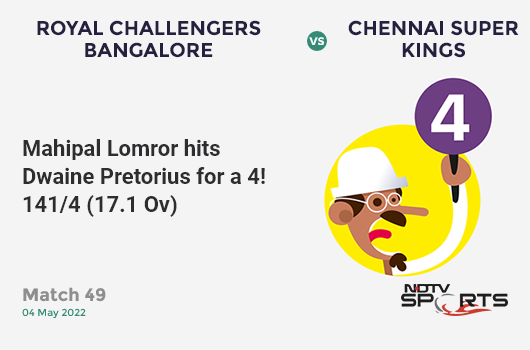 16.6 overs (0 Run) A yorker to end the over, on middle and Dinesh Karthik can only squeeze it back to the bowler.
16.5 overs (0 Run) Around off, pushed to covers for no run.
16.4 overs (1 Run) Just over! Flighted ball, on middle, Mahipal Lomror tries to heave but is too late into his shot and the ball goes just over the leaping mid-wicket fielder for a single.
16.3 overs (1 Run) Too full and on off, worked away to covers for a single.
16.2 overs (4 Runs) FOUR! Swept away! Tossed up, full and outside off. Dinesh Karthik drags it off the inner half and sweeps it to deep square leg for a boundary.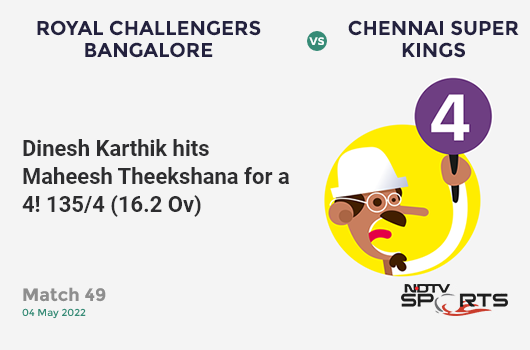 16.1 overs (0 Run) Flatter and outside off. Dinesh Karthik hangs back to work it on the leg side but ends up slicing it to point.
15.6 overs (4 Runs) FOUR! Wonderful shot to end the over! This is full and around off. Lomror gets low and across to sweep it behind square on the leg side for a boundary.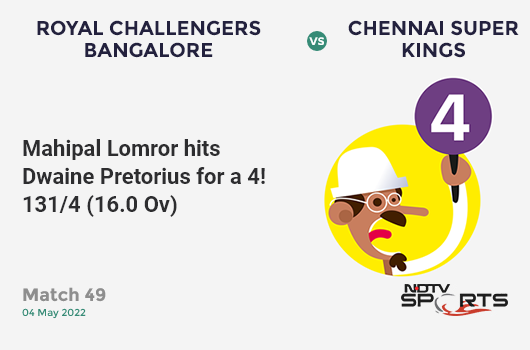 15.5 overs (1 Run) Tad fuller and on middle. Dinesh flicks it aerially but well wide of mid-wicket for a single.
15.4 overs (1 Run) Length and outside off. Mahipal punches it to deep cover for a single.
15.4 overs (1 Run) Wide! Full ball outside off, away from the hitting arc but over the tramline. Lomror leaves it for a wide.
15.3 overs (1 Run) Angling on the pads, it is hit behind square on the leg side for a single.
15.2 overs (0 Run) On a length and on off. Karthik blocks it out.
Strategic break! Just when Bangalore had regained lost momentum, a wicket has gone down but Mahipal Lomror has played enough deliveries to take his side to a decent score now. Chennai spinners kept a lid on the runs but once the batters got their eye in, they were hit for a few boundaries. The innings is very well poised and the remaining overs ought to be exciting.
15.1 overs (0 Run) OUT! TAKEN! Spectacular catch from Mukesh Choudhary! Fuller ball from around the wicket and on off. There was not much pace on offer and Patidar failed to read it. He tries to heave it but does not have much power behind the shot. The ball balloons towards square leg. Mukesh Choudhary charges forward from the fence and covers a lot of ground before putting in a big dive to catch it. Rajat Patidar goes after playing a fine knock.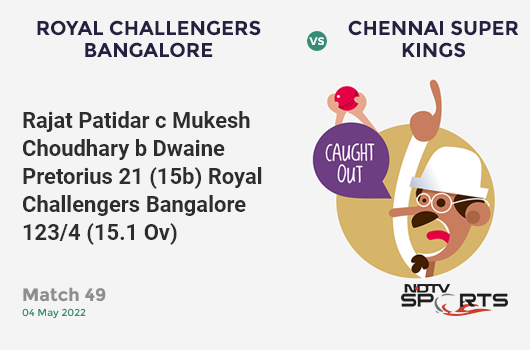 Match Reports
Topics mentioned in this article